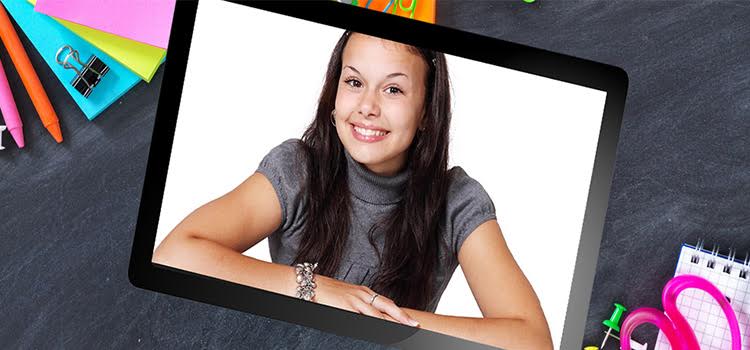 Digital education is already an important topic in school reforms, not only when it comes to learning and teaching, but also when it comes to life at schools, colleges, universities, etc.
Computers and the Internet have been part of students' and teachers' lives for a long time. Notebooks are constantly used for presentations and researching anything, doing homework and prepping lessons without a computer has become unthinkable.
"Digitalization connects all aspects of life with each other – Digitalization changes learning."
Dr. Claudia Bogedan – president of the conference of education ministers in Germany
This includes digital tools in the educational sector. Digital Signage in schools and universities can play an important role in advancing and improving existing educational structures. Especially when it comes to important areas like management and communication.
But also learning materials and learning methods can be effectively supported and improved through digital information systems.
Next to systems for information or digital entertainment, practical applications like digital schedules or a digital bulletin board move to the top of the list of cost-saving ways to implement Digital Signage.
How a digital bulletin board makes life around campus and in schools easier and why digital education is a must-have for the education of the future?
Read on for the most important reasons and practical solutions.
Digital communication in schools
Communication with students and among teachers and professors is one of the most important aspects in educational institutions. Classes are moved to different rooms all the time and changes in personnel happen almost daily.
Digital communication through Digital Signage can make communication and coordination around the institution much easier and less time-consuming.
The best part: the new possibilities of digital communication can reach the tech-oriented Generation Y more efficiently.
Because smartphones aren't just a constant companion, but also the main way to communicate in this generation.
How do you use digital communication in educational institutions efficiently?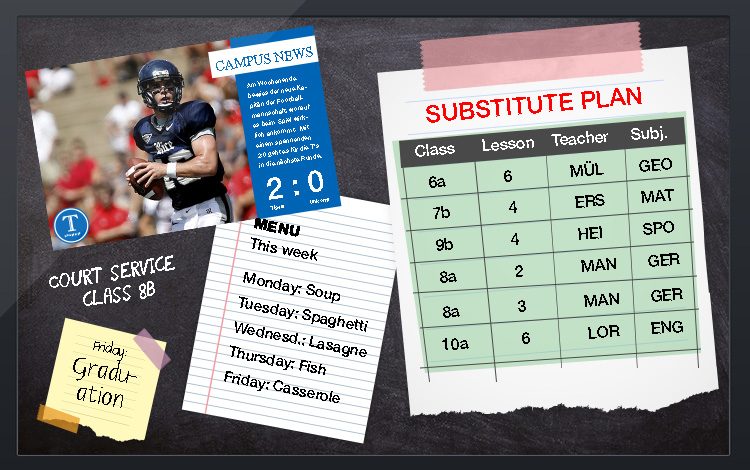 A digital bulletin board is the best solution
Next period is moved to a different room or the seminar on digital media is being canceled altogether? To get this information to students and professors fast, great organizational skills are needed.
Printing this information on flyers and posting it on a bulletin board in the cafeteria or elsewhere in the building isn't just time-consuming, it also takes up resources (staff and costs). Not to mention the increased use of paper and the fact that the information is only in one location.
Digital Signage can display information, news and important messages on screens and interactive displays all over campus, in classrooms, hallways or the teachers' lounge.
A digital bulletin board, that is always up-to-date and shows important messages right away.
Why it helps:
Content can be created in a central location
Content can be displayed automatically
Creates an efficient network
Having the foresight to think about and include digital possibilities in educational institutions gives schools and colleges a great opportunity to connect with the "digital generation".
We will show you what a digital bulletin board can do and how you can use it to your advantage:
#1 A digital plan: coordinate substitute teachers
Especially in large institutions, it is easy to lose sight of which substitute teacher is where and who is still available. Using Digital Signage as a digital bulletin board can help keep an eye on that. Placing a digital bulletin board in the hallways, the teachers' lounge or the foyer allows students, teachers, and professors to always be up-to-date. T
his automatic distribution of information makes everyone's lives a lot easier. Substitute teachers will never forget where they are supposed to go and students know ahead of time what to expect.
This way, it is easy to know which professors are where at any given time. Perfect especially when a student or a colleague needs to discuss something important with a professor. A digital board will always show the right information, at the right time, in the right place.
A digital bulletin board in the foyer is a great place for such information because it is a central location. Here, information can be shared immediately and is visible to everyone, at least twice a day.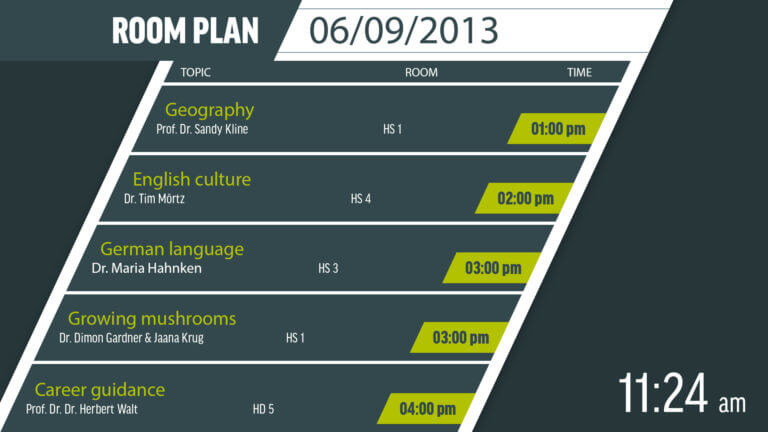 #2 A digital schedule: available anywhere
Also, regular schedules or even changes that have been planned for are perfect to digitalize. For example, a digital schedule for a room can be updated easily and always show what it is booked for at any given time.
Not only right in front of a room, but also as part of a digital bulletin board. This content can also easily be pushed onto smartphones, so students can see what room is booked for which course anytime, anywhere.
So, a digital bulletin board is not just a board. But with the right content and integration, it can become a comprehensive informational platform. Just digital.
#3 A digital menu: less chaos in the cafeteria
As a comprehensive platform, the digital bulletin board will bring the meal plan onto the screens too! Especially the menu in the cafeteria changes weekly, sometimes also daily. A digital menu is thereby, of course, more effective, cheaper and easier to handle.
Another positive aspect:
Students and professors know what's on the menu in advance or they will be informed right outside the cafeteria. This can help the cafeteria run more smoothly.
Waiting times can be decreased because it is no longer necessary to decide what you want to eat while you're in line. Even paying or picking up forks and knives can become more organized this way.
But digital education can do much more.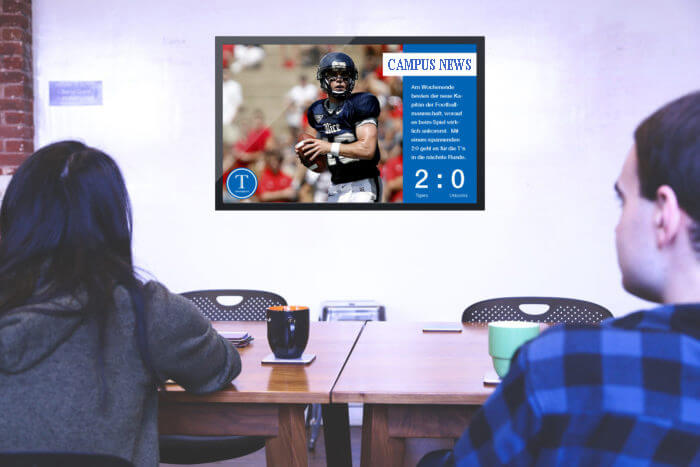 #4 A digital bulletin board: spreads your individual Campus NEWS
Using a digital bulletin board the right way provides schools and universities with countless possibilities.
In the US, a feeling of unity and community in schools is already very important. When it comes to sports or other clubs, the name of a school or university is a factor of recognition.
News relating to your college or school should therefore already be part of the stream of information around any educational institution.
A digital bulletin board can easily and effectively increase a students' feeling of community and enthusiasm just by displaying that kind of information on your screens.
Examples could be:
Communicate and promote upcoming events or matches
Make important announcements
Celebrate important achievements of the school or university
Celebrate achievements of individual students on behalf of the institution
Campus navigation for visitors
This allows for seamless communication and great networking. Among students, professors and staff, but also between students, professors, teachers and the school or university. Especially the integration of social media channels lets you share exciting information and news. Easy and unique.
Digital formats are much more accepted today than analog formats, which makes this generation more receptive to shared content. On top of that, the professional and modern look of digital content gives off a positive and current impression and will influence visitors, potential students and their parents.
Aside from this, the digital bulletin board offers more possibilities that educational institutions can benefit from as organizations.
More possibilities that Digital Signage brings along for a digital school:
Additional revenue from targeted and approved advertisements
Promote local bookstores, cafés, movie theaters or other places for students around
Rent advertising space that match your theme
Thank sponsors and donors
Of course, it's important not to have unnecessary advertisements run in classrooms so that students aren't distracted by it. But it is also important to recognize the potential for schools and universities to have a well thought out and integrated Digital Signage strategy. A digital bulletin board can be used in many positive ways as a comprehensive informational platform.
However, there is one last possibility that we want to show you.
#5 Digital education: through current topics
When it comes to communication or the sharing of information, being fast and being current, are probably the most important aspects. Also when it comes to education and educational topics – or so it should be.
Digital Signage as a digital bulletin board can help here by displaying current news during breaks or in common rooms. On the one hand, this allows for discussion about relevant and current topics afterward in class, and on the other hand, it educates and confronts students on important developments and happenings around the world.
This common ground allows teachers and professors to use the news as a basis to explain theoretical topics in class, and so create a connection that students can easily understand. That's how learning becomes fun!
The most important news channels can be integrated easily. Every message and report are updated automatically and in real-time so that the digital bulletin board is always displaying the most current news.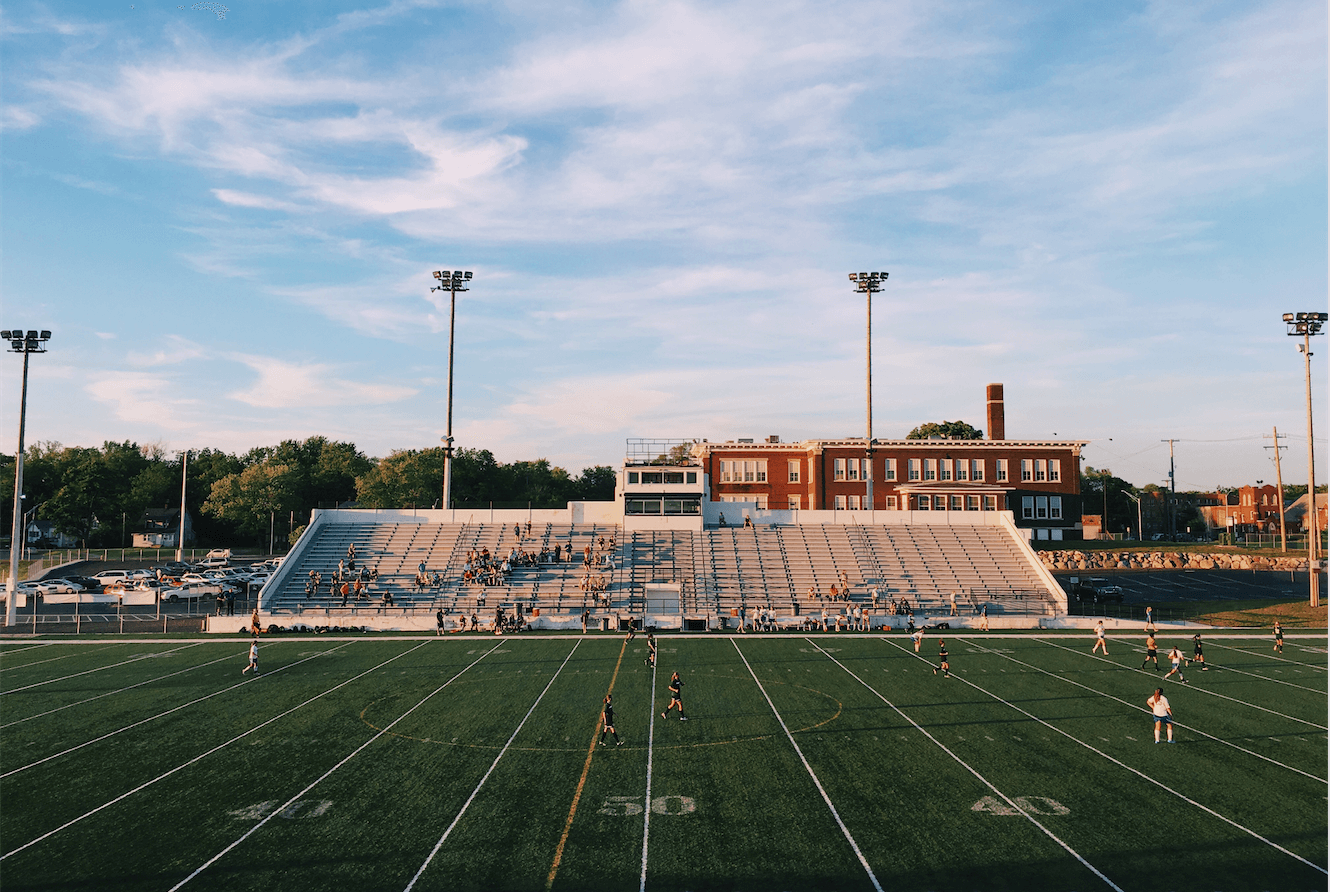 Schools use digitalization to create a better network
Digital schools and universities are closely connected. They are informative and engaging, which often leads to a strong identity, like the "school spirit" that is seen in every school in America already. It's a positive image that creates a sense of community on the one hand and makes the school look strong and professional on the other.
Exactly what potential students are looking for these days.
Being open to new media and new digital structures also means being open to new forms of communication. This can support the institutions' identity, help schools and universities to form an open personality and create a platform in which students like to learn and where they can learn easily.