We previously showed you how the Amazon FireTV Stick can be used as a cost-effective Digital Signage Player. Now we wanted to take a closer look at the ASUS Chromebit (B014C), which is an easy to use Plug and Play solution that's small enough to fit in the palm of your hand.
One of the best features of the Chrome OS Mini-PC is that it can be connected to any screen or device that has an HDMI port. The advantage is that it makes installation a snap. And with dimensions of only 123 x 31 x 17 cm (WxDxH) it is designed to fit into even the smallest spaces without needing any additional hardware. The Chromebit also comes with a flexible HDMI cable to allow you to reach even the hardest to reach locations, without having to use unsightly extension cords. (Please note that this feature is not available in all locations) Built-in fasteners help to make the Chromebit look sleek and integrated with the screen it's attached to. Even better it comes in a variety of colors, to better blend into the background.
It should be noted that the ASUS Chromebit costs around 100€, which is roughly double the price of the Amazon FireTV Stick and the Chromecast Streaming Dongle. However, the Chromebit Digital Signage Player was specifically designed to be used on professional projects as opposed to mainly in-home consumer usage.
How to Set Up the ASUS Chromebit
There are a couple of requirements in order to set up the ASUS Chromebit. First, you will need to have a Google account. It is also suggested that you have handy a Bluetooth enabled keyboard and mouse during the installation process.
With that out of the way, set up is pretty quick. Just log into your Google account and follow the instructions. You will also have the ability to add other users (whose data can be stored separately). Additionally, with every Chromebit, you receive up to 100GB of free Google Drive storage space.
Installing the viewneo Player App on the Chromebit
So, now that you are familiar with the ASUS Chromebit, let's walk through how to connect and use it with viewneo. Available here.
Additionally, you can start a 30-day free trial which includes access to all of viewneo's features.
The following video will walk you through the whole process.
So, after you have attached the ASUS Chromebit to your screen and connected it with the keyboard and mouse, you will have the option to adjust the basic settings. This includes the language, keyboard settings, and network connection.
The next step is to log into your Google account. However, before you do this it is important to activate the Chromebit kiosk mode. You can do this by pressing CTRL + ALT + K to open the settings. From here you can confirm kiosk mode and then connect to your Google account.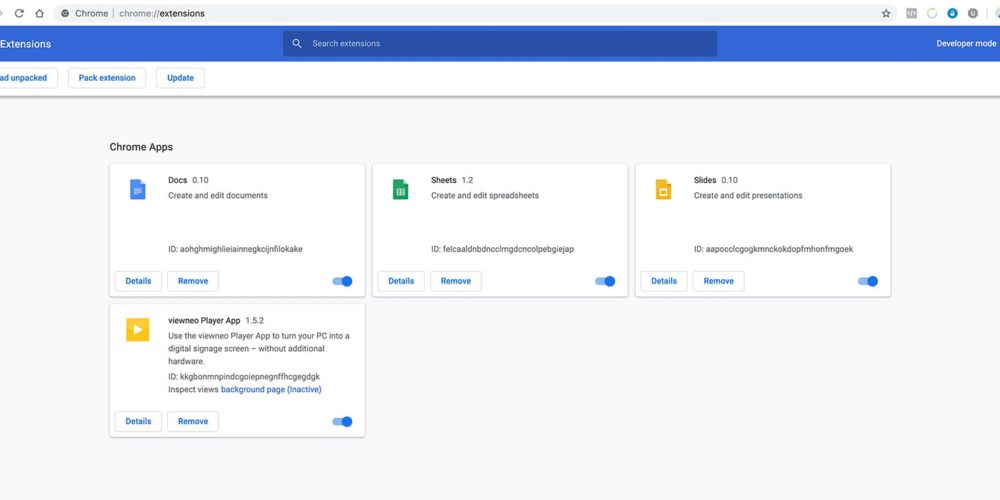 We're almost there, now we need to scroll back up and check the Developer Mode. When you click on the Manage Kiosk Applications there is a field where you can paste in the copied ID. Next, hover over the viewneo Player App (while in Manage Kiosk Applications) and click on the button to active the autostart.
Next, you can log out by clicking on the lower right corner of the start screen. When you do that, the viewneo app will ask you to confirm that you are granting it permission to autostart. After this confirmation, the app will restart and display an activation key. When you log into your viewneo account under the Devices tab, there is a field where you can add this activation key. While it seems like a lot of work the good news is that you only have to do it once and then everything will be automated.
Chromebit Alternatives: viewneo 4K SignageBox and SignageStick 2
If the technical installation requirements of the Chromebit are a bit overwhelming, and you are looking for a simpler hardware solution for your Digital Signage project, then we suggest taking a look at the viewneo Hardware products. They are designed to plug them in and hit play. There are two main viewneo products that compare with the Chromebit: the viewneo 4K SignageBox and the viewneo SignageStick 2.
| | | | |
| --- | --- | --- | --- |
| | Chromebit | 4K SignageBox | SignageStick 2 |
| Operating System | Chrome OS | Android 5.1 | Android 5.1 |
| Resolution | Full HD | Up to 4K | Full HD |
| Memory | 2GB RAM | 2GB RAM | 2GB RAM |
| CPU | Rockchip 1.8GHz | RK3368 64bit Octa-core Cortex A53 | Quad-Core Cortex A17r4 Processor |
| Accessories | Flexible Connector | IR remote control, HDMI Cable, Power Adapter | 1 x Power Supply: DC 5V/2A with changeable Plug´s (EU/US/UK/AU) |
The full range of viewneo hardware is available for purchase in the viewneo Shop.
Summary: ASUS Chromebit Digital Signage Player
There are some positives and negatives about the ASUS Chromebit Digital Signage Player. While it does have a slightly higher price point than some of the other products on the market considering its overall performance it is a solid competitor. It is a great alternative if you are looking for digital signage hardware that operates on Chrome. The Native Full-HD resolution is another great feature which allows you to display crisp and clean images.
There are a few drawbacks in that the internal storage of 16GB is not expandable. The setup process can be intimidating for those who aren't familiar with digital signage systems. Additionally, the player is not designed to be used outdoors. And the need for a Bluetooth or USB keyboard during the setup process is an additional step that might turn off some potential customers.