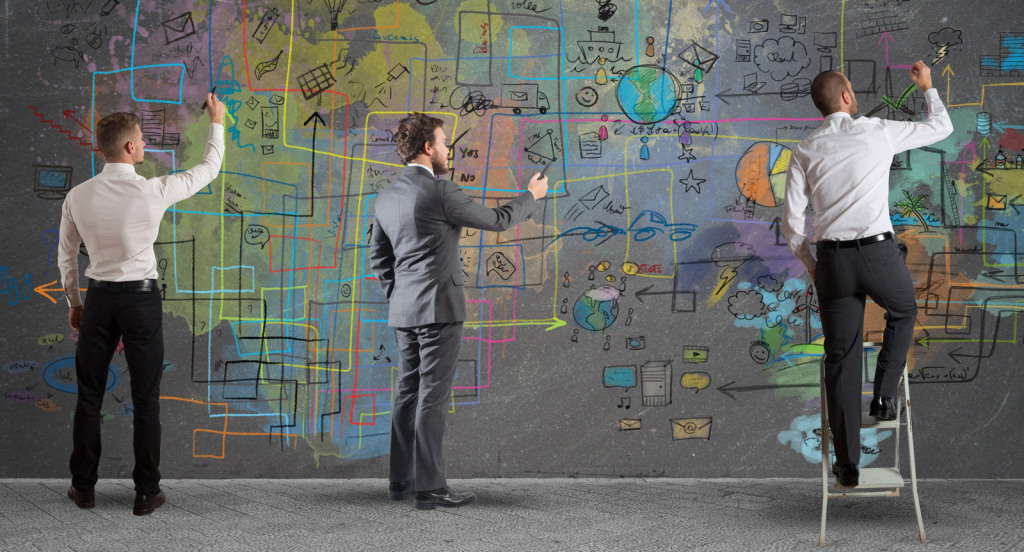 What you can learn from Online Marketing
In the first part of our tutorial series, we discussed in which situations your target group can be in when they look at your screen. Now we will define attributes and interests of your target group in order to develop targeted and relevant content for your target group.
Content is the crucial part in digital signage. "Content is King" – this quote is quite hackneyed but still relevant. You can use the best technique or even buy large-scale produced content. If content is not targeted, then you will miss the attention of customers and your goal that you set for yourself.
A bad example, that I have seen on my own: In a grocery store of a big German supermarket chain there were screens installed at different locations, those screens delivered product advertising. In between there were showing weather forecast and news from a big German tabloid newspaper. Nothing was differentiated between those different grocery stores. All screens displayed the same. As I was in the aisle with vegetables, there was a tabloid announcement on the screen and different offers to detergents. I am asking myself what`s the point.
In the aisle of vegetables, the content of DS screens should be about vegetables. You want to boost sales and not boost customer`s knowledge about the latest gossip on royal families. Unless they have to do something with vegetables and fruit. Grocery stores invest a lot money to display their fresh goods the most tastefully. There are special luminaires, that highlight specific colors of the a good in order to make them appear more fresh. There are special water sprayers that mounted directly above the display of those goods. Everything smells like freshness, everything does look fresh. You really would like to have a bite. So what do you want at this moment with the current horoscope, that may even discourages me to grab some. No, and another No.
Context Sensitive Advertising
It`s the same called in Online Marketing, a field that a lot of digital signage providers can learn from yet. Advertising yes, but  selectively used and tailored towards interests and needs of a target group. And those are different. Depending where your customers is right now, he is interested rather in music, dvd`s, vegetables or coffee machines. Advertising yes, not widely scattered but precisely as a surgeon's scalpel. Content should be the same. Google provides as a good example: If you would search for a specifc item on Amazon, then keep surfing on the internet, you will be followed by Google Ads that contain relevant content, which can be the same product or suitable products. Sometimes you may wonder how and why but you still click on those ads, just because those ads are now interesting for you. Having bought skis, I will be followed by gloves ads, or ski suit/ shoes ads the next days, like in blogs or news pages that I read.And I do not feel bothered by those ads, because they at least better than ads that are not interesting for me.
Low wastage rate – more attention
Taking the grocery store as example, a well-produced film would be a good content, a film that works without sound and with a more emotional appeal. A film that may displays the harvest of local organic food supplier und cleary demonstrates: Here everything is fresh – our goods come from local suppliers.
You can positively influence customer`s decision to buy. You should never distract customer from buying.
Advertising and Content – Always aligned with target group and their situation
The above mentioned example clearly demonstrates, there is lot of ways to do wrong when it`s about choosing the right content. Another example points out, that a wrongly placed content in the vegetable aisle of the supermarket can work elsewhere, such as at a hair salon. Especially female customers would rather watch at content that displays tabloid news, as long as they getting their hair done. While they get the hair cut, they have to put magazine aside. A screen next to them or even mounted in the mirror can create a good atmosphere with this kind of content and advertising about care products can boost sales. Instead interrupting the purchase process, you encourage customers to buy.
So make up your mind of what`s really important for your customers. You sure can use entertainment or infotainment. But this has somehow to be beneficial to your goal, such as: increase of sales, increase of customer`s dwelling time in shop or reduction of waiting time, like at the hair salon. Where you can buy content such as weather, news, tabloid news, sport or horoscope for your screens, will be explained later on.
Context
Content
Tow-wheel shop/
Mountainbike department
Display of action-packed videos about challenging routes in the area. Demonstrate the most recent spring technology. Give tips how to trim a mountainbike right.
Gym, at the water bar.
Display the current course plan. Promote your campaign/special offers such as a "water-flatrate". Announce joint excursions
Shopping center, entrance and exit
Entrance: Greet your customers with current directions and offer. Exit: announcements about important events such as business-open Sundays.

Screens in a company`s canteen
Current menu, important corporate news, infotainment with weather, world news, traffic news
There are no rules of thumb, no matter what "experts" say
Often you read those diverse and alleged established rules such as " the right mix is one third third-party-advertising, one third self-promotion and one third content".  No matter which target group you want to address, there is no other way than to really take a close look at your target group and ( I can`t say it enough) not to lose sight of your own goals. People have already tried and experimented a lot in our industry and often did wrong. Even us, did and have to admit our mistakes in the past. Do it the right way, right from the beginning.
Offer additional value
Delivering valuable content to your customers doesn`t have to be complicated. Content, that doesn`t work in a grocery store, may be beneficial in a shopping center in oder to pursue your goals. This new example demonstrates how at first glance unsuitable content (because it`s not Context Sensitive) may eventually works.
In a shopping center it`s all about: Increasing the average dwelling time. The more time a customer spends in a mall, the more money he will spend. This simply fact is easily proven when you take a ordinary saturday (match day for male sport fans) , for example,  where men were persuaded by their women to join them for shopping. They are strolling while holding shopping bags, just bored behind their women. Their better halfs, who truly generate the most turnover in shopping malls, rather should not be disturbed by their nagging husbands. Sport results and sport tables can be helpful in this case to provide women with more time. This kind of content is welcomed. However, this content does not directly encourage sales, because the target group for this content are men, that do not want to go shopping. Indirectly, however, it does increase the shopping time of women, which boosts in the most cases sales, indeed. Well, we have seen some little crowds of people in front of some screens from time to time.
The Case Study "Digital Advertising Spaces in Shopping Centers" from Samsung can be downloaded here
In the next part you will read about the right presentation of content in regard of font size and font type and first planning of your playlist.