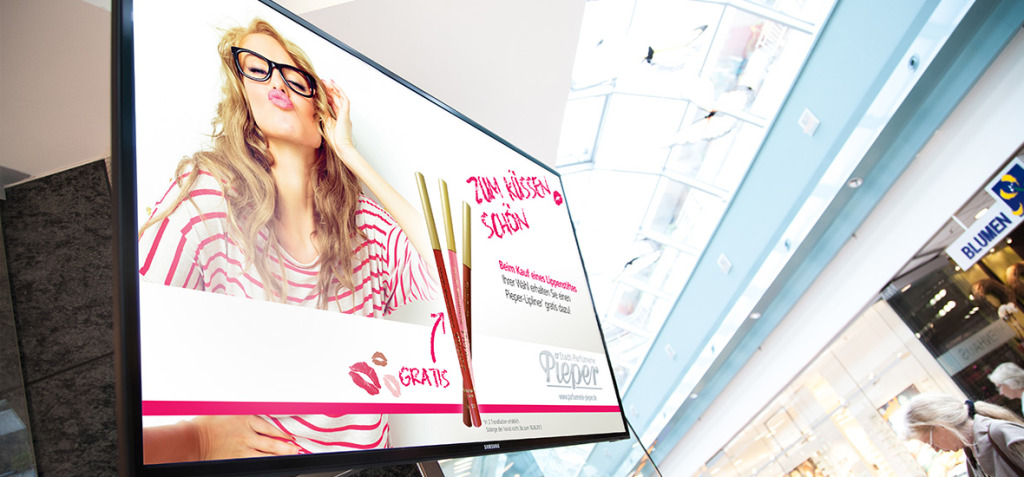 For us Adversign, this also has been a new experience. Everything ran smoothly. Installation, start, arrangement. As a system integrator you already have a lot of experiences. Especially installing DS in a shopping center. Often you only allowed to work at night and then there are these little issues that you definitely did not expect to arise. The player doesn`t boot or problems mounting it, heat issues of DS player in false ceiling, and so on… .
But none of that. Everything ran smoothly except for the fact that it took quite long to completely download the broadcasting loop from the viewneo cloud. But this shopping center is a truly loyal customer of its internet provider and is still using an internet connection that has probably already become obsolete. You never know, anything can happen but there haven`t been any surprises apart from that.
In the shopping center Vennehof in Borken the first SoC screens are used for the shopping center`s operation process. At many much-frequented places and at places where visitors gather, like at the elevator, LFD screens with viewneo software were finally installed attaining the long ahead planned digital signage relaunch. And so far, those screens run smoothly and flawless, even dealing with a record-breaking summer temperature of 38°C (90°F).
The complete installation was done by electricians from a location-based craft business. You didn`t have to explain much. There is hardly any wiring. There are screens which require mounting and power as well as internet. So the LAN wire plugged in behind the screen – that`s it! No player, no distributor, no cable clutter. Due to Samsung SoC (System-on-Chip) and viewneo. In this center those LED screens won`t be used only for announcing events or displaying advertisement and special offers of the shop but also for entertainment , weather forecasts, news and celebrity news that will spark visitor`s interest. This kind of dynamic content are easily dragged into the playlist by using viewneo drag and drop in its CMS, easy and fast: current information – 24/7. Due to its connection to the content-platform contboxx.com – which is standard integrated – infotainment content appears on the screen simply by mouse click. Nobody has to maintain or carry for content to be up-to-date.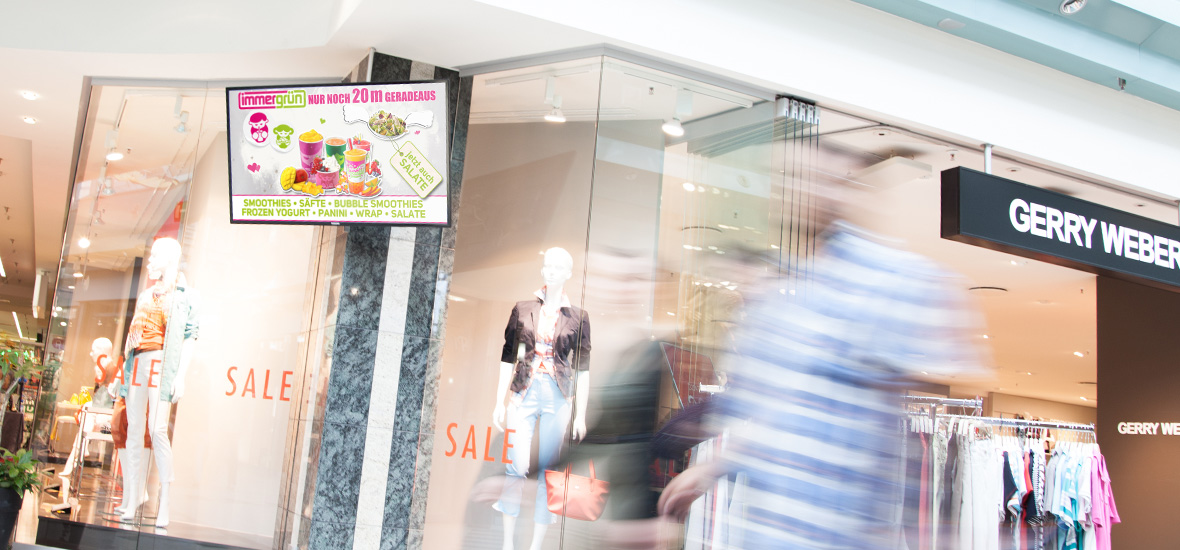 We saw the finished installation for the first time as we wanted to take photos on location on our own. There wasn`t any call so far reporting any problems. Not anything like that. We don`t mind if every installation will now be that easy and smoothly in the run.