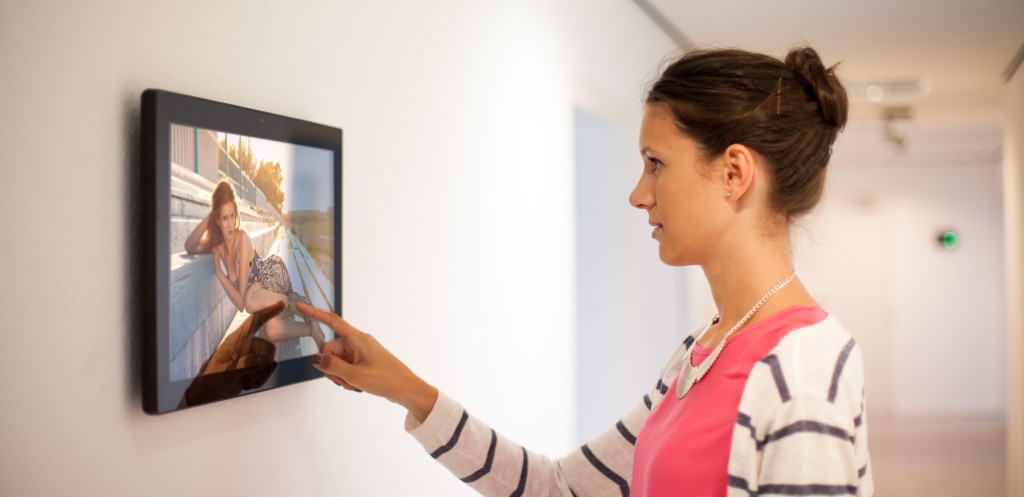 Not always it has to be a video wall, sometimes a 46 inch display may even be too overdesigned. Sometimes a screen should be small and space-saving. For instance, if you try to explain products of a specialty shop on screen right at the shelves or you if you simply want to encourage impulse buying at cash point areas. This is where small screens are of advantage. So why not just using a tablet? They are produced in large quantities and therefore are pretty cheap to get on the market. Moreover, they come with the integrated player, because tablets are PC and monitor combined in one case. Because of their multitouch surface they are per se suitable for interactive content.
Display, Player, Multitouch
Many arguments therefore to take a look at those tablets and considering to use them as device for digital signage. Well, you know the sizes that are used for domestic use. Eyes are already used to screens from 7 till about 10 inches. For the purpose of digital signage this sometimes may be too small. For some time now, there are tablet sizes on the market, that are kind of skrinking the gap between small tablets and large-format displays starting at 32″. We are confident, that even this gap will be filled soon.
Reason enough to use this all-rounder with viewneo for professional use. Therefore we started a new project and developed a digital signage tablet with 21,5″ screen size and integrated viewneo software. This tablet is equipped with Cortex‐A9 Quad Core CPU and the GPU delivers a 16:9 format preferable for professional use, which enables a smooth display of videos and movies in HD.
Right from the package directly on the wall
The tablet is developed for indoor purposes and can be placed at a desk right way thanks to its accompanying support food. You will also find screw holes on the back so that you can mount it directly on the wall, too. What`s missing is the commonly used Home Button on the front side. In the field of digital signage you don`t want this kind of button on the front side. On the back side you wil find a on-off switch., Next to it, there is a LAN port, although you can also use the integrated W-LAN. Two additional USB ports are also placed on the back side.
If you switch the tablet on, the player immediately starts. If you start it for the first time, you will see a code displayed on the screen, you are asked to enter this code when you add a new device in your viewneo account. After that your device and your viewneo account are already connected with each other and you are free to go to create a playlist for your tablet. The tablet immediately downloads all content such as videos, images or even dynamic content like weather or news. In few minutes the content is now playing non-stop.
Viewneo`s software is developed in the way that no viewer or customer can influence or stop the tablet from broadcasting your content. By using a PIN you can lock the screen in order to prevent a customer to use the user interface of Android.
Interactive with the viewer
The 10-point multitouch display (capacitive) enables you to upload content that can be interactively navigated by the viewer. Using viewneo you can upload HTML5 content in your playlist, which can be content that explains viewers the products or give directions for a building or the possibility to navigate the content themselves. Even HTML5 applications, which connect with viewer`s smartphones by using websockets is easily implemented with the viewneo tablet, for example, if the user scans a QR-code. This model is available with or without integrated front camera.
3G, Wifi and Bluetooth
Besides LAN and W-LAN (Wifi) you can also use this digital signage tablet with Bluetooth. Even at locations where it is more difficult to provide a network, this device can be navigated by using USB Modul 3G Modul in the viewneo cloud.
Price and availability
Delivery of the viewneo 21.5″ tablet can be effected immediately. Price at a quantity from 1 -10 pieces is 599 € each (plus VAT)
Default Gallery Type Template
This is the default gallery type template, located in:
/srv/www/viewneo.com/blog/wp-content/plugins/nextgen-gallery/products/photocrati_nextgen/modules/nextgen_gallery_display/templates/index.php.
If you're seeing this, it's because the gallery type you selected has not provided a template of it's own.
| Attribute | Details |
| --- | --- |
| CPU | Quad core, Cortex‐A9, 1.6GHz, |
| Resolution | max. 1920 x 1080 Pixel (FullHD) |
| RAM | 1G DDR3 |
| Memory | 8 GB |
| OS | Android 4.2 |
| Touch screen | 10 points capacitive touch screen |
| WiFi | 802.11 b/g/n |
| Bluetooth | supported |
| 3G | 3G USB Dongle, external |
| SD Card | SD Card (Up to 32GB SD/TF Card extension) |
| speaker (integrated) | 2 x 5 Watt |
| Camera | Front 2.0 Megapixel |
| Price | 599 Euro plus VAT |