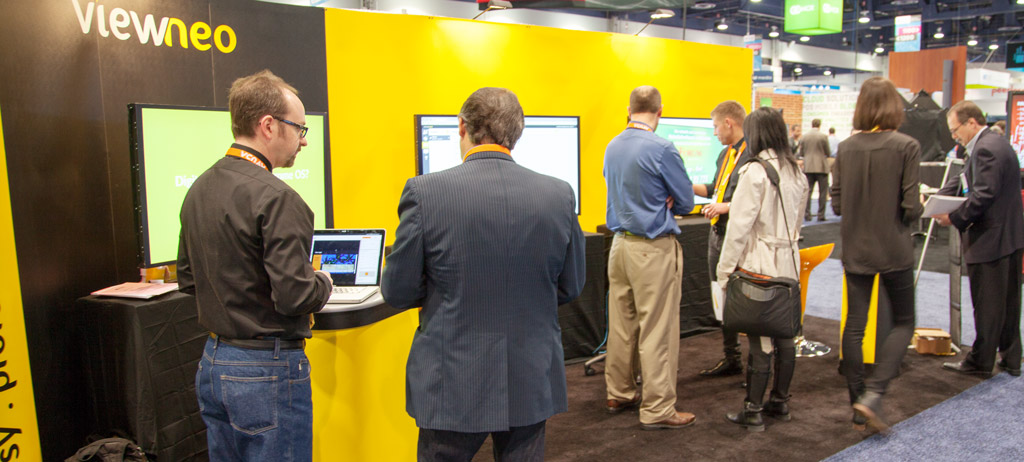 Our black and yellow booth and ourselves in the same colors could be found in Vegas at the Digital Signage Expo again this year (invidis reported). The fact, that we were given the friendly nickname "Bumblebee" proved to us that we attract attention. The response was exceptionally good this year. Even though there were fewer visitors than last year, we received the first inquiries by the end of the first day already. It came totally unexpected after last year's experiences.
viewneo and Google Chrome OS
As announced before, we introduced our new version for Chrome OS at the DSE. A surprise for the crowds was that Google made a first appearance in the Digital Signage world themselves. As one of Google's first partners, we presented our solution for the operating system based on a Linux-core and the Chrome browser at our booth. However, center and focus point of our booth was the cloud-based Digital Signage solution viewneo.
Support from Quast Media
We teamed up for the first time with our US-partner Quast Media for our exhibition here in Vegas. The owner Winfried Quast arrived from Manchester, Connecticut to support us at our booth energetically. This way we were finally able to properly get to know each other in person. Even though we had been partners for quite a while and Winfried had also visited us in Düsseldorf before, spending a few days together in Vegas got us even closer together and we had a great time with him!
Winfried presents viewneo (by rAVe Publications)
First version of the integrated Template-Builder
The one thing our audience enjoyed the most was the integration of our new feature: the Template-Builder. The WYSIWYG-surface lets you create your own templates, advertisements, and animations. And the best thing is: it's all web-based and the templates can be created with just a few mouseclicks by our clients. Templates can we used over and over again with different and changing content in an advertisement. For example daily offers, menu-boards, event dates, and information or corporate announcements (with their own corporate design of course). So as soon as a template is created, it is handy and easy to create new content out of it frequently.
Our partner Samsung was a great support
We and our Korean partner Samsung worked hand in hand again and the joint work with viewneo and the Samsung Smart Signage Platform was terrific. Not only did we send visitors to each other booths, but Samsung-USA provided us with monitors again and saved us from an enormous logistic hassle. We can't thank you enough for the great support!
Summary
The feedback way just overwhelming! The exhibition is known for visitors from outside of the States, so many visitors from South America and Canada came to Vegas. Also, a few Australians could be found among the visitors, but considering the distance, it was probably the visitors from Arabian countries, who had the longest way to come over.
For us, this exhibition is like no other and more important than any exhibition in Germany or the ISE in Amsterdam. For some reason, it seems easier for us to be present without local exhibitions in Europe. So who knows, maybe you will see the "Bumblebees from Germany" at likewise exhibitions in Brazil or Dubai. If we will attend the next ISE in Amsterdam? We don't know yet. But the one thing we are certain of: we would love to be back in Vegas for the DSE 2016! Even though it is always an exhausting and expensive operation to make an appearance overseas, compared to setting up a booth in the closer D-A-CH area (Germany – Austria – Switzerland) or Amsterdam. The presence of partners and multiplicators is like nowhere else in Vegas for us. But the new partnership with Google and the support of Chrome OS leaves us wondering if we should be at the ISE with our new concept once again.