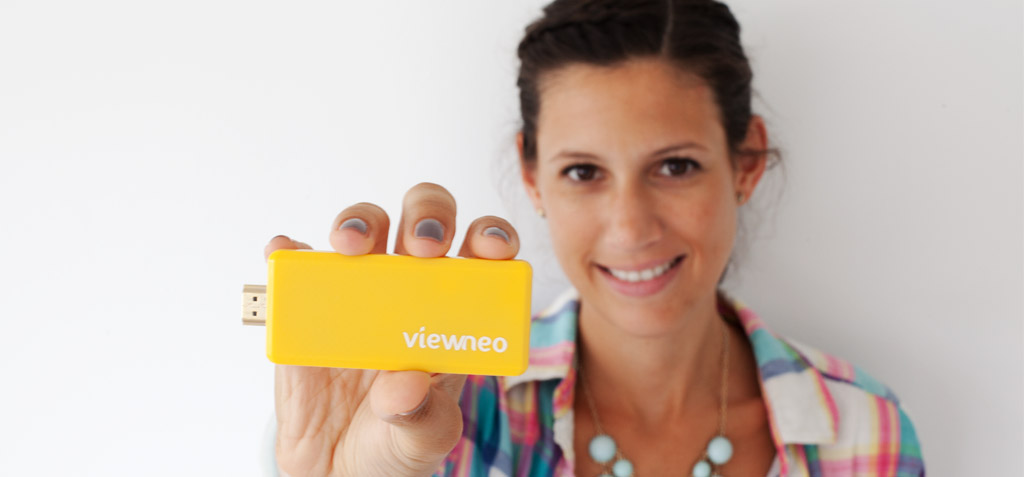 UPD: The viewneo SignageStick 2 replaced viewneo Signage Stick
In Yellow of course – what else? That`s how the stick looks like which has just arrived right from the production line. The package had to be in yellow too, of course, because yellow was also our lucky color at the trade fair.
Shortly before we launch our pre-sale, we are able to hold the stick with our own hands and it's definitely something special holding a product in your hands in whose development you were involved in. Normally software developers are not able to hold their finished products in their own hands…when it comes down to software.
So what does the stick do?
Our viewneo Signage Stick transfers any conventional screens or TV devices with HDMI access into a digital signage system. How? Just put the stick into the HDMI access of your screen or TV. The stick replaces the PC that is usually needed for a digital signage player.
Technically the stick is like a normal Android stick. Our yellow viewneo stick, however, is rooted and therefore provides better characteristics and more features than the normal Android stick on Amazon.
You only have to put the viewneo Signage Stick in your screen or TV with HDMI-access. A setup wizard starts and asks some questions. After that, the stick delivers an image with 6-digits code on your screen. With this code you go to viewneo.com in the control menu under device management, there you enter your code. Thus the stick is now linked with your user account.
Maximal 2.5 Watt: A quiet and economical Player
Long gone are the days where there was a 180 watt PC loudly buzzing in front of any digital signage screen broadcasting HD content. Those power guzzlers are out. If there has to be an external player (because there are ways without, like the SoC Screens from Samsung), then please one, that doesn`t make noise and which consumes less power. The small size is particularly beneficial if you need to hide the digital signage player behind a screen that is directly mounted to the wall.
Compared to a conventional HDMI-Stick (Mini-PCs), which you can purchase everywhere, the yellow viewneo Stick provides a few more benefits. Using the normal sticks you need a Google user account and you still need to download the viewneo-App. App updates will then only take place through Google Play ( or soon via Itunes). On the yellow viewneo Signage Stick the app is already installed and the stick starts the viewneo player with setup wizard automatically and for this, you won`t need a Google Account on Google Play Store. Overall, the software which is on the viewneo stick is more suitable to provide a digital signage player. Therefore the stick is increasing safety and comfort of operation.
Technical Data
OS: Google Android 4.2.2
Connection: 802.11b/g/n with internal Antenna WiFi ,Bluetooth
CPU: Rockchips 3188 Quad-Core 4 x 1,6 GHz
RAM: DDR3 2GB
ROM: Storage Extension: Graphic: 8G micro SD (part of card is reserved for the operation system) Micro-SD-Card up to 32GB
Quad Core Mali400, supports 1080P (1920 * 1080), (2048 x 1536) through DVI AdapterIN/OUT
1 x USB 2.0 Host
1 X HDMI 1.3 output
1 x Micro-SD
1 X power supply for Europe (micro USB)
1X OTG (micro USB)
max. 2.5W, 5V/500mA
Size / Net Weight: 90x40x10mm