NEC is one of the big names in digital signage business and known for its high quality, which is demanded in this professional environment. Now we finally managed to develop a new great DS product through our strong partnership with NEC. An all-in-one solution for retail, gastronomy, health-care and other industries. The screens of the V-series are available from 32″ up to 80″ in size and developed for the professional use. Due to its brightness of 450 cd/sqm, the NEC screens can also be used in a very bright surrounding. Temperature sensors and quiet internal fans ensure that a screen of the V-series runs smoothly even in midsummer and in a very hot environment.
A slot for the player
Its speciality is its slot on the backside. In this sloth you are able to screw a OPS-digital signage player (OPS-DRD). The player is compatible with all large format displays from NEC, that come with an OPS-slot (Open Pluggable Specification) and with the installation projectors from NEC`s  PX-and PH-series. You will get a compact device, but not bigger as a screen without a player. No hassle with cabeling, no stress. Viewneo works with the OPS-player and the device is set up within in minutes and ready for digital signage use.
The OPS digital signage player is basically a playback for Android with Quad-Core-processor from ARM and integrated mulit-media-.processor. The player is able to display videos in 1080p resolution.
Due to its varied connectivity options, its perfectly suitable for the digital signage use such as in retail, aviation and transport facilities, gastronomy and digital signage outdoor (DooH). The slot device can be operated universally with all major screens. Therefore you slide-in the OPS-player in a special case that is equipped with an OPS connection as well. On the backside of the case, you'll find special connections that enables you to connect the player with any screen.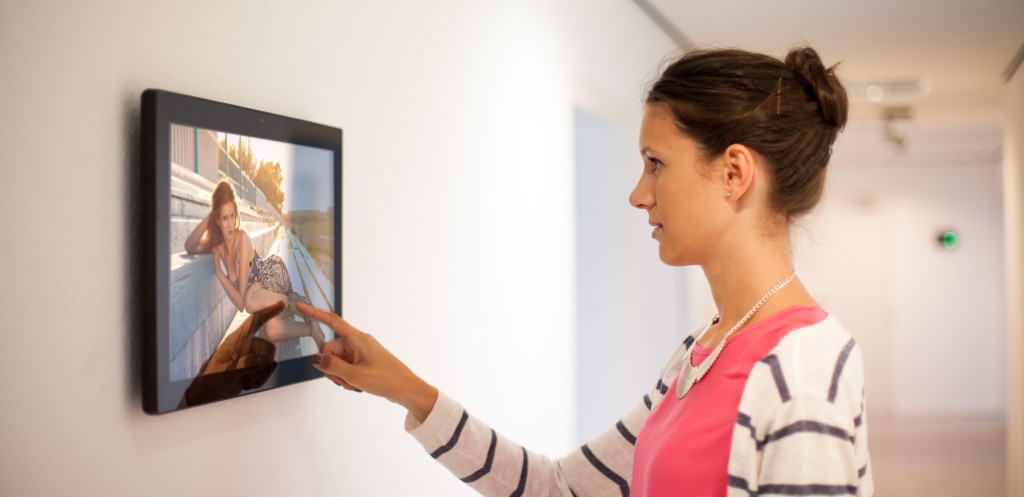 viewneo is already included
We ship the player with the viewneo App already installed, which reduces the installation process to less than few minutes After you slide-in and screw the digital signage in the slot, you only have to connect it to the power supply and LAN cable, unless you might even want to use the integrated Wifi. If you switch the NEC screen on, viewneo`s setup wizard will start. In the end as usual, you will see the 6-digits code on the display, which you have to use for your user account on viewneo. The player then will already start to download your playlist as well as playing your content right after.
As soon as price and availability is set, we will let you know here in our blog.
Default Gallery Type Template
This is the default gallery type template, located in:
/srv/www/viewneo.com/blog/wp-content/plugins/nextgen-gallery/products/photocrati_nextgen/modules/nextgen_gallery_display/templates/index.php.
If you're seeing this, it's because the gallery type you selected has not provided a template of it's own.
| Model | V422 | V462 | V552 | V652 |
| --- | --- | --- | --- | --- |
| Viewable Image Size | 42" | 46" | 55" | 65" |
| Native Resolution | 1920x1080 | 1920x1080 | 1920x1080 | 1920x1080 |
| Brightness (Typical/Max) | 370 cd/m2 / 500 cd/m2 | 340 cd/m2 / 450 cd/m2 | 320 cd/m2 / 450 cd/m2 | 320 cd/m2 / 450 cd/m2 |
| Contrast Ratio (Typical) | 1300:1 | 3000:1 | 4000:1 | 4000:1 |
| Viewing Angle | 178° Vert., 178° Hor. (89U/89D/89L/89R) @ CR>10 | | | |
| Orientation | Landscape/Portrait | | | |
| Input Terminals | | | | |
| Digital | DisplayPort, HDMI, DVI-D | | | |
| Analog | VGA 15-pin D-sub, 5 BNC (RGBHV, DVD/HD or Video), BNC Composite, S-Video | | VGA 15-pin D-sub, 5 BNC (RGBHV, DVD/HD, S-Video or Video), BNC Composite | |
| External Control | RS-232C, Ethernet (RJ45), IR Remote, DDC/CI | | | |
| Speakers | Integrated (10W x 2) | | | |
| POWER CONSUMPTiON | | | | |
| On (Typical) | 155W | 165W | 100W | 185W |
| ECO Mode Standby | <2W | <1W | <2W | |
| ADDITIONAL FEATURES | Advanced thermal capabilities; Advanced cooling system; Sealed panel design; TileMatrix (10x10; 5x5 for V321-2); Separate group/Monitor ID function; CableComp+; Ethernet Control and Communication; RS-232 Control and Communication; Carbon footprint meter; Plug and Play (DDC/CI, DDC2B); Scheduler (w/ real-time clock); Sharpness/softness adjustment; Screen saver function; 6-axis color adjustment; POP; Side-by-Side; Kensington lock; Handles; Touch- and protective screen-ready; Variable picture modes; Advanced video settings (Noise Reduction, Adaptive Contrast); Input labeling; Backlight adjust; Aspect ratio speakers; OPS/Expansion slot; Custom input detection | | Advanced thermal capabilities; Advanced cooling system; TileMatrix (10x10); TileComp; Separate group/Monitor ID function; Ethernet Control and Communication; RS-232 Control and Communication; Carbon footprint meter; Plug and Play (DDC/CI, DDC2B); Scheduler (w/ real-time clock); Screen saver function; POP; Side-by-Side; Kensington lock; Handles; Touch- and protective screen-ready; Variable picture modes; Advanced video settings (Noise Reduction, Adaptive Contrast); Input labeling; Backlight adjust; Aspect ratio control; Built-in speakers; OPS-Compliant slot | |
Technische Daten OPS DIGITAL SIGNAGE PLAYER
CONFIGURATION OF THE PLAYER
Processor
ARM Cortex-A7 Quad-Core, 4 × 1,0 GHz
Graphic card
Integrated PowerVR SGX544 MP2, eight logical kernel
RAM
2-GB-DDR3-1333, two channels
Memory
8-GB-NAND-Flash
Memory extension
SD-card slot
(1 GB – 64 GB), USB 1.0/ 2.0 (2 GB – 128 GB)
Operating system
ANDROID Jelly Bean 4.2.2
Connections
Connections frontside
2 × USB 2.0
SD-card slot
(SD, SDHC)
RJ45 10 / 100 / 1.000 Mbit/s
W-LAN-antenna 802.11/b/g/n
Connections backside
HDMI, AUDIO L/R, 3 × USB 2.0, RS-232
via the internal OPS-port (JAE 80-polig)
RESOLUTION AND FORMATS
Supported video resolution
1.080p bei 50/60 Hz (standard), 720p withi 50/60 Hz
Supported video formats
MPEG1, MPEG2, MPEG4 SP/ASP GMC, XVID
H.263 including Sorenson Spark, H.264 BP/MP/HP
WMV7/8, WMV9/VC1 BP/MP/AP, VP6/8, JPEG/MJPEG

Note:
With viewneo, all uploaded videos will be converted automatically into a player-friendly format (mp4/h.264).
Supported audio-codecs
AC3, Dolby Digital 5.1 / 7.1, Dolby True HD 5.1 / 7.1, DTS-MA, DTS-HR, MP3, AAC
Electronics
Power consumption
Idle state (2,5 W), max (12,0 W)
Equipment available
External case
(24/7)
External case with OPS-Slot