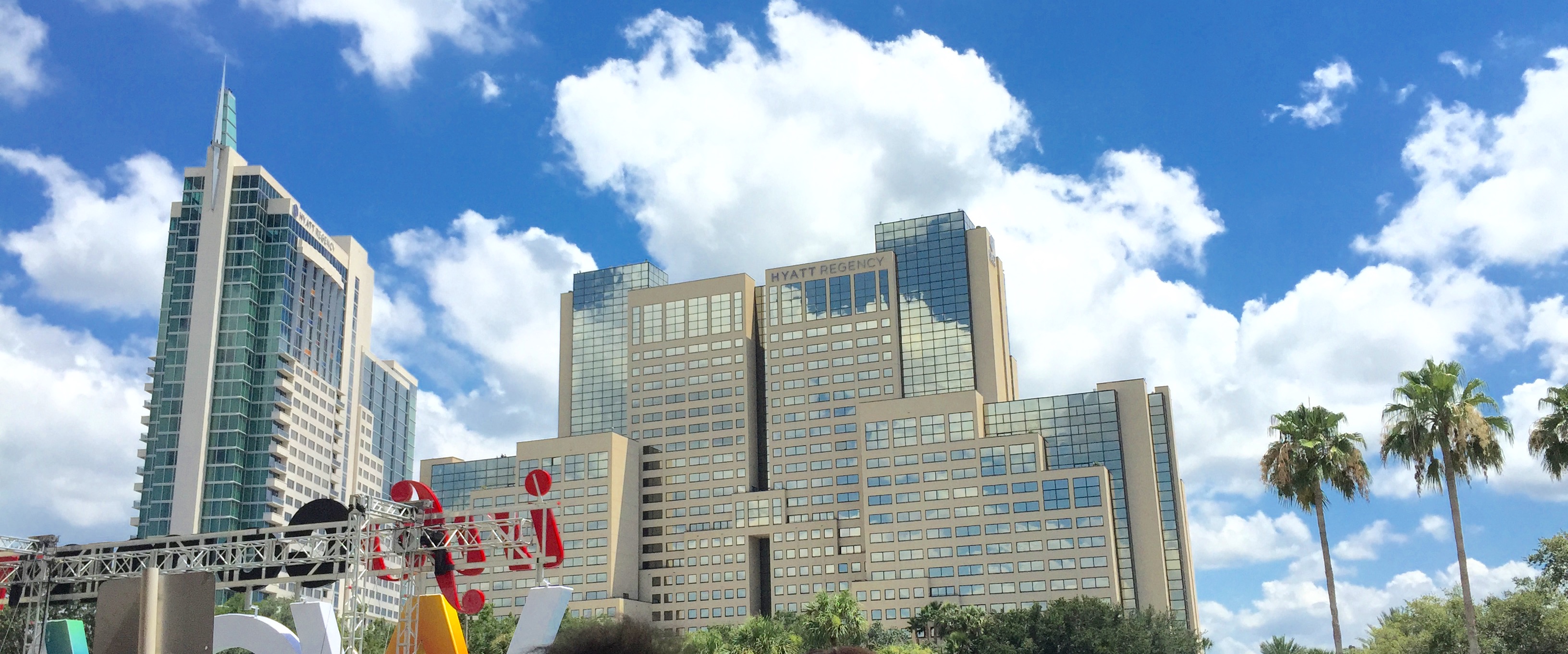 Wow – when we left the air-conditioned hotel in the early morning, it felt like we walked into the tropical greenhouse of a zoological garden. It is sticky hot and stuffy. As we are snapping for air, our bodies already start to sweat. The clothes stick to the skin. In the air-conditioned rooms it is easy to forget how the weather is outside. Already at the Miami airport, shortly after we left the building, sweat began to run down our backs. As said before: Every time you leave a building you get surprised by this wall that comes towards you. No wonder that the plane was half empty on the way from Düsseldorf to Miami. Florida is a holiday paradise – but not at the height of summer.
We visit the InfoComm that gets referred to as the sister event of the ISE in Amsterdam. We are thinking about presenting ourselves in our yellow-black booth here too. But before we want to get a personal impression of the convention and its visitors. After all an own exhibition stand is related to a lot of effort and high costs.
Unlike the DSE in Las Vegas, the InfoComm addresses not only Digital Signage. You can see everything around AV. There are areas for audio, for video and even an own hall for Digital Signage. We could not see lot of new things. At least nothing concerning Digital Signage. We cannot speak for the other areas. The AV professional audience has to do that.
We knew already that the event would not have the same importance as the DSE in Vegas. But maybe – so the initial thought – maybe we can meet visitors here that did not get exposed to the topic DS that much before. Maybe they are just walking through the Digital Signage hall out of boredom or curiosity. The DSE just attracts only visitors that already know about DooH, Digital Signage or digital advertising. The InfoComm promised something else. Whether it can keep that promise, we were going to investigate.
Shivering at 102 Degrees Fahrenheit Outside Temperature
The event halls at the Orlando Convention Center are air-conditioned more than enough. Although there is no informal exhibition dress code in the US, we already guessed that you can wear long dark clothes without breaking out in sweat. You can also wear shorts, T-shirt and flip-flops without getting weird looks or get pigeonholed. The felt temperature of 18 degrees Celsius in the center proved us right. Sometimes I felt the need to go outside just to catch some warmth. Like the vulture who spreads out its wings on the ground to warm up after a glide up in the cold height.
Few Innovations but some Surprises 
We missed some partners with stands that we expected to be there or we thought to remember that they even announced their presence. Of course all the big display producers were represented. Similar to the DSE in March. But there were just a few software producers that presented their solutions. Or we just did not perceive them as one. I do not want to rule that out.
The display producers shined in "sixteen to nine" with even higher  resolution, even brighter displays or even thinner frames as expected. Somehow it reminded me of the pixel race of camera producers in the past. I was bored. Sure, our solution is based primarily on these formats. But still.
We are more on the look out for something new, looking for easy and smart solutions. Not any more features instead finally more usefulness! Luckily there was here and there some new ideas at the smaller stands. A 'wall mounting' that does not have to be drilled into the wall which is as easy as brilliant or the iPoster, a LED stand system with unusual formats.
It is refreshing to see that some people are moving away from the standard format of 16:9 or 9:16. Sure, the big LED surfaces in New York or Vegas do not underlay any standard. But those are not the small companies that we want. Those are individual solutions that others of our branch are providing.
Conclusion
To our surprise the next InfoComm will not be happening in Orlando at the east coast. From the 4th to the 10th of June 2016 it is opening its doors in Vegas. Another reason for us not to present at the InfoComm. A further argument has been that a lot of Americans from the East Coast might rather come to Orlando.