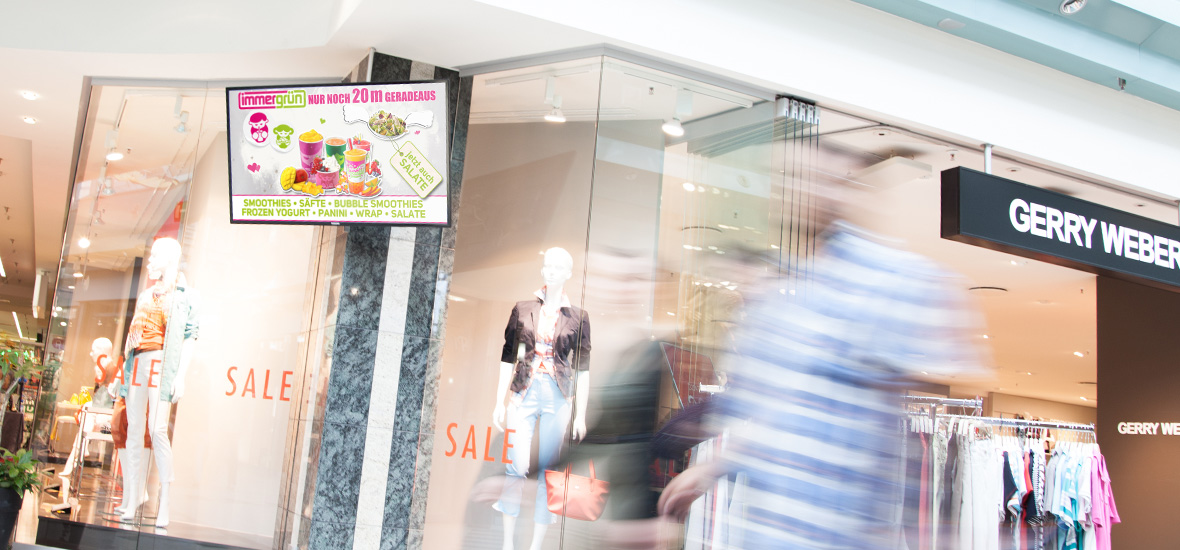 Digital Signage is popping up everywhere. From big to small retailers, clients get informed about offers, news and specials in many places. Shops publish their sales offers, restaurants and bars present their daily menus digitally, waiting time gets reduced at the doctor or hospital. But what does it take to create additional benefit?
We summed up the Top 5 for you here to consider:
1. Content, Content, Content
Yes, it sounds corny and everyone says it – but it's true and therefore even more important: content must be lively, appealing and relevant! It is important to know where your target group is and what they are doing when they get in touch with your digital signage. Advertising for hamster cages in a shoe store is shot wad….
2. Make your Content lively
Set yourself apart, stand out. Inform your customers/guests etc. in multifaceted ways. Rigid pictures that come after another will become boring very fast. Animate your content and bring your advertising to life. With the right software even interaction between customer and screen can be realized. To become active as a contemplator and navigate through offers and information by yourself motivates and increases interest.
3. The Eyecatcher
Call the attention to your screen. You can help along to get it: complement your playlist with news, livetickers, stock exchange values, weather or, or, or… You can also do so with animated content as mentioned above. Basically everything that helps to make your digital signage be noticed will work.
4. Location
As the real estate agents are saying: location, location, location! This is absolutely true. No one is going to strain his or her neck to look 12 feet up in the air at a cheap TV set – except big installations such as videowalls of course. Update: Check how to make a video wall here! Places where people have to wait, they need to visit or like to chill out are suitable conditions and your content may be able to influence purchase decisions at the last minute while improving the overall customer experience. Screens at the check out are "too late" to advertise your products. Announcements for events or future offers fit better here.
5. Style
Don't use a sledge-hammer to crack a nut. It's not necessarily the 55" screen for the cozy café right around the corner. A Videoall in a mall, sure! Think of your goals you want to achieve with digital signage and take a look what is possible to integrate. By now almost any screen can be turned into a digital signage monitor.
We hope that our tips can make it easier for your to start with your own digital signage project. We wish you good luck with it.