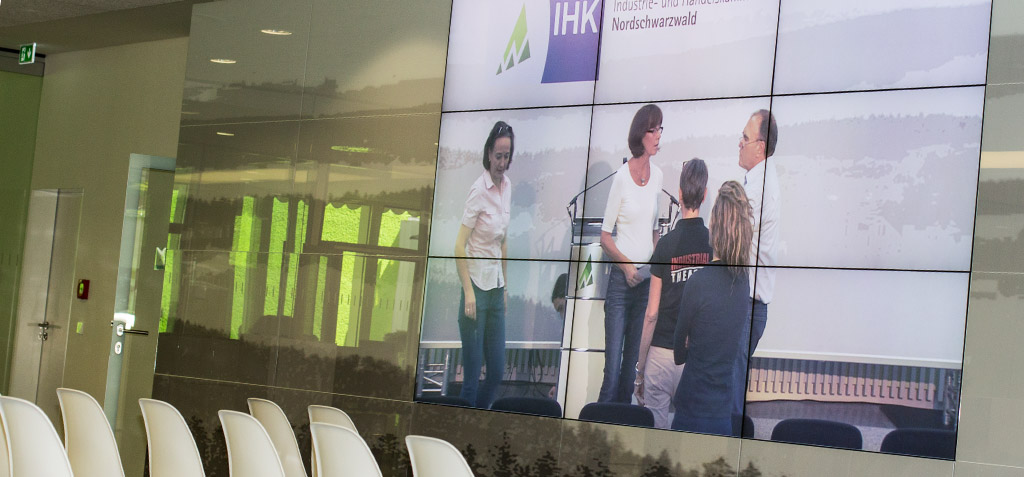 It was almost a little spacy at the Chamber of Industry and Commerce in Nordschwarzwald where they invited us to the opening of the their newly reconstructed Education Centre. Everywhere you saw modern screens installations. Starting with an individual digital signage screen serving as an infotainment-system for the waiting area up to a bigger video wall consisting of nine Large-Format Screens. Speeches were given, appreciation were expressed and live music was played for entertainment.
For several days now there is a new renovated building extension at the Chamber of Commerce. Inside this building section you will also find the Education Centre belonging to the Chamber of Commerce which ourselves equipped with the latest technology. Togther with the company iTech, who took charge of the cabling and mounting, we equipped the Education Centre with everything that the digital signage industry has to offer at the moment.
No chalk, boards or overhead-projectors
In the course rooms you will not be able to find these things that has remained in your memory from your school years such as blackboards or chalks. Those blackboards are now interactive screens, where you actually are able to use your finger or special pens to write directly on the screens.
viewneo entertains and informs
In the waiting areas you see screens that are controlled by the viewneo HDMI stick broadcasting infotainment content.
Default Gallery Type Template
This is the default gallery type template, located in:
/srv/www/viewneo.com/blog/wp-content/plugins/nextgen-gallery/products/photocrati_nextgen/modules/nextgen_gallery_display/templates/index.php.
If you're seeing this, it's because the gallery type you selected has not provided a template of it's own.