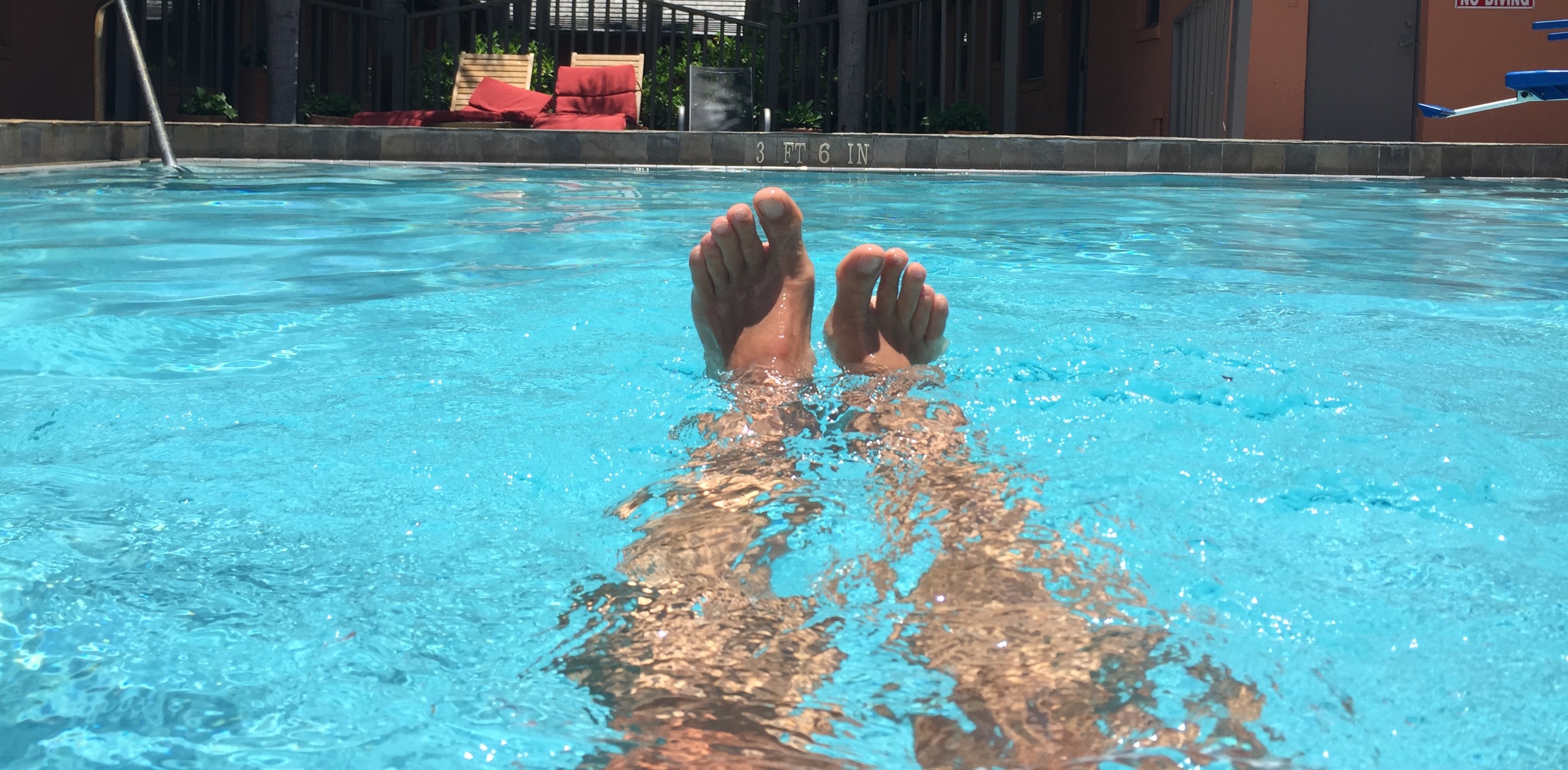 As mentioned in the last blog post, we flew to Florida in June to visit the InfoComm in Orlando. We wanted to see the convention to decide whether it is worth it for us to exhibit there.
Anyone who knows Florida well enough knows that this sunny state is sticky hot and stuffy in the summer. At the 'Keys', the most southern point of Florida and also in part of Miami it rains almost daily in this season. Just short and sometimes hard and almost always at the same time: Late afternoon. Because the temperatures only go down to 30 degrees Celsius at night, you can imagine how fast the puddles evaporate. Every time you get out of the air-conditioned car, you face a wall of hot air with up to 97 percent humidity. It is supposed to be even worse in August – luckily we are back in Germany by then.
When we left home, it was also 30 degrees Celsius in Düsseldorf. However, we do not want to leave out that we looked forward to the reliable sun in Florida. Right now – circa one week later – you have to wear a jacket at the German coast. So we don't want to complain.
We planned meetings with our US-partner Winfried (Quast Media) for the time before and after the convention, as well as meetings with customers and partners. We already have some customers in the US state Florida and it would be very interesting and valuable to get to know how they are using our Digital Signage solution.
Room for 38 Dollars
We visited the convention together with Winfried. Already a day before and after the convention we sat together to discuss new plans and our visions. We booked a cheap hotel that still had good ratings. Often we had surprisingly good experiences with hotels of that category. Before we came, Winfried recommended some great hotels but we declined the offer: 'To expensive – we don't need that.'
'Then book it yourself!', told us our US-partner. Like usually, we did that a day before arrival and already started worrying how Winfried would react when we booked the 38 Dollar rooms :). After all, the apartments were close to the convention center and still rated with 7.2 points at Booking.com.
When we reached the hotel in Orlando in the morning, we could not check in directly and just left our luggage there. The rooms would be ready at 2 pm. 'Okay, then we pick up Winfried at the airport. All good!'
Our first glimpse of the hotel revealed a big swimming pool surrounded of simple apartments that had their best time in the 80s. In the typical motel style every apartment had a door to the front. Somehow it reminded us of our standard place in San Francisco – our 'Surf Motel'. Just that that one is more than double the price of this hotel.
On the way to the airport we shuddered. 'What will Winfried say?', we laughed. 'We will bring him down to our niveau!' – and laughed more.
Back from the airport, with Winfried and his bags on board the open Camaro, we were at least able to check in. But we still could not get into our rooms. 'At 4 pm', was the new info. So we left our luggage again and went to the pool. There we could sit down at least. Under the umbrella of course. The midday sun of Orlando is unbearable. So we got our swimming shorts out of the suitcases, changed in the car and went into the pool to cool down.
Brainstorm instead of Hurricane
Cooling down? That did not happen.
Who does not know this: When you go into the water for the first time, you often make a sound like 'Ffff – uhhh' and move around slowly, step for step into the deeper end. The cold water often causes these sounds with raised shoulders and folded arms. Or you jump in like a real guy and just think 'Uhhh'! Here you don't even notice the line between water and air on your body and you go in the pool like you left it seconds ago. With approximately 37 degrees Celsius in the warm water you can hold out for a while at least. Even without moving you cannot cool down – how should that even work? You can search children with blue lips in vain. You could stay the whole night in the pool and can probably sleep there very well.
That day we had real meetings in the pool and did our brainstorming together. Ideas kept flowing. Does relaxing in the pool stimulate inspiration? Maybe this completely relaxed situation helped to get the thoughts free and the head creative. We gave serious and at the same time jesting consideration to the idea of a pool on our office terrace in Düsseldorf – ignoring the architectural statics for now.
From that day on we went into the pool multiple times to do our meetings and brainstorming. We think that good ideas could be created if you could do it in Düsseldorf but the German summer already puts off our plans. If we just had our headquarters in California…
Roommates
At 4 pm Winfried was still not allowed to get into his room. He solved the problem by upgrading with 8 Dollars to the 'Deluxe' room that we got ourselves. His room was still cheaper that ours but Booking.com suggested a package and I just clicked 'Book now'. Seriously, Winfried! But we three had a laugh when he came back from the hotel reception grumbling and said jokingly: 'You really don't like me, do you?'.
The 'Deluxe'-rooms were still far from deluxe. We had to switch ours because Booking.com got us a smoking room. We could not stay in there. The switching worked without problems. We did not feel like we were sitting in an ashtray anymore when we closed our eyes – more like in a chemistry laboratory where a mistake happened before we came in. The old smell of the furniture and beds and the in the USA mandatory carpet floor was probably sprayed away every morning with ten cans of room spray.
With all this chemistry it was a wonder that Winfried had the luck to share his room with two roommates that you call cockroaches here. These two nice guys stole all his sleep. I assume that they were only able to get that big through their daily chemistry cocktail. To Winfried's surprise they were also able to climb the ceiling. That is a place where you would not expect cockroaches but you never stop learning.