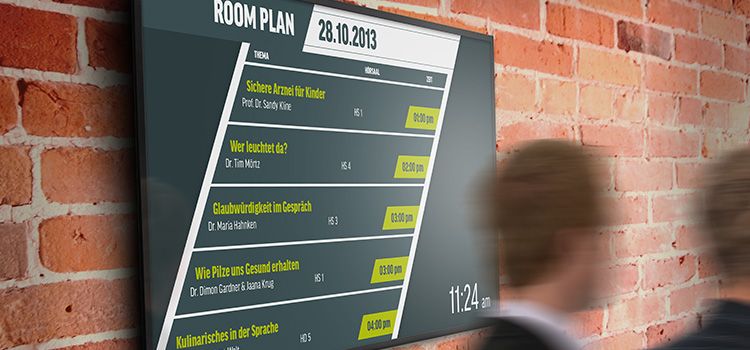 The use of digital content is already spreading fast and is including more and more areas where Digital Signage is less of an advertising or marketing tool and more of a supporting information system that reduces work.
Especially Digital Signage for schools, or all different educational institutions, is in demand and is establishing itself more and more.
The digital bulletin board is replacing the classic bulletin board, and not without reason. There are many possibilities and advantages, not only for teachers and students but also for the school as an institution.
97% of students prefer to receive their information in
digital channels versus non-digital sources.
From making the overall communication within schools easier by using digital bulletin boards to individualizing the communication structure within the school as a brand.
Why schools need Digital Signage
Using Digital Signage for schools does not necessarily mean replacing bulletin boards or schedules. It is more about building and expanding an efficient organizational structure in schools. So for schools, Digital Signage can become an integrated solution, that allows for a direct and immediate interaction with students and teachers. Content can be easily created on the Internet, changed, managed and then directed to an unlimited number of screens within the building.
5 Reasons
why School Digital Signage is replacing the static model

 #1 Fast and efficient organization
Especially in schools, it is important that information and important news reach the students and teachers quickly and continuously. Changes to the schedule usually happen spontaneously and it happens almost daily that a class has to be canceled.
Here is an example: A teacher is stuck in traffic or sick. The class doesn't know this and is probably already waiting in front of the classroom. Instead of having to wait for another teacher to come and tell them, or go to the bulletin board or teachers' lounge to find out, the information could get to them in a much easier way.
By using school Digital Signage as a digital board, information like this can be immediately displayed on selected monitors. All the information that you want to or have to deliver will be seen by the right people without any extra work or delays. What also improves your organization?
#2 Content is delivered automatically
The automatic presentation skips a lot of steps that you usually would have to take because everything happens digitally and is managed by you. You can select exactly which screens should display what content.
It doesn't matter if you need content displayed in the entrance hall of the school, in the hallways, in front of the classrooms or inside the teachers' lounge. The automatic spreading of content makes life easier, especially in front of the school administration, where information changes constantly.
For example, with digital room bookings, you always know what teacher is in which part of the building at which time. This means that all teachers, directors and other employees can be reached at any time. For such cases, your school Digital Signage board immediately shows the right information in the right places in your school building.
#3 Content is created centrally
Because you manage your content centrally, you don't need additional technical know-how or experience when implementing your school Digital Signage. Changes can be implemented easily in a central location and then managed from there – you can read more about how that works here. This centrally created and managed information can then be displayed in different parts of the building. You are able to show targeted information about last-minute changes on your digital signage in different locations.
Content for different age groups or for the teachers' lounge can be designed differently and saved so that your Digital Signage can be adjusted for each target group easily and centrally. You can even save other criteria, such as teacher's names, class or course names. You are also able to adjust time windows, so different information is displayed at different times. The account for your content can easily be managed from different places and by different people. The right software can help here, so you can create and manage your content on the Internet without any problem and then display them on your screens in the building.
#4 An effective network
Your screens can be installed in strategic locations within your building so that your Digital Signage board can be seen wherever you want it to be seen. This not only creates constant communication with your students and teachers but also supports your effective network with your school system. Important news and information are available immediately and because of the network, they can be seen on many different screens within the building.
The entrance hall, for example, is a great place for a central digital signage board. Here, any kind of information is immediately seen by everyone at least twice a day. Which other areas are being used frequently by students and teachers? The entrance to the schoolyard is also an excellent area for a screen installation.
School Digital Signage allows for digital communication that speaks to the digital generation and actually reaches them. Next, to delivering important information smoothly without a problem, Digital Signage for schools also makes the organization within the school easier and more time-saving.
#5 Saves money and time
Because you can create and manage content in a central location and then automatically display it on different screens, you make your life so much easier. Not only for the administrative staff, but also for students and teachers. The digitalization has its advantages.
If you have to print out every change in schedule, every time a teacher is sick, and then pin it to the bulletin board in the entrance of your school, that is time intensive. Aside from that, it also costs money and takes away your time from other tasks. Not taking into account the amount of paper that is needed or the fact that the information is only in one place. Your School Digital Signage allows you to display any information or important news instantly and targeted on any screen and interactive display in your school, be it in the classroom, hallways or the teachers' lounge.
Why Digital Signage should be integrated into schools
Digital media is already being used in almost every aspect of our lives and the education sector will have to integrate digital instruments, too. Especially schools have to adapt to the digital change and use digital solutions to expand and modernize their organizational structures, the learning experience and also their own image for potential new students.
As a practical example, a digital information board is a great place to start, because it is a time- and money-saving application of School Digital Signage.
Digital Signage in schools can help to create an effective network within schools and to adapt the teaching and learning environments to the evolving (technological) changes. Using School Digital Signage also creates a modern image for the school, that showcases engagement and professionalism.