Digital Menu Board Software
Create and highlight spectacular digital menu boards. Quick, easy and flexible.
It doesn't matter if you have one, two or hundreds of screens. viewneo is your cloud based digital menu board software making your business way more easy and giving you the flexibility you need.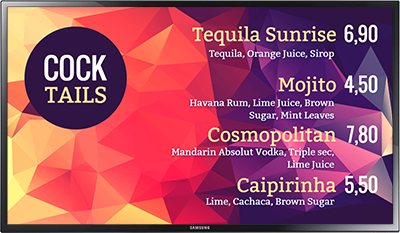 Use our ready-to-use templates
You love to be creative in the kitchen? You want flexible pricing and the opportunity to change your menus in an easy way? Well, we got something for you. With digital menu board software viewneo all this is done in just a few steps over the internet. Create digital menus in a matter of seconds by using our professional template designs or create your own image with the content you choose. No matter which road you take: your offers will appear super delightful and save you time and money.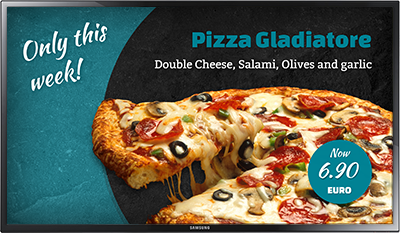 Highlight high-margin offerings
Be as flexible as you want and specifically highlight high-margin offerings on your screens. Display drinks and food as you like and use time management functions to schedule your daily or weekly offers individually. Our digital menu board software also allows you to play videos in the background to feature your burgers, pizza, or whatever you have in mind to whet your customers appetite.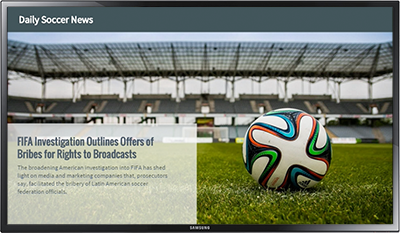 Entertain with the latest news
Using viewneo digital menu board software almost gives you unlimited opportunities to display anything you like. Insert latest sports news via RSS feeds into your playlist, integrate your social media channels or show interactive HTML 5 content to engage with customers. Whatever you like. With digital menu software viewneo, things will get so much easier around your business and on top you will create and provide an modern and inviting atmosphere.
Our digital menu board software is optimized for tablet PCs, large screens, as well as video walls.

Start today. Our digital menu board software is free for an unlimited time. All it takes is your e-mail address to go.
"viewneo was the optimal choice for us because adding content and even setting a timer was so simple and easy."
-Nicole Henn, Brand Management CAFETIERO-
How viewneo digital menu software works
1. Create your digital menu board
Simply register to viewneo Cloud with your e-mail address. As soon as you did you can start creating stunning digital menu boards with our prepared templates or by uploading your own content. Organize your content in playlist and schedule at which times you want to highlight your offers. It's that simple.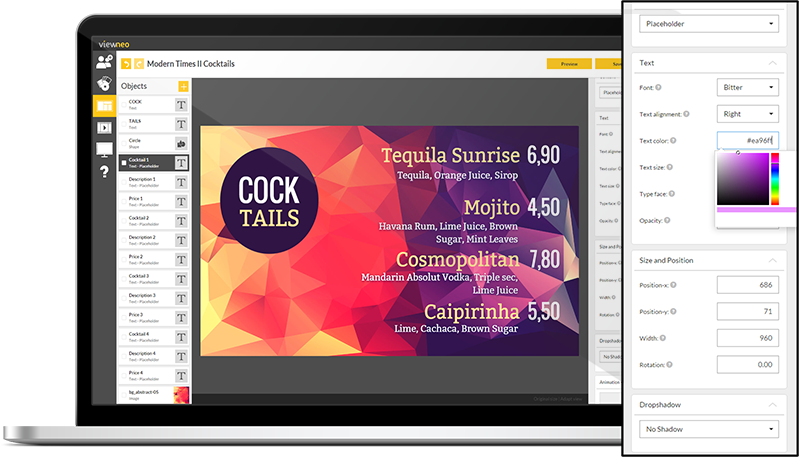 2. Connect you device
You can download the viewneo Player App for Android TVs and tablet-PCs (Google Play Store) or for the iPad (iTunes App Store) for free. Another way to test viewneo the easy way is our chrome extension for your browser. Connect your screen with the activation code that is shown after the installation. Now assign your playlist to your device – that's it!