1 ball, 22 players, 90 minutes: Sounds like a great formula for fun. According to a Statista poll, 24 million Germans consider themselves to be football fans. And the Germans aren't alone since soccer is considered to be the most popular sport in the world. Every weekend, fans around the world pack themselves into stadiums to cheer for their teams and enjoy spending time with other soccer fans.
Europe's Biggest Clubs on Your Screen
Five of the world's most prestigious national soccer leagues (aka "the Big Five") are located in Europe – the English Premier League, Spanish La Liga, German Bundesliga, Italian Serie A, and Ligue 1 in France. With a combined revenue during the 2017/2018 season estimated at 15 billion Euros, these soccer leagues definitely have a loyal following. (Statista)
Soon you will be able to integrate football results directly onto your Digital Signage displays. With the new viewneo Soccer Plugin, upcoming games, as well as, the current table positions of the largest European leagues can be displayed in real time. All of this information will be in an easy ready-to-use layout, that lets you get the content on the screens without missing a beat or a goal. Here's what you can look forward to:
1) Set up Plugin
After you purchase the Plugin, it will automatically be available in your account. When you right-click, you will now see the option "Soccer" available. When you select, you will be able to fully customize the Plugin, so you see the content that is best for you. In addition to being able to select a country, you can also choose which games you would like featured from a list of both completed and upcoming games. As if that wasn't enough you can change the color design and layout, so that your teams color are represented.
2) Integrate it Into a Playlist
Now any created content can be dragged into the playlist by using drag n' drop. Of course, you don't have to choose sides by adding several different leagues to the same playlist. In fact, you can present all of the results and upcoming games for the big European clubs.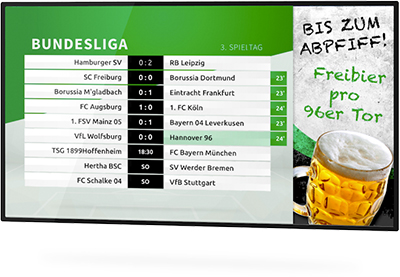 3) Don't Forget Slides
In addition to creating a playlist, the Plugin also allows you to edit individual elements in a slide. Simply create a new slide and then add a "Media File" via "Objects". The previously created soccer content can now be placed directly on a slide. This is a great way to combine the latest soccer information with additional information. The result is a great mix of information and entertainment. Your guests are excited to see the updated results and your advertising content gets a fresh new look.

4) Football for Every Format
Want to display updates on both a tablet and a larger display, no worries. The Soccer Plugin can be displayed in both landscape and portrait modes. So show your team spirit and let everyone know who you will be cheering for this weekend.