Digital Signage that works indoors, should work outdoors, right? Well not really. There are a few key things that you should keep in mind when embarking on an outdoor digital signage project.
If you've learned anything from this blog, I hope that it's how versatile Digital Signage can be. One way to expand your options is to move outdoors, to get an even bigger impact. 
Just think about what Times Square would be like without its bright lights and colorful advertisements? Just another intersection. Thanks to outdoor Digital Signage displays, Times Square is the number one tourist attraction in the Big Apple. Like everything else, outdoor signs are changing to keep up with the latest technology and demands from viewers. In 2017, the most famous outdoor display in Times Square, the Coca-Cola display, got a facelift. The six-story digital sign now contains "1,760 independently moving LED screens, choreographed to the content on display – creating a multisensory experience for the 300,000 people who pass through the busy Manhattan intersection each day," according to the company.
If you've had great experiences with digital displays in your stores, and are ready to step outside, you should keep the following things in mind, your outdoors display is as successful as possible.
1. Getting the Lighting Right
Indoor displays have the advantage of relatively consistent surroundings. But this goes out the window when you step outside since no two days are exactly the same. The biggest difference will be noticeable in the lighting conditions, which can change multiple times in the same day.  Additionally, the changing seasons can have an effect, from a bright sunny summer day to a dark winter day. 
Despite all of these different conditions, customers expect outdoor Digital Signage displays to deliver a clear, steady image with bright colors and great contrast. The luminosity of the screen, which can be measured in the number of nits, will help you determine if the screen will meet your needs.
To understand the difference, the average indoor displays are up to 350 nits, compared to 2000 nits for an outdoor display. A good outdoor display will also incorporate built-in sensors that allow the screens to adjust their luminosity automatically as the conditions change. In addition to being easily visible, these sensors also help the device save energy.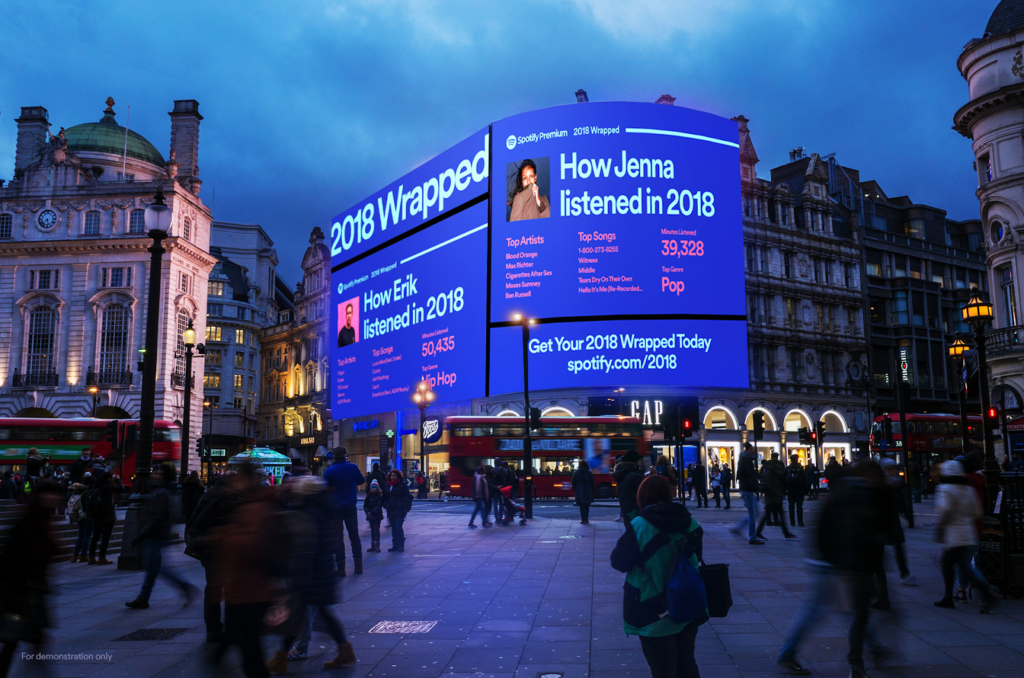 One outdoor advertising campaign that ensured that it looked great in key cities around the world, like New York and London was Spotify. In 2018, they brought back their Wrapped campaign which allows users to rediscover and share their personal soundtrack from the past year. They also gave the opportunity for their Premium users to see their information on display.
2. Climate – When It Rains, It Pours
Lighting isn't the only thing from the natural environment that outdoor advertising displays need to take into consideration. Mother nature also means that outdoor installations need to be prepared to deal with storms, rain, hail, and heat, just to name a few.
So, depending on the location where the installation is based, make sure that you take into account the local weather patterns. A built-in case or housing helps to address all of these different issues. This allows the climate within the installation to be regulated: adjusting the temperature and protecting the screen from the elements. The glass that is used to protect the screen should also include a UV filter to ensure that the screen is not damaged by sunlight. A device with an IP65 certificate will help to ensure that it is protected from water and dust and has a long lifespan.
3. Vandalism and Damage
Unfortunately, the weather isn't the only thing that can impact outdoor signs. There is also the possibility of random violence and damage. This is another area where a good case is an absolutely essential component of any outdoor digital display.
We recommend a robust casing with protective glass, which is firmly fixed so that it can not be stolen. Additionally, if you are installing your display near public transit centers, such as train stations, you should also keep in mind the potential for vibration. We have found that this isn't a big deal for viewneo hardware, like the 4K SignageBox, the technology inside the screens can be damaged over time. To ensure you cover all your bases, it's a good idea to get a consultation for this type of installation.
4. Staying Connected
Here are viewneo we pride ourselves on having Digital Signage that is simple to set up: just plug and play. But even our system has a couple of requirements to make it work: power and a good internet connection. This is another area where there is a big difference between indoor and outdoor displays. 
Fortunately, most major cities and urban areas have solutions to address this problem. But if you are looking to really step out of the box and place your sign somewhere unusual, then it will be critical to be aware of any potential connections. Otherwise, you might end up with just a blank screen.
5. Keep the Goal in Mind
Perhaps the most important thing is to keep in mind why you are making the shift and investment into outdoor advertising. Outdoor advertising is one of the oldest forms of advertising but it still manages to have a high impact. Forbes estimates that for every dollar spent on OOH advertising, there is a $5.97 in ROI revenue.

One of the reasons that it has such a big impact is that is able to reach people where they are spending their time, outside of the house. Time out of the house has increased by 50% over the past two decades. Combined with an increased intent to purchase when individuals see an ad in public; outdoor advertising only makes sense.
OOH drives 4x more online activity per ad dollar spent than TV, radio, and print—according to a Nielsen study. Where will your audience be engaging with a screen? Then reach out to us here at viewneo and we will be happy to work with you setting up your outdoor advertising campaign and making sure it's successful.