Don't call it a comeback, RFID has been here for years
The idea of Radio-frequency identification in retail is not new. Let's go back in time to the early 2000s, 2003 to be precise. Walmart, one of the world's largest retailers announced to their suppliers that they wanted to tag all of their pallets and cases with RFID and they were going to do this in less than two years. RFID had arrived in the big leagues. However, its arrival was short-lived as Walmart struggled through growing pains and found that the cost outweighed any benefits. The first RFID introduction into retail had failed spectacularly.
However, it wouldn't be a good comeback story if we ended there. So, while the Walmart failure garnished all of the headlines, behind the scenes improvements in its technology were being made with little fanfare. Perhaps even more importantly, like most technology, the cost of the Radio-frequency identification devices continued to dramatically decrease. When Walmart launched its push into RFID, each tag was running at around 50 to 75 cents each. They have now been pushed down towards 3 to 8 cents each, with continued price decreases expected. Meaning that when you include the cost of labor, it has now become a cheaper option than barcodes, the previous gold standard of inventory control.

Inventory Management and Full Adoption
The Accenture Strategy 2018 RFID Retail Study found that 69% of the world's retailers have a significant level of RFID adoption. Not too shabby for a technology that 15 years ago was largely declared dead in the retail space. This increased adoption was largely driven by the needs of new omnichannel distribution networks. Linking the physical retail space with the online world required retailers to ensure that they had the tools needed to know exactly what they had and where it was in the supply chain.
The highest adoption rates are in North America where 92% of retailers report that they are processing towards full RFID adoption. This represents a 25% increase in adoption rates since 2016. Whether it was the push of omnichannel inventory control or the pull of lower costs – RFID has entered the mainstream.
RFID Breakthroughs
Now that retailers have seen the benefits which RFID can provide with inventory control systems, many are starting to look for other ways to put RFID to use. Some of the most cutting-edge technology is being driven to market in Japan, where the country is facing a labor shortage. Japan is also unique in having developed a very strong convenience store or "konbini" culture, with a total of 55,743 convenience stores as of December 2018.
One of the biggest impediments to rolling out RFID in Japanese convenience stores has been that a large number of items are microwavable and the current composition of RFID tags aren't able to work in the high temperatures of the microwave. The big breakthrough came in January 2019 when Avery Dennison launched an RFID WaveSafe tag that can handle being the in the microwave for five minutes at 950 watts. Another great example of how companies are able to continue innovating to meet the demands of customers today.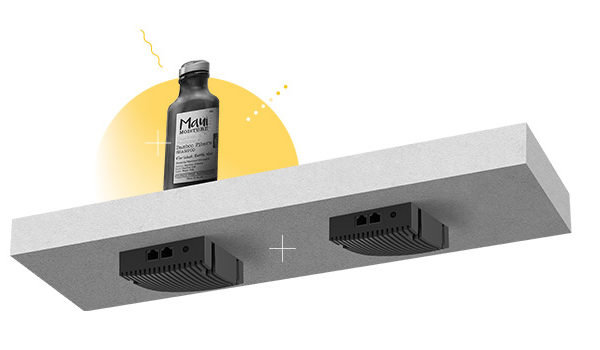 Another big area where RFID is making waves is in the area of payments. Here RFID is less of a disruptive force than a natural extension of the current technology. We are all familiar with checking into a hotel and using your keycard to enter your room. Or perhaps you have been on a cruise and used your ID card to buy a round of drinks at the bar. Well, it is looking to make the ability to make mobile payments and gain access to areas, quicker and easier than the keycard.
Disney has been leading the way with the introduction of the MagicBands, which are used at Walt Disney World in Orlando, Florida. They use RFID technology to combine a wide range of functionality into one device and help you get rid of the dreaded keycard. They can be used to unlock hotel rooms, enter the theme parks, check in at FastPass areas, connect with PhotoPass, and charge food and merchandise purchases directly to your account. And in typical Disney fashion, they have also worked hard to integrate experiences with the bands throughout the park. The payoff for the guest is the ability to leave their cares behind and just tap and go. However, the even bigger payoff is for Disney which now has the ability to access detailed information on the movements of park guests.
The success of the Disney MagicBands has carried over into the mainstream. its technology can now be found in use at all kinds of different events, from conventions to concerts. Eventbrite highlights some of the most popular uses: getting people in and out quickly, the ability for guests to go cashless, eliminate fraud, and get insights into your guests that were previously unavailable.
Expanding the Usability of RFID
Once it has made its way into a retail store, it doesn't take long before retailers realize that RFID has additional uses. For example, 33% of people who are currently using RFID plan to utilize the Internet of Things (IoT) technology in conjunction with RFID to personalize their marketing.
So what does a RFID + IoT system look like? Our interpretation is that it looks like the new viewneo RFID System. So when a customer lifts up a product, the content on the screen will automatically change, so that the customer can learn more about the product in real time.
We've put together a short video that walks through the process and shows how it works in real life.
If you are interested in learning more about how RFID can be taken to the next level in your business, you can also check out our RFID brochure which outlines how it works and provides technical details and pricing options.
If you are interested in learning more about how RFID can be taken to the next level in your business, you can also check out our RFID brochure which outlines how it works and provides technical details and pricing options. We plan on formally launching the RFID System in the coming months, so keep an eye on our website and the blog for more information as it becomes available.