Welcome back to the viewneo blog. We have taken a break from the blog to work on some other projects, which we'll be sharing in the near future both here and on our social media channels. In the meantime, we wanted to update you on some new products which should be on your radar.
1. Screen Sync
Multiple screens can have a big impact on viewers. But trying to get everything to work seamlessly on multiple screens is easier said than done. Thankfully, there is a new viewneo Plugin called Screen Sync, which is designed to make it easier than ever to create content which dazzles.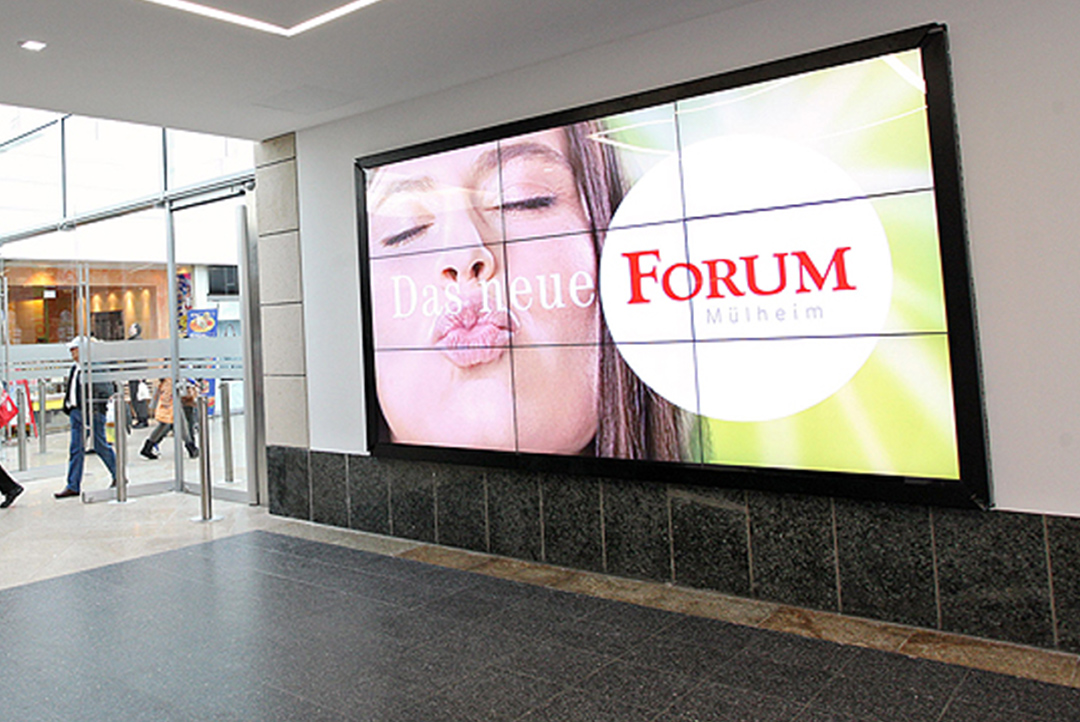 One of the features is the ability to easily split content among a variety of different players. For example, in the case above the content is prepared and configured to be split into nine different parts, which are then easily assembled to display a clear and in sync video wall. In order to make it work, all of the devices (players) need to be connected to the same network.  Another option is to have each screen display the same content in perfect sync. Finally, you can have all of your screens display different content. The best thing is that viewneo Screen Sync is able to do this without any additional splitters or connectors needed. The following video walks you through the process of how the system works.
But we have saved the best for last. Video walls definitely attract attention, but they can also be extremely expensive to assemble and maintain. With the Screen Sync Plugin, the only expenses are for each individual player and the associated Plugins. There is no need for a separate expensive processor. For example, in order to build a two by two video wall, you would need to have five Digital Signage players, five Screen Sync Plugins, and five viewneo licenses. For comparison, check out our previous blog article on how to set up a video wall.
2. Touch Elements
This Plugin is focused on ways to make it easier for customers to interact with your content. Everyone knows that consumers tend to respond positively towards interactive content, but did you know that interactive content generates double the number of conversions as passive content. Now you can create interactive content for your customers that is easy for them to navigate and easy for you to set up and operate.
Touch Elements allows you to make elements in your slide (or template) interactive. This gives your customer the power to access content, so they get the information that they need when they need it. For example, customers can access and answer a quick feedback survey while they are waiting in the checkout area. Or if you have a kid's play area, the child can use the tablet to access child-friendly information, games, or websites that are in your content. We know that you have spent time developing great content, now your customers can access it much easier.
 3. Smart Playlist
While viewneo is already a smart solution, the Smart Playlist Plugin helps to improve the way your playlist functions. It is designed around using a variety of triggers and actions. So, for example, now you can say that you want a specific piece of content to be displayed every day at a specific time. The time of day acts as a trigger and the action is that the designated content is displayed exactly when you want.
This is a great feature at a museum, which offers guided tours at a fixed time, with the Smart Playlist Plugin, you can have a dedicated playlist that is automatically shown 10 minutes before the tour starts with information on what will be shown and a countdown clock.
And we haven't stopped there, we are also working on some additional functionality, such as allowing you to use temperature as a trigger. Then when the temperature drops below a certain level, it will automatically respond and play content which reflects the outside weather conditions. Now that's smart.
So, if you haven't had a chance to check out the new Plugins, we would encourage you to try them out and experience the new features for yourself. You can find them in the CMS and purchase them on either a monthly or a yearly plan.