Automation has been a popular buzzword, whose time has finally arrived.
It has made inroads in the world of marketing in the form of automated e-mail campaigns, social media updates, or finding and developing leads.
What was previously only possible with technically complex solutions has now become accessible to everyone through platforms such as IFTTT and Zapier, that links hundreds of apps effortlessly together.
Automation is also a frequent topic in the field of Digital Signage. The development and maintenance of content is complex and requires significant resources, therefore, anything that helps to make the process easier is looked upon positively.
Versatile possibilities are also created by dynamically adapting playlists and giving advertising messages their maximum effect:
If it rains today, the Playlist plays "umbrella offers".
Until now, such an automation was only possible with large, costly projects. By partnering with Zapier, viewneo is the first digital signage software to make all of these options accessible to everyone.
viewneo at Zapier – "If today is sunny, then display the available convertibles."
Usually, if you want to change what information is presented on your digital signage screens, you have to manually edit the content to meet your needs.
Take the case of a car rental office which uses Digital Signage to display their current offers. If the weather is sunny and they want to advertise their latest offers on convertible rentals, they would have to go into the content management system and manually change their playlist to include offers about convertibles.
Now the possibility of automating changes to your content is on the horizon with the Zapier integration.
This is done via a simple "if …, then …" relationship, within which an app is linked with viewneo. So in the example above, the weather app from Zapier can be linked with viewneo.
If the sun is forecast for today [Trigger], then switch to the Playlist "Convertibles" [Action].
And the possibilities don't end there, with over 750 external apps and web applications available through Zapier, many of the most frequently used business functions are covered.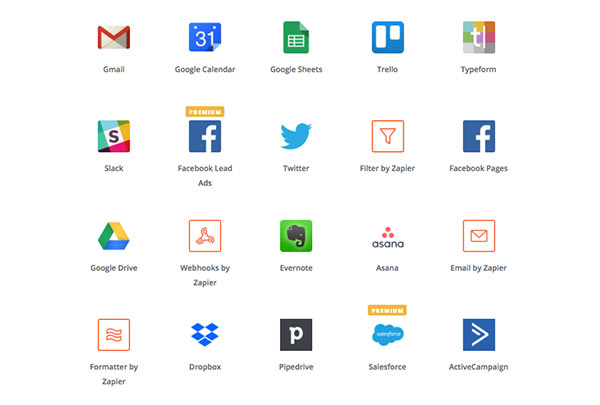 Zapier refers to these links as zaps. If you want additional information on how they are created, you can find it here.
37 Examples of automated digital signage content with viewneo
As more third-party providers add their services to Zapier, the number of possibilities in regard to viewneo is likely to increase. Here are a couple of suggestions to give you some inspiration and insights into the possibilities that are out there.
Weather by Zapier & viewneo [Promotion]
1. If it rains today, then advertise hot chocolate [instead of homemade lemonade]
2. If it is going to be sunny for 8 hours today, then show an advertisement for sunscreen.
3. If it is raining and storming today, then display information on vitamins in the pharmacy shop window.
Google Calendar & viewneo [Information]
4. If a new event has been created, show it in the live ticker
5. When an event starts in 30 minutes, remind students on the campus screens
6. If an event has been updated, check the live ticker
Google Drive & viewneo [Workflow-Optimizing]
7. If a file is uploaded to a designated Google Drive folder, then the file is added to a selected Playlist
Twitter & viewneo [Brand Monitoring]
8. If a user mentions my Username, then present this Tweet on the office screens of the Marketing Department
9. When I post a new tweet, then display this tweet on the office screens [or use the viewneo Twitter plugin]
10. If a competitor has tweeted, then show me the tweet on the screens and allow me to keep an eye on the activities of the competitors
Todoist & viewneo [Reporting & Organization]
11. When a Todoist task has been done, share the progress on the screens with your team
12. If a Todoist task has not yet been completed, share it on the screen and keep an eye on important due dates
Evernote & viewneo [Organization]
13. When a new reminder is created, display the reminder on the office screens and stay up to date on all appointments
14. If a new note is created, share it across the departments on the desired screens
Trello & viewneo [Reporting & Organization]
15. If a new card is added to a fixed board, then share it on the office screens and provide an overview of all tasks
16. When a card has been moved in Trello, display the progress on the office screen and facilitate transparent communication of your projects
Zendesk & viewneo [Support Management]
17. When a new ticket is added, display this ticket on the office screen of the corresponding department
18. When a new ticket has been created, share the ticket on the office screens to improve the average response time
HubSpot & viewneo [CRM]
19. When a new customer is added to a designated list, then broadcast the success across departments on the office screens
20. If a new task is added to a calendar, display it on the screens of the responsible department
GitHub & viewneo [Development & Reporting]
21. When a new issue is created, share it on the office screens of the development team
22. When a new milestone is reached, present the milestone on the office screens and share success across departments
Meetup & viewneo [Motivation & Organization]
23. If a new Meetup is listed within a set search criteria, then share the event on your office screens
Agile CRM & viewneo [Reporting]
24. If a new deal is added to Agile CRM, then share the success on your office screens with the entire team
25. When a new task is created in Agile CRM, then present it on the office screen of the responsible department
Pingdom & viewneo [Website & Reporting]
26. If your web page has a problem Pingdom reports an alert, then share the alert on the office screens to solve the problem immediately
Amazon Seller Central & viewneo [Reporting]
27. When a new order is received, share it with the live ticker of your office screens
G2Crowd & viewneo [Customer Support & Reporting]
28. When a new customer rating is received on G2Crowd, then share it on the office screens of your customer support team
29. When a new lead for your product is received, show the lead in the live ticker of your screens
WooCommerce & viewneo [ECommerce & Reporting]
30. If a new WooCommerce purchase is paid, then share the information on the screens of the Sales and Organizational teams
31. If a subscription renewal is successful, share it on the office screen for all employees
Instagram & viewneo [Social Media & Brand Monitoring]
32. If a competitor has a new follower, show it in the live ticker
33. If a photo or video is posted to a particular hashtag, then show the post on the office screens [or use the viewneo Instagram plugin]
Slack & viewneo [Organization]
34. When a new message is posted to a designated channel, run the message through the live ticker of your office screens
WordPress & viewneo [Website & Marketing]
35. When a new WordPress Blog is released, share it with your team on the office screens
36. If a new comment is added to the blog, then show this comment in the live ticker so you can react quickly
Spotify & viewneo [Motivation & Fun]
37. If a new song was recently added to a fixed playlist, then present the song in your viewneo playlist