Humans have managed to reach a new record, or a new low point depending on how you look at it. A goldfish swims a lap around its bowl in average nine seconds before changing its path. A recent Microsoft analysis shows that humans divert their attention on average every eight seconds.
It is critical to be able to grab and hold onto your customers' attention before those eight seconds run out and they move onto the next thing. One of the things that has shown over time that it is able to do this is digital signage. It's not just traditional digital displays that have an effect, research shows that consumer recall jumps to 55% when asked about outdoor digital billboards that they have seen.
So, use these 7 reasons to help convince those last hold-outs at your company, that digital display boards are the wave of the future.
1. Costs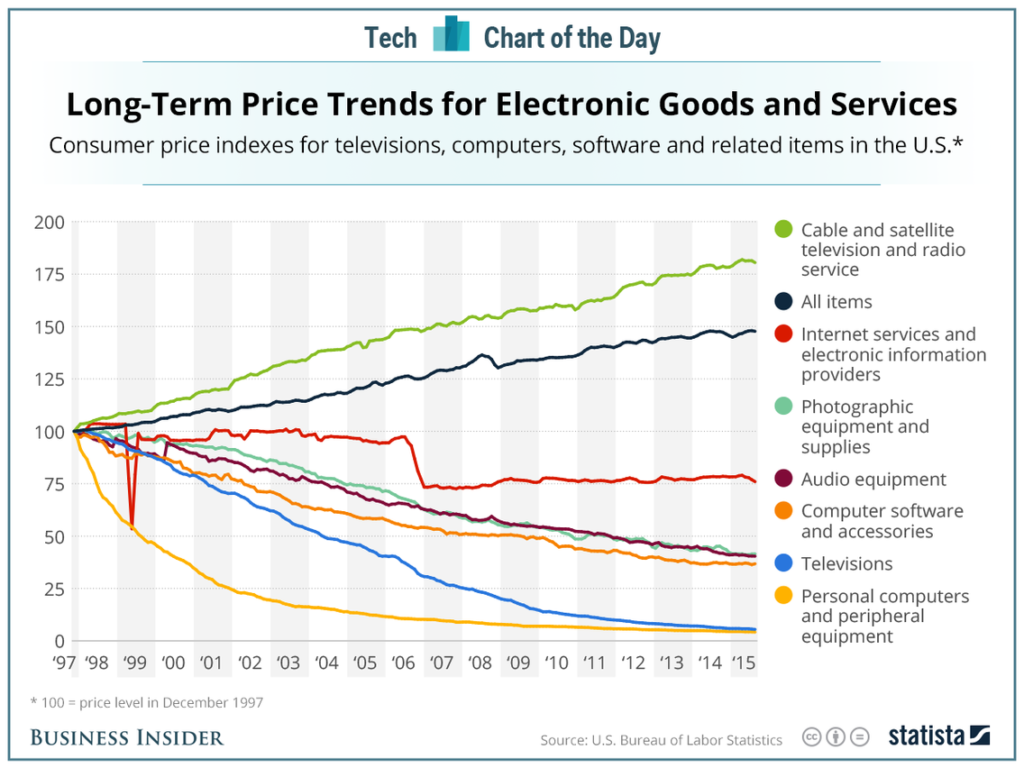 As the chart above shows, technology across a wide variety of categories, such as televisions and personal computers has been decreasing over the past 20 years. And there is no reason to believe that this trend will not continue in the near future. Previously, the idea of setting up a digital display board seemed out of reach for the average small-medium sized business.
Once you sort out the screens which you want to use to display your content. The next steps is to find the best, cheap digital signage provider. So, what additional costs should you expect when trying to set up a digital display project.
The next step is to figure out what kind of hardware you need for your project. Here is where it becomes important to have a good concept in place before going forward. For example, maybe you are looking to set up a video wall that can display high resolution images. This is important information, so you don't end up buying hardware that isn't capable of delivering the goods. My top two hardware tips: know what your needs are and make sure that the hardware is able to be used across a variety of different platforms. The second point will become clear as we shift now to talk about digital signage software.
If you are new to the world of digital signage solutions, we suggest that you look towards a site, like Capterra, who is trusting our viewneo Digital Signage solution. Most digital signage providers have shifted towards a subscription model pricing structure over the last few years.  Ideally, your software solution will offer a wide variety of different subscription time periods.
Just to give an example, here at viewneo we like to keep our pricing structure clean and transparent. We offer both monthly and yearly subscription options. If you choose the yearly option the rate will be the equivalent of paying for 10 months or two free months. Whatever you choose, make sure it fits your needs.
2. Flexibility
The world is constantly changing and your customers expect that your store is able to provide them with a new experience everytime they visit. Depending on the type of business that you run, flexibility will take different forms, but it will always be there. So let's look at some examples. If you run a restaurant, you know that customers are always looking for a mix of their old favorites and new seasonal dishes that highlight your artistry at work. Digital Signage helps to address this by allowing you to display specials without needing to print new materials that you won't need in a couple of weeks.

Additionally, another way to think about how flexible digital displays can be is to imagine that you are on vacation and something unexpected comes up. With a digital sign system and an internet connection, you can make updates to your displays from anywhere. Now, that's some flexibility.
3. Variety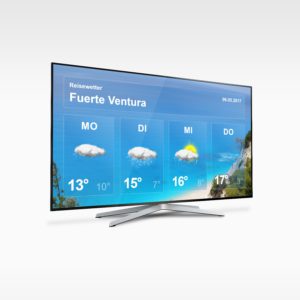 They say that variety is the spice of life. So, how often are you varying your product offerings or showcasing your new offerings. Sometimes you've mastered the art of having a variety of products but need a new way to get your customers to notice them: enter the world of digital displays. Develop a playlist that allows you to highlight when there is a new product offering without alienating your customers who are looking for their favorites.
Speaking of variety, did you know that depending on which digital signage provider you choose, there is a wide variety of different types of content that you can display. For example, many companies offer social media Plugins that allow you display relevant social media feeds directly on your screens. Or need to ensure that everyone is aware of the current weather, adding a weather Plugin to your playlist ensures that no one gets caught in the rain.
4. Attention
If you want to get more than eight seconds of attention out of your customers, then you need to give them a reason to pay attention and stay engaged. Studies have shown that up to 70% of the population is now exposed to digital signs on a regular basis.
Additionally, as more individuals are exposed to digital signs, they begin to display a preference towards businesses which use digital signs as part of their marketing strategy. Up to 42% of retail video viewers have indicated that they prefer to go shopping in stores with video displays rather than those with only print advertising.
5. Increased sales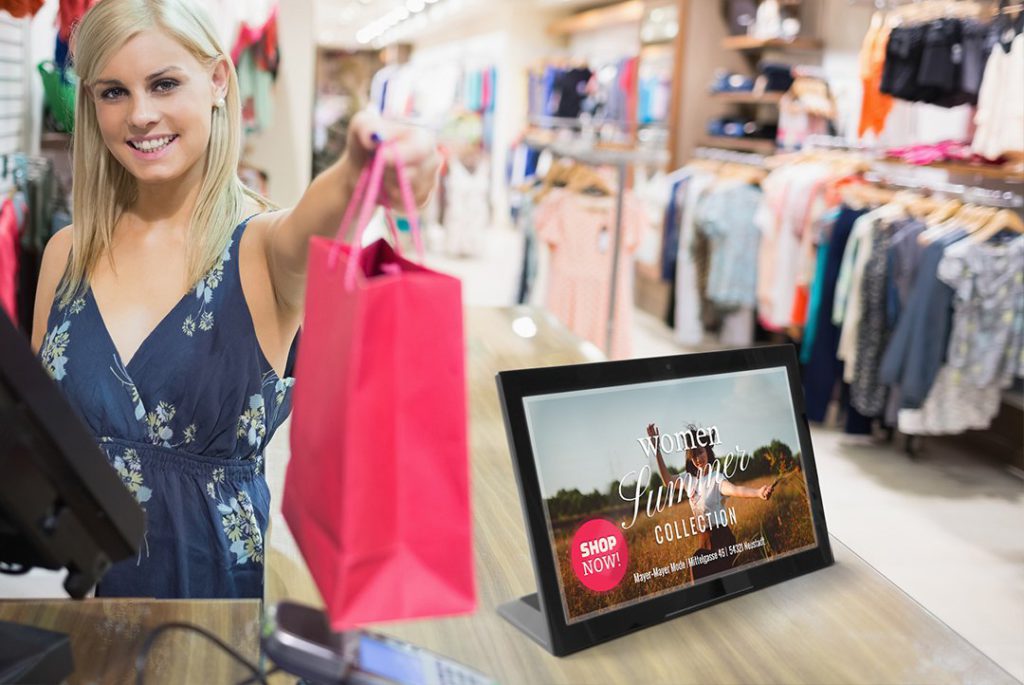 Whether it is to communicate discounts, display pricing or provide targeted offers, both print, and digital displays share a common goal: increasing sales and profits. But there are important ways in which digital has an edge. For example, a recent study of food products put traditional and digital advertising in a head to head battle. As expected, since most advertising if done effectively will tend to increase sales, print advertising ended up increasing sales by 15%. Digital advertising, on the other hand, showed an increase of 49% in sales on the advertised products. So, given the continued decrease in the costs (see point 1) associated with decreasing
6. Customization
One of the best features about digital signs is they can be used by everyone, large or small. Given the variety of digital software companies which are currently on the market, there should be no difficulty finding one that is designed to meet your business needs.
An important consideration when selecting a digital software company is the ability to personalize your offerings. For example, here at viewneo, we offer the ability for customers to fully customize their digital signage by using Plugins. We currently offer over 20 different features and functionality, in addition to 10 Plugins focused on providing content. And the best news, you only pay for those features and Plugins that you use. So, you can mix and match to find the perfect combination of features for your project, without having to pay for any additional features that you don't need.
7. Customer Retention
Customers have been shifting into an experience-driven world and their shopping experience should match their expectations. If you are looking for more information, you can check out our YouTube channel and below is the first chapter in our recent Future of Retail series.
Digitalization helps you to transform your brand into an experience that you can shape and share with your customers on your terms. According to a PriceWaterhouseCooper study, 59% of consumers already expect personalized information and offers the moment they enter a business. By incorporating interactive digital displays, you can help customers to obtain the information they are looking for quickly and easily. This helps the customer and frees up your in-store employees to address other customer concerns.
If all that doesn't convince you, then perhaps a free 30-day trial of viewneo will do the trick. Just register and you will have access to the entire viewneo platform (including all features and Plugins) for 30-days. So, try it out and see how easy it is to make the switch to digital signage today.