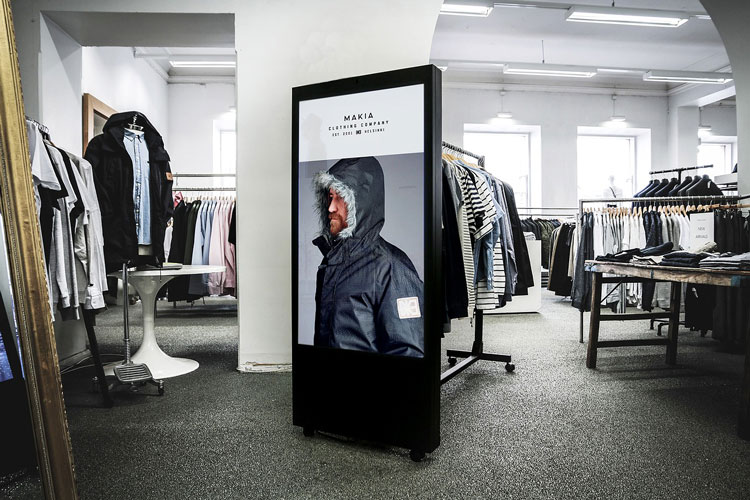 Humans have managed to reach a new record, or a new low point depending on how you look at it. A goldfish swims a lap around its bowl in average nine seconds before it feels the need to change its path. A recent Microsoft analysis shows that humans change their attention on average every eight seconds.
Companies are constantly looking for new ways to grab and hold their customers' attention before those eight seconds run out and they are onto the next thing. Screens have been replacing billboards and print advertising has slowly been making way for new digitally-based advertising strategies. The key concept which connects these strategies is Digital Signage.
But rather than just blindly jump onto the bandwagon, these 7 reasons will help you understand the advantages of Digital Signage.
1. Costs
Unlike almost everything else, the costs associated with Digital Signage have been decreasing in recent years. This has allowed new businesses and those with a strict advertising budget to enter the market as the cost of hardware, such as screens and media players continue to decrease.
Additionally, the medium to long-term costs associated with Digital Signage also on a positive trend. Relying on print leads to additional costs every time you need to make a change. In contrast, Digital Signage allows the user to make changes free of charge. This ability to update on the fly leads to the second large advantage – flexibility.
2. Flexibility
A new collection arrives in stores, a supplier changes the price of a key component requiring a price change, or important information needs to be communicated immediately: these are issues that most businesses face on a regular basis.
If you are reliant on print, you may find yourself waiting weeks to get updated information out to customers. Instead, Digital Signage allows you to make changes the same day. All you need is an internet connection to update your signage, which can be controlled centrally from anywhere.
3. Variety
Once you have sent something to the printers, it's almost impossible to make any changes. In the world of Digital Signage, variety is the spice of life. You can keep displays fresh and informative by adding videos, news feeds, local weather forecasts, and social media streams at the touch of a button. Find out about all the possibilities.
4. Attention
If you want to get more than eight seconds of attention from your customer, then you need to give them a reason to pay attention and stay engaged. Several studies have shown that up to 70% of the population is now exposed to Digital Signage on a regular basis.
Additionally, as more and more individuals are exposed to Digital Signage, they are increasingly displaying a preference towards shopping in establishments that feature Digital Signage advertising. Based on a study, 42% of retail video viewers, have indicated that they prefer to go shopping in stores with video displays rather than those with only print advertising.
5. Increased sales
Whether it is to communicate discounts, display a menu or provide targeted offers, both print, and Digital Signage share a common goal: increasing sales and profits.
Just like Digital Signage can increase attention, it also can increase sales. For example, a recent study of food products put traditional and Digital Signage advertising in a head to head battle. The use of traditional print advertising showed an increase in sales of 15% when compared to no advertising. Digital Signage, on the other hand, achieved an increase in sales of 49% for advertised products.
6. Expand-ability
One of the highlights of Digital Signage is that it can be used by everyone, large or small. It is affordable and easy to set up Digital Signage on a single screen and to begin to experiment with what works best for your business. Additionally, once you are ready to scale up, you can easily acquire additional licenses and even rent additional screens as needed.
Additionally, even though your business may grow, the content can still be changed across all your displays centrally via the Internet.
7. Customer retention
Consumers are shifting into an experience-driven world and their shopping experience should match their expectations. Digital Signage helps you to turn your brand into an experience that you can shape and share with your customers on your terms.
According to a Price Waterhouse Cooper study, 59% of consumers already expect personalized information and offers from the moment they enter a business. Additionally, these consumers want to obtain product information on screens, with the option of directly ordering the advertised products.
Digital Signage helps you to meet these expectations, in the form of interactive screens. They also allow for prices, availability and information on products to be updated in real time and generate a positive branding experience for the user.