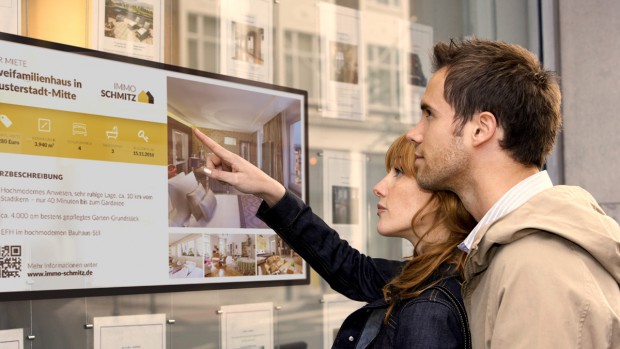 A successful real estate agency is built on trust, reputation and a focus on customer service. Agents who accomplish these building blocks are rewarded with satisfied customers and repeat business. Perhaps even more important, those happy customers will share their experiences with others and help provide positive word of mouth.
73% of all buyers indicate that they would use their agent in the future and recommend them to friends. (2016 REALTORS survey)
But first, an agent must establish them in a crowded and competitive market. One way to do this is to focus on new and interesting ways to market your product. Most agents have been aware of the importance of photography in the real estate industry. But not as many are aware of the new options which Digital Signage offers. Below are some ideas on how to use Digital Signage to engage your current and potential clients and drive business for your agency.
Store Front Displays
A picture is worth a 1,000 words. This is a mantra of the real estate industry. So rather than just putting listing photos on a website and hoping that your potential clients can find them, put them front and center in your office. A great Digital Signage display can help highlight some of these great house photos and attract attention for potential clients who are in the area.
The 2016 survey by REALTORS, showed that 51% of buyers found the home that they purchased on the internet.  That leaves 49% of buyers who used other means, with 34% finding their home through a real estate agent.  Digital Signage provides you with an opportunity to catch the attention of potential clients and direct them towards your listings.
Trends in the Local Area – Highlight Your Knowledge
Websites that provide home listings are a dime a dozen, but what these sites can't offer is an intimate knowledge of the local market. This is where a local real estate agent can shine and separate themselves from the pack. Rather than estimates which have been shown to be wildly inaccurate, local agents have their finger on the pulse of the real estate market in their area.
The Harvard State of the Nation's Housing report highlighted the importance of local knowledge when they stated that the gap between homes prices in low- and high-cost markets continues to grow. In 2000 the median home value in the US's most expensive housing market was 6 times higher than the least expensive market. By 2016, this multiple had jumped to more than 11.
Share your local knowledge of the real estate market with Digital Signage inside your office. It helps to provide valuable information to your potential clients, as well as, show them that you know your stuff. Additionally, Digital Signage is easy to update so you can be assured that your clients have the most up-to-date information about what is going on in their backyards.
Testimonials
Word of mouth is incredibly important in the real estate business. So, make sure that your clients are aware of the positive feedback that your agents have been receiving. Highlighting select customer testimonials shows potential clients that your agents are trustworthy and willing to go the extra mile to assist them with one of the biggest purchases or sales of their lives.
Picture of the Real Estate Market
You live and breathe real estate and probably know the latest 15- and 30-year mortgage rates off the top of your head, but that doesn't mean that all of your potential clients are aware of this information. Digital Signage provides a great way to share general information about the state of the housing market, from loan and interest rate options to inventory and new building numbers. The more information everyone has in the process, the more likely potential clients able to meet their end goal.
Hard to Move Properties
Have a property that has been sitting on the market for a while with little or no activity. Use Digital Signage to spotlight the property and to try to generate additional interest from potential clients who are walking by. You never know when the perfect match will happen, so do everything you can to increase your options and get a hard to move home in front of more eyes.
Integrate Digital Signage into Your Overall Digital Strategy
To really be effective, Digital Signage should be integrated with an effective digital marketing strategy. An example of a great digital marketing campaign was the partnership of Chatter Buzz and Lennar Homes in Tampa, Florida. The Chatter Buzz team developed a landing page and digital advertising campaign around the idea of "Mommy-Certified" housing. By using complementary blog articles, they were able to reach a total of 40,000 visitors. Digital Signage is a great way to add another facet to your current and future digital marketing campaigns.
Take Visuals to the Next Level
The preceding points highlighted why using Digital Signage to share visual information with clients can help your bottom line. To make sure that your visuals are effective, you also need to ensure that they are high-quality. It can take hours to properly stage just one room in a home, which is frequently time that you just don't have. Fortunately, there are new companies, such as, Openhouse that have come up with a quick and easy solution, virtual staging. You just take a photo of a room that needs to be staged and Openhouse will work to stage the room to your specifications. In two days, you get back a photo of the same room, but now it is staged to your specifications. You then have professional, high-quality photos which are ready to be highlighted on your Digital Signage system.