Everyone knows that the restaurant business can be tough. It is difficult to not only break into the market but also to have the staying power to tough it out through the first few critical years. Most people are familiar with the famous study by Ohio State University, that showed failure rates of 60-80% for restaurants during their first five years of business. That is why marketing strategies, that focus on customer engagement, are more important now than ever before. Using these strategies will help your restaurant utilize technology to your advantage, and get your customers engaged.
1.Bring Social Media into the Restaurant
If you want to show that your restaurant's social media is important, make it accessible and visible to your customers. You can do this through the creation of a social media wall inside your restaurant. While Instagram remains the go-to social media for most restaurants, successful restaurants employ a wide variety of social media, such as Twitter and Facebook to reach the widest possible audience.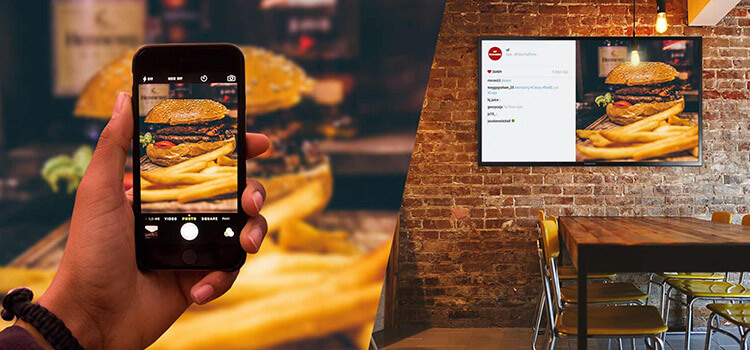 2. Start Mining the Data
One of the biggest reasons to increase your social media presence is to utilize the data which it provides. Several marketing firms, such as Marketing Vitals, based in Dallas, Texas are working with restaurants to turn data obtained from new technology into cost-savings for their clients. They focus on the nitty-gritty details, such as, what social media works best to drive traffic to a restaurant. In an industry with notoriously low-profit margins, exploiting big data to your advantage could be the difference between growing and closing the doors.
3. Personalization
Creating and delivering effective personalized marketing for most businesses is still treated like the elephant in the room. A recent study by VentureBeat found that 80 percent of marketers are failing to personalize their efforts. This is despite, 74 percent acknowledging that personalization improves their customer engagement. The biggest lesson for restaurants interested in pursuing a personalization strategy is to dig deep and don't limit themselves to one or two social media platforms. Instead, consider using some of the new multi-platform tools to engage in a wider variety of social media streams.
4. Create Social Media Campaigns
A quick look around most restaurants shows customers' interacting with their phones and their food. Successful restaurants develop creative ways to use the content which is already being generated by their customers. Sharing this user-generated content, also has big payoffs for restaurants, in that it allows potential customers to hear and see information from people who are like them. Additionally, allowing customers to participate and share their opinions and feelings, gives them an increased sense of belonging and helps to build their loyalty. In 2014, Applebee's launched its own Instagram campaign called Fantographer. The business encouraged "diners to snap pics of their meals or of themselves chowing down on sizzling sirloins."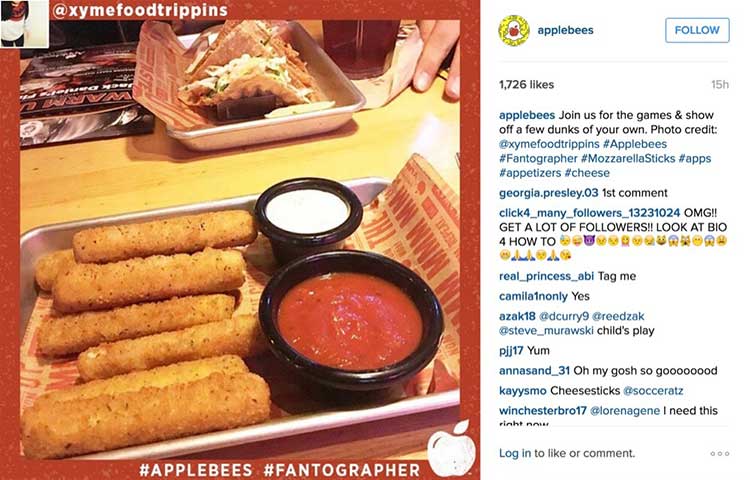 5. Give Them Something to Talk About
If you want your customers to engage with your restaurant, then you need to focus on ensuring that you are providing a product that gives them something to talk about (positively of course). Customers are more likely to engage with your business if you provide them with a unique experience. The Passenger Bar in Madrid has harnessed technology in the form of digital signage to recreate the experience of luxury rail travel for their customers. The digital screens function as windows on the train and use real-life footage of train travel. It's an experience that customers want to share with their friends and family through social media.
6. Niche Targeting
Your restaurant might not be for everybody. Therefore, successful restaurants have learned to focus on their strengths, such as gluten-free menus or vegetarian and vegan dishes. Take a hard look at your restaurant and figure out what sets you apart from the crowd. Then make sure that your social media content focuses on your strengths. Given the level of competition in the restaurant industry, it is better to be excellent in one or two areas, then to be mediocre in several.