The shopping mall which began in the 1950s as a way for suburban Americans to more easily access shopping away from the city has since spread around the world and changed the face of shopping. Interestingly enough, the first malls didn't focus just on shopping. They were designed to serve as "crystallization points for suburbia's community life". Some of the easiest malls featured a post office, laundromat, Catholic chapel, ice-skating rink, bowling alley, and meeting rooms for community events.
Since then shopping malls have evolved and taken on some local characteristics as they have conquered the globe. But shopping malls have also been under tremendous strain even before the recent coronavirus outbreak. And while shopping malls as we have recently known them will no longer exist, perhaps this represents an opportunity for shopping malls to return to their roots.
Pre-COVID Pressures
Even before the outbreak of corona, shopping malls have been under pressure. And this pressure was nowhere greater than in the United States, the home of the mall. By April 2019, there had already been nearly 6,000 announced store closures in the United States. For comparison, this was more than was announced during the entire year in 2018. But the trend of store closures isn't just a blip, rather 2017 was a record year for closures with over 8,000 announced.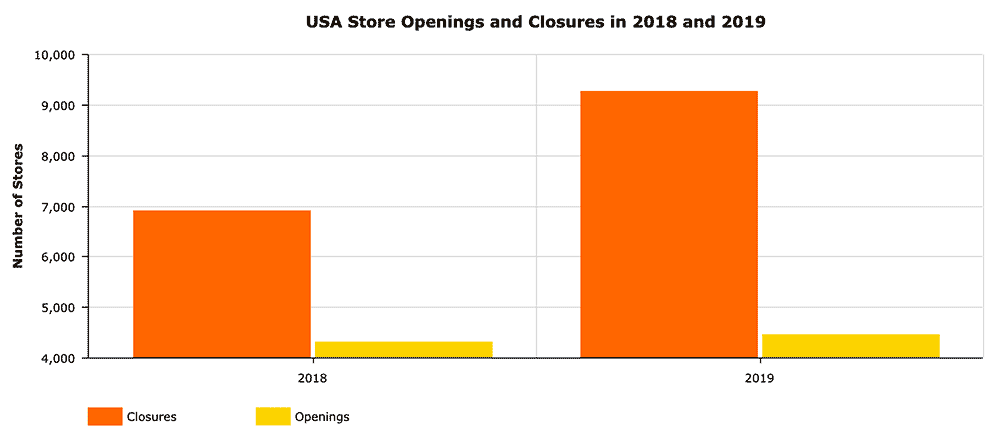 Those stores that were still open were drawing in foot traffic by offering relatively large discounts. But as John Collins, retail analytics company Thasos co-founder said, "but if you're selling merchandise at a loss, you can only do that for so long."
While shopping malls in America have been on the leading edge, the pain has spread to other countries. In the United Kingdom, it was predicted in 2018 that over 200 shopping centers were in danger of falling into administration. Additionally, the collapse of BHS in 2016 led to not only empty stores in over 200 shopping centers but a loss of 11,000 jobs and a £571m pension deficit.
The collapse of BHS is a good example of how the closure of stores has several wide-ranging consequences. In addition to the loss of jobs, closures also have a direct impact on the areas where they occur. Local authorities see a reduction in their revenue base, which they use to fund local services. Add to this the reduction in property taxes and the effects on a local economy can be substantial.
Impacts from COVID
As if adding insult to injury the timing of the corona crisis couldn't have been worse for retail and shopping centers. Stores have shuttered to varying degrees around the world and while some have begun to reopen, the retail landscape is sure to change soon.
In the United States, JC Penney announced that they were filing for bankruptcy after a decline that has lasted 20 years. The chain has more than 800 stores and almost 85,000 employees. Department store chains like JC Penney, account for around 30% of the total mall square footage in the United States. In this case, the coronavirus is only accelerating predictions that half of all mall-based department stores will close in the next five years.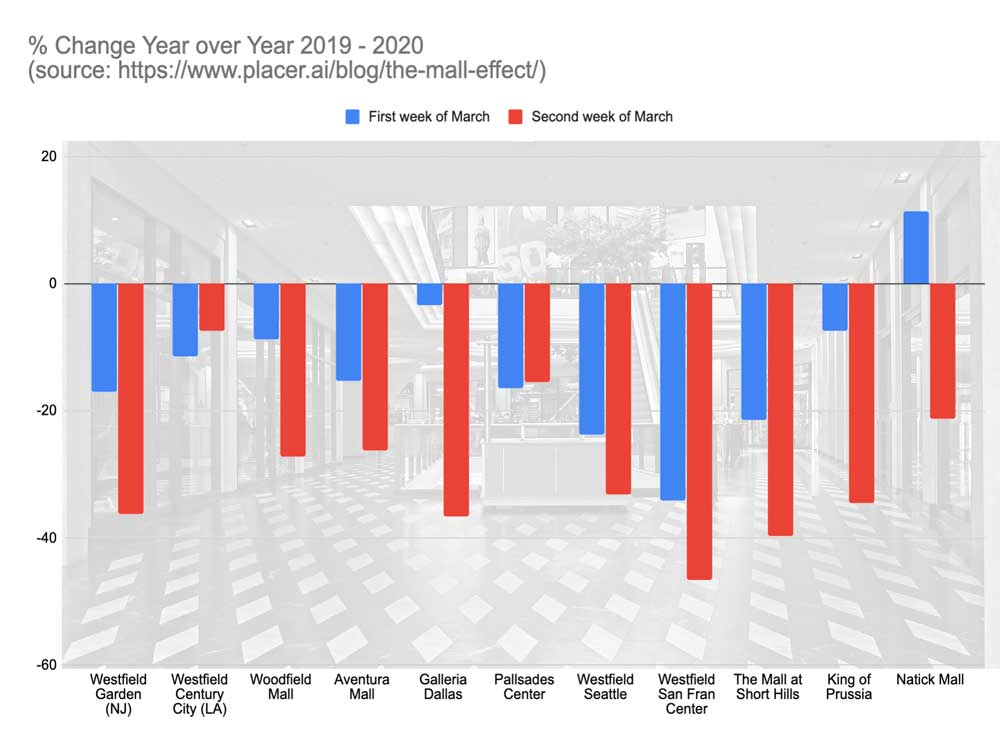 After seeing dramatic drops in their foot traffic, malls are now scrambling to find ways to reassure visitors that they are safe to visit. For example, visitors to Uniball-Rodamco-Westfield, which operates 90 shopping centers worldwide, has updated its app to allow visitors to see how many people are currently in a particular mall. So, they can time their trips so they feel comfortable. Also, participating stores, allow shoppers to book an appointment, so they can get personalized service to assist with their shopping.

Additionally, malls have put out comprehensive guidelines concerning cleanliness to help customers feel comfortable with coming back to shop. According to McKinsey, 31% of respondents in the United States indicated that cleaning and sanitation were the most important criteria for where they choose to shop.
Finally, it should be noted that the losses aren't limited to the United States. In Germany, the German department store chain Galeria-Karstadt Kaufhaus has announced that they will be closing 62 of their 172 stores. They indicated that due to the impacts of the coronavirus, they can no longer continue to operate all of their branches and that cuts were needed for the survival of the entire chain.
Learning From the Past
While it is easy to wallow in all of the bad news, there is one more closure, that I think can be viewed as the way that shopping malls can survive and even thrive. Microsoft announced in June 2020 that they would be closing all 83 of their retail stores. However, they haven't totally given up on having a physical presence. Instead, they have indicated that they will focus on operating "experience centers" in London, New York, Sydney, and Redmond, Washington. It is precisely this shift from a large number of stores to a fewer number of stores selling fewer products, that represent the future of both retail and shopping centers.
Some shopping centers have already got the memo and started making this transition. The Hillsdale Shopping Center in San Mateo, California has launched a $155 million renovation which includes modernizing stores, adding restaurants, and a cinema centered around an outdoor fountain light show and seating area. Additionally, they are focused on lining up events like concerts and comedy shows and a food court which doubles as space to work on your laptop. While corona will have some effects on the final outcome the trend is clearly towards creating a multi-functional space that isn't just focused on shopping. There are even discussions going on about adding housing units nearby to create a village atmosphere.
Adding Technology and New Ideas
The mall of tomorrow can thrive as long as it learns something from the past and also embraces the future. By going back to the original idea of a mall as a place designed to mimic the old town square for new suburbanites. People are looking for more than just shopping when they go to the mall and creating spaces that are appealing is a key component.
Another key component takes place inside the stores, as they make the shift from selling physical products to letting customers interact with the products and learn about the brand. So, you use the Nike apparel and mats when you participate in an in-store yoga class. Additionally, stores should explore ways that technology can help them showcase their products.
By using RFID technology, stores can create areas where customers physically interact with the product and get information to help them make an informed decision. This is especially effective for products that are detailed or when you want to point out a feature of the product that they might have missed if they hadn't interacted with it personally.
Another innovation focuses on what's called classroom retail. Companies like REI sponsor both indoor and outdoor classes on everything from fixing your bike to the best hiking trails. Ever walked into a cooking store and wondered what some of those kitchen tools were used for? Well, sign up for an in-store cooking class with companies like Sur La Table and not only learn how to use those tools but also whip up a great tasting meal. 
By combining the roots of shopping malls as community spaces and modern technology and innovation, shopping centers will continue to provide a vital service to millions around the world.