Retail is in a fight for its life. Those stores that come out on the other side of this battle will be the ones who have figured out a way to increase their visitors. There is a reason that it is said that what doesn't kill you makes you stronger. Smart retail establishments should take this adage to heart and use the following tips to get their customers in their corner.
1. Make it Inviting
While it may seem to be obvious, sometimes it can help to get feedback from outsiders if your space is actually projecting the image that you want.
Make sure you are taking care of the basics, such as making sure that the storefront is tidy and clean. You would be surprised at what a difference stepping outside and looking in can make. For example, it may show you that the windows need to be cleaned.
Stepping outside can also give you insights into possible ways to attract people into your store. For example, are you located in a location in which curbside advertising would be beneficial? Walk down the street and see how your store appears as potential customers approach from a variety of different angles.
The great thing about retail stores is that you can engage with all of the customer's senses in a way that online can't compete. Make sure that both the inside and outside of your store are engaging with your customers.
2. Offer Something Extra – Superior Service and Experience
Sit down and figure out what makes your store different and special. As online shopping focuses on finding the lowest possible price for an item, it is critically important for retail stores to find something beyond price to differentiate them from the competition.
If you are unsure how to do this the following are just a couple of ideas that might work depending on your business model:
The Harvard Business Review recently did a great review on when it can be advantageous for a business to combine products. They outline four different types of bundles (flexible, peace of mind, multi-benefit, and one-stop bundle) and highlight the circumstances in which they should be used. Effectively bundling your services could be a key differentiator and provide your retail business with a superior experience for your customers.
Be an expert on your product and market. In a world where the concept of "Just Google It" has turned everyone into a self-proclaimed expert, true expertise is in short supply. A great example of a store that mastered this model is the retailer Sephora, who employs stylists and experts who are available to provide guidance to shoppers on-site.
"Sephora is the master of this. Sephora offers free mini-makeovers with their highly trained make-up artists to teach you how to use their products." Cara Wood, a marketing associate at Capterra, a trusted resource for retail software.
They take their in-store experience and spread it through an extensive YouTube Channel that provides information, tricks and tips and insights into new products directly to the customer.
Your brand is only as strong as your weakest employee. You can have the best promotions and most inviting store on the street, but if your employees are unfriendly or uninformed about the product, all of that hard work will be for nothing.
3. Use Digital on Your Terms
Just because an individual is shopping in a physical retail store doesn't mean that the rest of the digital world disappears when they walk through the door. Since your customers are comfortable in the digital world, you should show that your store is as well. The good news is that there are tons of different ways to incorporate digital elements into your retail business, depending on your needs.
Digital concierges, who can great customers, provide information on special offers and recommendations
Cloud-based point of sale systems allow you to process transactions anywhere in the store, instead of being stuck working from a fixed cash register
Digital Signage that displays up-to-date information on what types of product are currently in stock.
Coupons and other promotions sent directly to consumers' phone using beacon technology
Depending on your business model another technology-related trend is 'click and collect'. The Wall Street Journal reported that a third of shoppers would prefer to have an item delivered to a location other than their home. This is an increase of 26% from the prior year and represents a real opportunity for retail businesses to get products to customers while also getting them to physically visit their store. It represents a great way to connect your e-business and your retail business together.
Finally, don't overlook the power of Digital Signage, it represents a great way to increase brand awareness. Recent studies have shown that 55% of individuals who saw a digital billboard were able to recall the specific message that they viewed. In a world where it is increasingly difficult to get attention, the incorporation of digital elements, such as Digital Signage, can help you stand out from the crowd.
4. Use Events to Your Advantage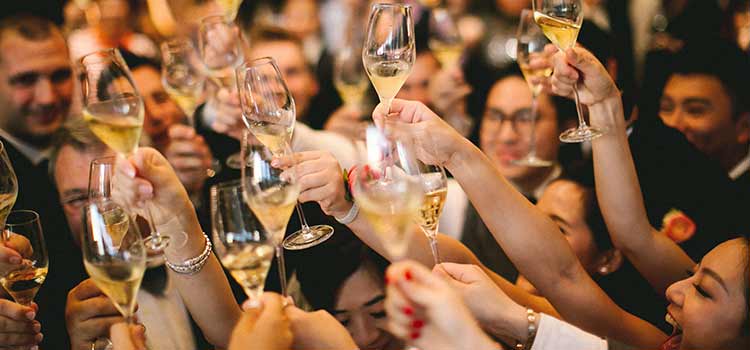 Events are a great way to get people to visit your store because they offer experiences that can't be matched online or in other stores. They also provide a way to cultivate relationships with regular customers as well as to introduce new customers to your brand. So how do you plan an event that won't fall flat on its face?
One suggestion is to work together with other brands or stores to provide a "cross-pollinating" experience. According to Christina Okubo, founder of boutique brand consultancy company O/Department, doing so creates a win-win situation for you and your partners.
The key is to team up with other brands or organizations to host events that you feel enhance your brand. Sometimes it also helps to think outside of the box and reach out to individuals or groups that you previously wouldn't have thought of teaming up with. It also helps to ensure that you are providing attendees with an experience that can't be easily replicated.
If you are planning an upcoming event and want to make sure that it goes off without a hitch, the following article has nine short and sweet tips that are applicable to any type of event.