The question that arises when creating your own playlists is mostly where to obtain great content to display. Most likely as easy and cost-effective as possible. The answer is RSS feeds.
Using RSS feeds allows you to integrate any kind of news from various websites into your digital signage playlists. That way, you will be able to bring popular articles and blog posts directly onto your screens with just a few clicks. Spending a lot of time for your content management won't be necessary anymore since RSS feeds update themselves automatically.
In this context, the presentation design can individually be adjusted by simply embedding the RSS feeds into your own custom templates.
However, you should make sure to integrate reliable and timely news feeds and not just any kind of feeds. Because if the websites – you want to use for content integration -are not being updated on a regular basis, your playlists will be obsoletely as well. Make sure to publish frequently updated information.
Here, we picked out the top 15 RSS news feeds for you to start.
Business
Small Business Trends
Business Insider
Entrepreneur
Forbes
Inc.
Marketing
Hubspot
Marketing Profs
Marketing Land
BusinessWire
Kissmetrics
Tech News
TechRadar
TechCrunch
Wired
Verge
Cnet
More great RSS Feeds? Check out here.
These websites might not be suitable for your purposes, depending on your intended use of the RSS feeds (internal or external communication).
We, therefore, recommend the feed reader Feedly. The web application aggregates syndicated content, such as the blogs and online news you would like to add to your playlists, in one location and makes it possible for you to easily manage and organize all chosen content. That way, you can as well search for industry-specific RSS feeds and figure out which website contents suit your digital signage projects the most.How to embed RSS feeds into your playlist?
If you clicked on one of the links that are listed above, don't panic. A few of them might take you directly to XML files, that look like the one you see in the picture below. It's a markup language that represents data in a clear and structured way. In other words: the content you would like to integrate into your playlist is translated into a different language and presented as an XML file.
Don't worry! You don't need any technical know-how in order to embed RSS feeds.
4 Simple Steps to Embed RSS Feeds
Once you reach the website with the XML file, just copy its' URL (the address on top of the web server).

2. When you log in to your viewneo account, go to editing mode for one of your chosen templates. Then just paste the URL into the sidebar on the right.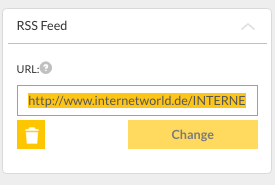 3. The next step is to allocate characteristics (headline, content, date or the link to the article) to the respective text elements (placeholder) of your template.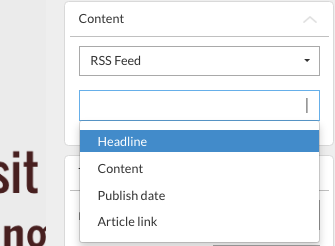 4. All you have to do now is to save the template and add it to your playlist. Your digital signage player will play frequently updated website content at any time from now on. The RSS feed integration is done.