Look around you will see that the digital menu board is being used, from the local Italian restaurant to the latest hip burger joint. The screens can frequently be found close to the register or behind the counter, where they highlight specials or simply list the current food and drink selection.
Compared to a classic menu, a digital menu offers the flexibility to change content quickly and without too much effort. Even better, you can use pre-existing templates as a great starting point and get started quickly and easily. Most templates consist of a general layout, where individual components can be changed allowing you to create a custom look with custom content in just a few steps.
In this article, we'll highlight for you 15 new, free digital menu board templates for restaurants, bars, and cafes. These layouts are available to our users with a license in our viewneo CMS, so just start your free 30 day trial. Here you can create your menu boards for free in just a few minutes.
Find out here, how to easily create and use your templates.
The Breakfast Place
"Breakfast is the most important meal of the day." – we've all heard this a million times.
The current fitness and health trend has also brought a change in eating habits, which has also had an effect on breakfast choices. The classic breakfast of a Peanut Butter and Jelly toast or a big bowl of sugary cereal has been replaced by healthier alternatives. Protein smoothies, fruit, and yogurt or muesli have gained in popularity. Digital menus allow you to exploit this trend and highlight some of your healthy breakfast options.
Every weekday you could even have a different special on your tv menu board, like the Monday Smoothie or cereals on Tuesday.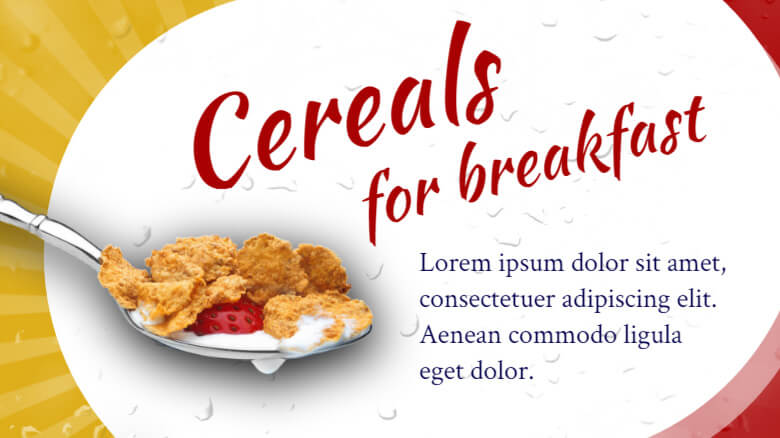 The Salad Bar
Of course, you can promote a salad the regular way. But with this template, you can really shine a new light on this healthy option! Depending on what's in season and what you bought at the farmer's market, you can easily change the ingredients on your digital menu board.
For instance, now, in October, it is time for pumpkins, squashes, and mushrooms. You can quickly add all your favorite mushrooms to your digital restaurant menu in just a few steps. The image in the background can be changed out and the text can quickly be rewritten, to make your digital menu board template look brand new.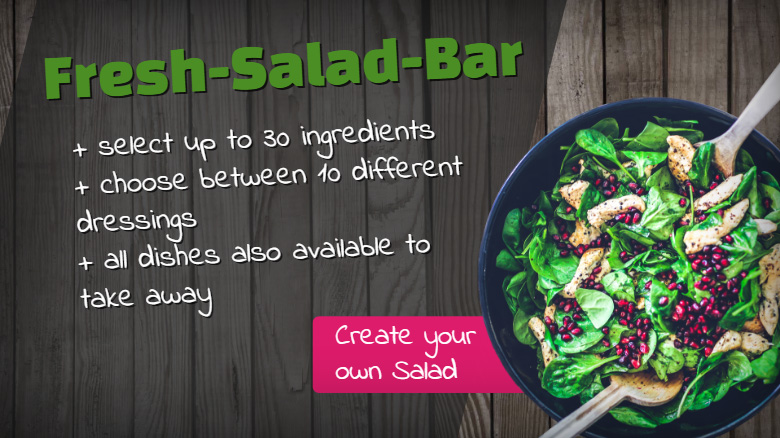 The Italian Restaurant
When you own a restaurant, you sometimes just have to switch up the menu. The problem this presents is that now all of your old menus are useless and you need to print new ones. This costs time and money. Not to mention any boards that are placed around the restaurant that now need to be replaced.
With a digital menu board, you don't have that problem. Changes can be made quickly and don't require any special technical know-how. And because it takes so little time and effort to make these changes, you can easily display specials on a weekly or even daily basis.
You just bought fresh seafood at the local market? Great! Just add it to the specials on your digital menu board: Today only: Spaghetti Frutti di Mare!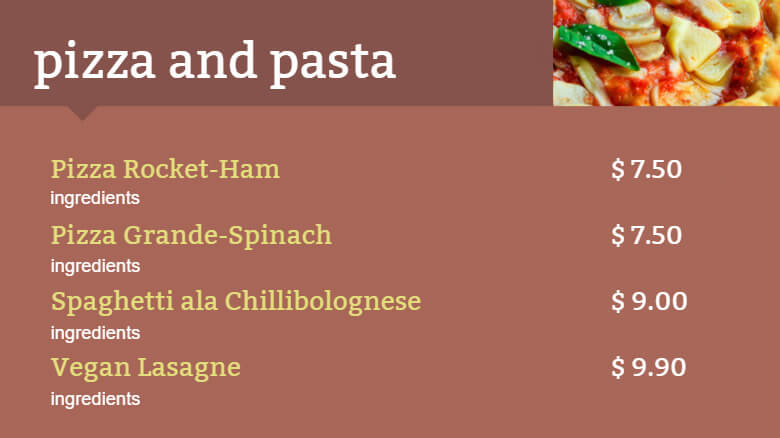 The Ice Cream Parlor
The seasons are changing; it's turning to fall and the days are getting shorter. Adding ice cream that is more seasonal can help get more customers into your café. You can also offer ice cream with hot raspberries, cherries or different warm sauces, to extend your offering into the colder months. For Christmas, you can add ice cream that tastes like cinnamon, eggnog or maybe even candy canes as an alternative to the classic strawberry ice cream.
This template can be used year-round and only needs a few changes each season. Because it is so easy to use, you can react to what is happening around you. It is suddenly 70 degrees in December? Use that for your digital menu board template: It's too warm for eggnog? Come have an iced coffee here!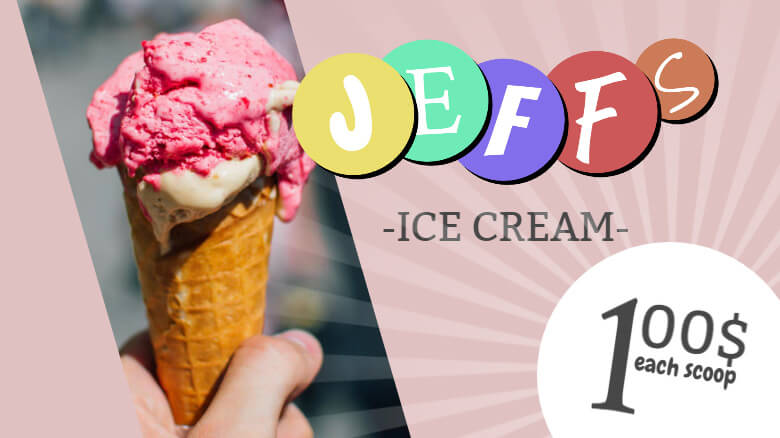 If you want to use more free templates, check out our brand new layouts!
The Burger Joint
Burger joints are all the rage right now and with them come some crazy burger of the month selections. You want to show off your newest creation in a modern way, get a lot of attention but with little effort? Of course! With this free template, you can quickly switch up your monthly burger. You can also add an animated graphic to make the burger look even more appealing. Use the different components and let them appear layer by layer. This grabs customers' attention and shows them in detail what they will be eating.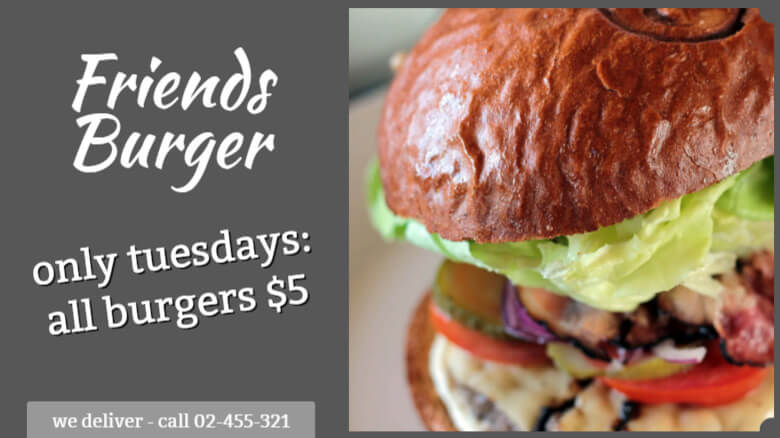 Most digital menu boards are used horizontally but you could also use it vertically. The next template shows how a simple change can dramatically effect how the display looks. This can be especially effective for products that are taller like this burger.
After highlighting the burger you can provide your customers with information, such as, a lunch special that complements the burger.
See for yourself how easy it is to use these predesigned templates to get a sleek, professional digital menu board in no time.
The Café
A café is usually a comfortable and cozy place. This new template helps you to advertise your coffee and cake selection properly. The cursive font suggests a personal note and underlines the love that was put into the home-made cakes.
If you add a video at the end, you can even show your customers how the cakes were made.
Digital menu boards with moving images tend to grab peoples' attention. One way to do this is to display a video line-up of your menu, such as all of your hot beverages. With only a little effort, you can create a nice effect and provide your customers with an easy way to compare your beverages visually.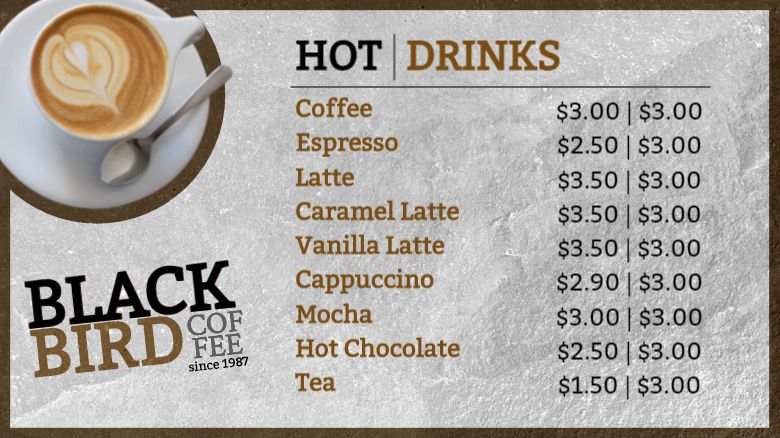 The Steakhouse
When you see this image, you can almost smell the great food already. It doesn't matter if you offer BBQ, "All you can eat", Steaks or fresh fish, this digital menu board template lets you change up the content in no time, so you can focus on grilling the meat to perfection.
YouTube is hosting a lot of short videos on BBQ. You can use those to create a playlist that you can play after this template and entertain your customers.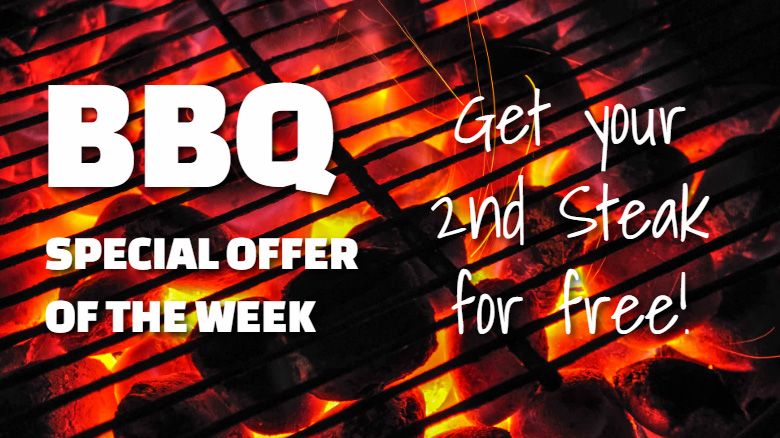 The Donut Shop
This electronic menu board template lets you advertise your delicious donuts in a playful way. The bright colors make this graphic a great eye-catcher. Some viewers might even be reminded of the "Godfather of Donuts" Homer Simpson.
Donuts especially are great for a colorful display. Bright colors, like the ones in this template, play on the colorfulness of the product themselves.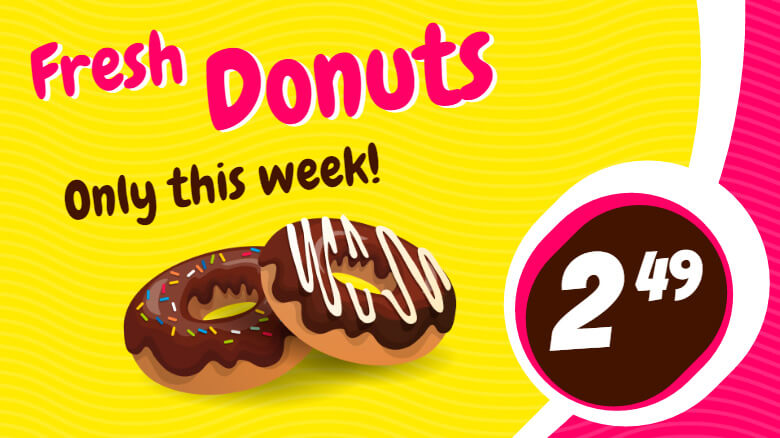 The Pizza Place
Regularly changing your specials helps to attract regular customers since they know that they can get their favorite pizza at a good price in the near future. These two digital menu board templates are a great way to showcase your tasty creations.
Christmas is almost here and a lot of families and companies want to host Christmas parties. You can easily offer catering for those on your digital menu board template.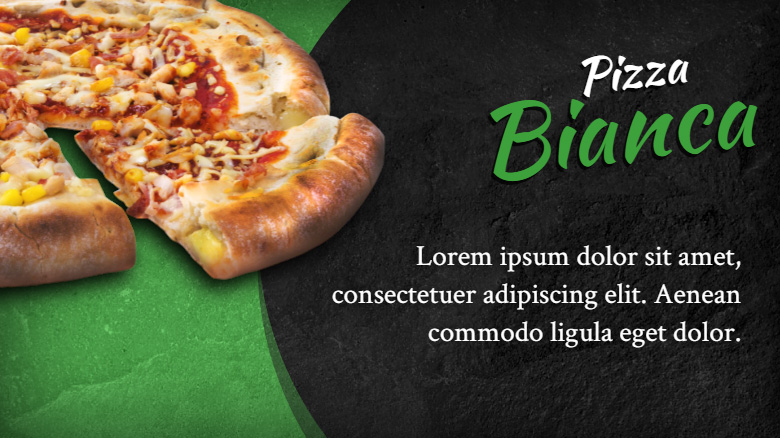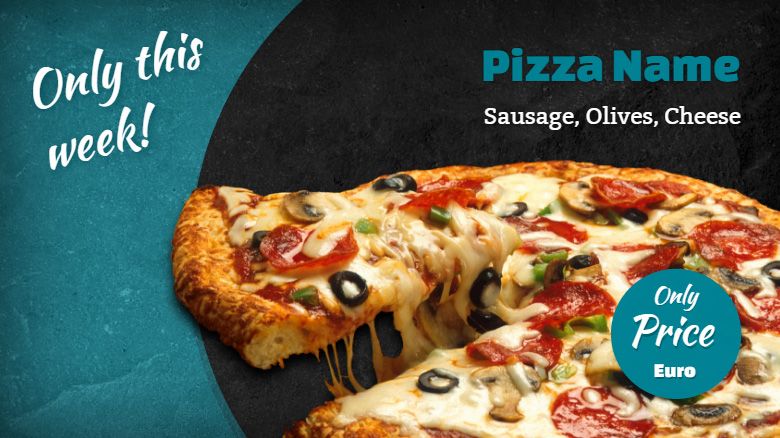 The Cocktail Bar
Gin Tonic, Hugo or Lillet. Every spring brings a new cocktail that is declared the new best thing. You can follow this trend with just a few simple steps. Add everyone's new favorite cocktail to your menu or delete a classic cocktail that has lost its fan base. Changes are easy to make.
You can keep your customer up to date with your digital menu board template without spending money on printouts.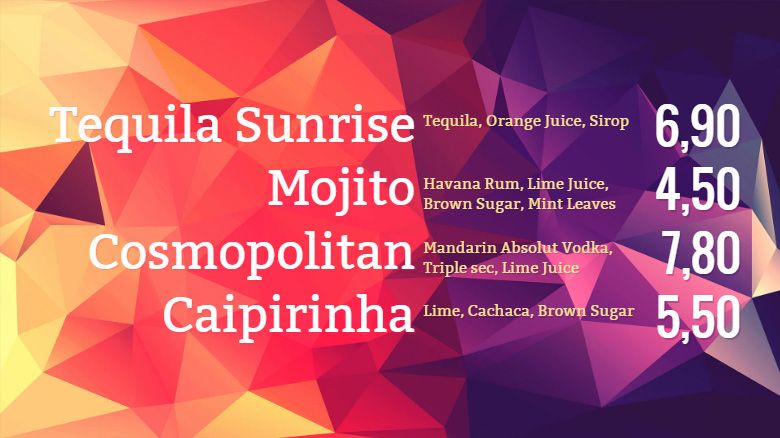 The Gourmet Restaurant
A classic layout without any knick-knacks shows elegance. Especially in the restaurant business, you can say a lot with images. These two templates let you advertise appetizers, main courses, and desserts. Of course, you also have the ability to exchange the pre-loaded images with pictures of your current products.
You are also able to add more images to these templates. A nice word from the kitchen or the newest dessert creation can be added to the template without any problems.