Going to the hairdresser is a little event in and of itself. Especially for women, often times a hairdresser isn't just a hairdresser – it's someone you trust. And not just when it comes to the end result, the new haircut or the new hair color, but also when it comes to the ambiance and how comfortable you feel. The perfect hairdresser is a great consultant, that always knows the newest trends and has great ideas and tips for you to shine. But they are also a host and entertainer – all in one person.
This is also true for the salon itself. It has to be more than just a place to get your haircut. This isn't just important for existing customers, but especially for new ones. Convincing is the key. From the interior, the first impression, the waiting time and area, the entertainment and of course to the assistance and the final result.
To get all of these things across, Digital Signage is a must. Having your own Hair Salon TV, targeted to your needs, will do more than just play music videos. The possibilities are endless, so we want to show you how creative hair salon advertising works and how you can use it in your salon.
#1 Using your storefront for your hair salon ads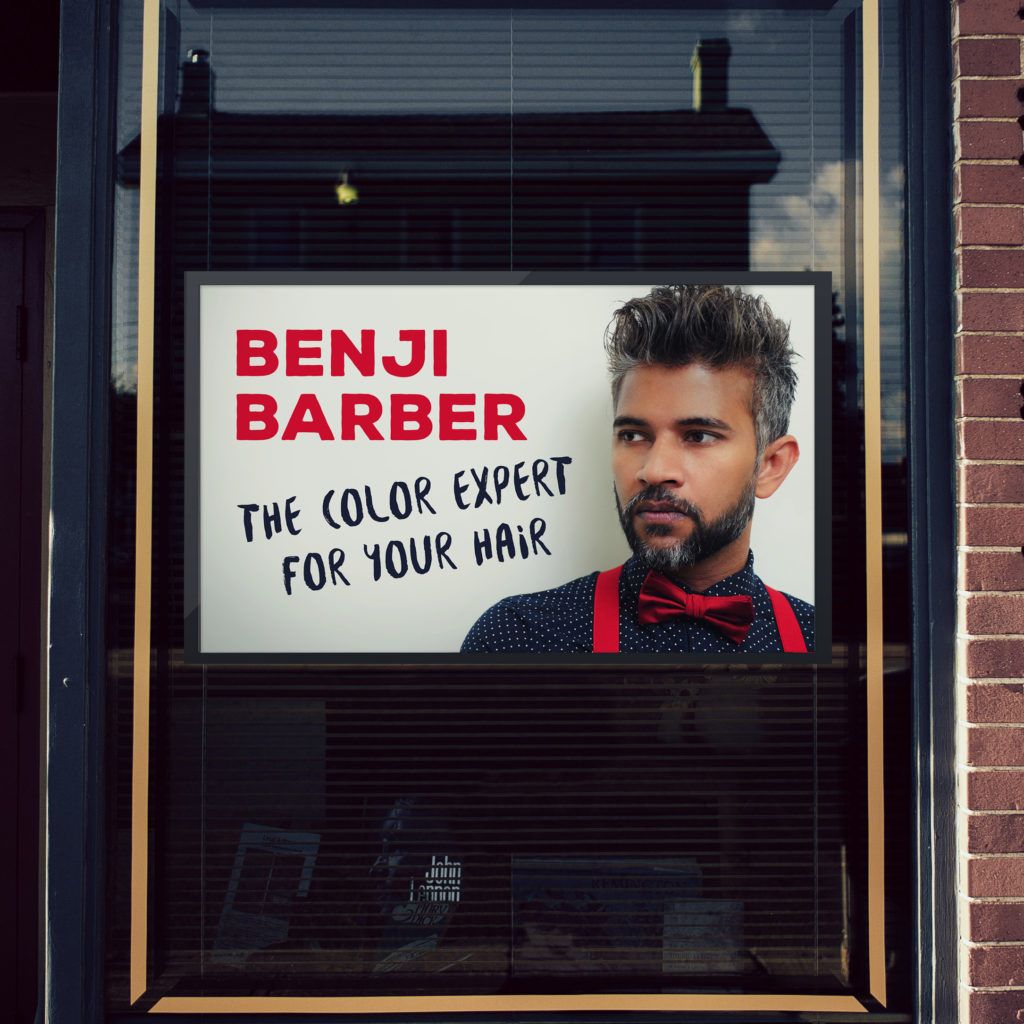 Professionalism at first sight. We all know that first impressions count, so what better place to start than the storefront of your salon! Many hairdressers already know that, but how can you use it to get the maximum out of it?
Your customers want the most important information at a glance: what you offer and how much it is. So showing this information is the basic first step when it comes to your digital outdoor advertising. But to really get peoples' attention you should use creative and striking content. Your shop window is a really great place to advertise yourself because your team and their talent are what makes your salon great.
Imagine a pedestrian walking by. Using interesting images and some animations, your Digital Signage can create a professional image, that makes them stop, look and read your content. This way you can get them to read about what you offer, any specials you have, products you sell or anything else you want them to know on the spot. Anything can be part of your hair salon ads.
If you really want to get someones attention, you can use videos. You can individually edit and show the videos so that they represent your store. Like showing a coloring or a fancy haircut being completed at double speed, or showing the inside of your salon in a black-and-white video. There are no limitations to your imagination.
Even when you are closed, this Digital Signage display allows potential customers to get an impressive look into your salon.
Of course, it should continue to look professional and creative when a customer enters your store.
#2 Digitalize your entrance area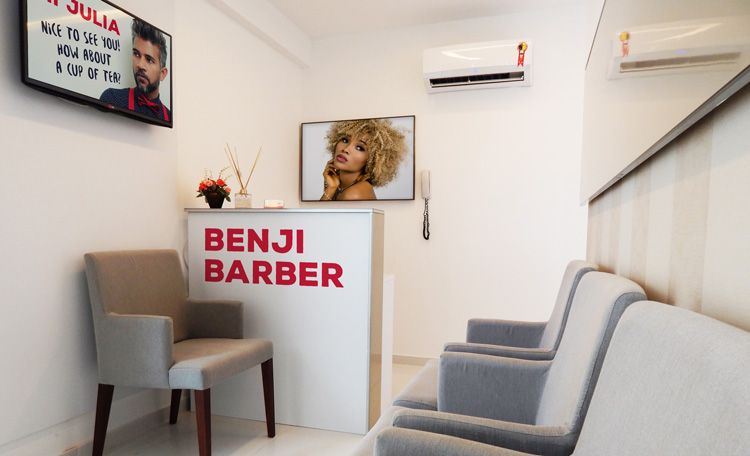 This is the "Welcome" of tomorrow: the wow-effect as soon as a customer enters your salon. Next, to the interior design, this can be achieved by how you communicate.
A creative "Welcome" on a screen above the counter or on a tablet can be really impressive and your Hair Salon TV can be a great way to showcase your creativity.
For instance, you can think of a special for every day or every week and display it on your screen right at the entrance. It could be a freebie, like free fresh fruit, or discounts for certain products, even free styling with a treatment that costs a certain amount.
Or, if you saved all the appointments of the day, you could create customized and timed welcome messages for your clients. That is customer communication that works.
You can surprise your customers with many different offbeat ideas because surprises will be remembered and provide your customers with a positive experience that they can communicate to others.
#3 Hair Salon TV that is actually interesting
We all know that when we go to the hairdresser, it can take a long time depending on what treatments are being performed. Especially the ladies among us know this all too well: highlights, coloring, letting it sit, washing it out, cutting – this all takes time. Using the newest highlighting techniques are always in, but also usually the reason why we need to stay for such a long time. This is where you can make a difference, because next to a great new hair color, a nice cut and a good talk with your stylist, entertainment is a must when you want to keep your customers happy. So implement entertaining content on your Hair Salon TV, will help the time pass quicker.
Here is an example of how that could look:
The inspiration for hairstyles, how-to's and tutorials, tips and tricks that are easy to do at home – this is all content that will increase the entertainment factor in your salon. You can switch them up anytime so that everything you are showing is and stays interesting.
During spring and summer, show the latest spring trend hairstyles or colors. During the colder months, you can highlight tips on how to care for your hair.
Include gossip news, fun facts and interesting information around haircut, color and clothing combination for blondes, brunettes or redheads. There is no limit to what you can show – and it works.
Your customers don't just have to be just viewers, you can even use your Hair Salon TV to have them actively participate.
#4 Interactive entertainment that excites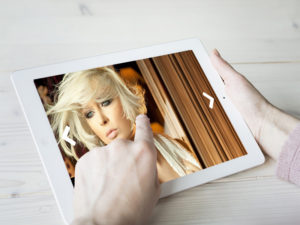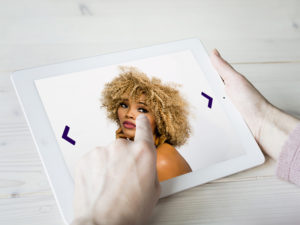 Lookbooks, magazines or color palettes are part of every consultation. Customers flip through the lookbooks to get inspiration for a new haircut or color. But what if there was a way to make it more graphic, faster and with more entertainment?
Then every hairdresser should make his lookbooks digital and interactive. Like a tablet on which the customer can scroll through hundreds of hairstyles, change colors and play with different cuts and where all haircuts and colors are organized into categories so it's easier to find them.
But this isn't all! If you have tablets at each station, your customers can read interesting articles about fashion, beauty or trends. You can preselect and choose blogs and websites that fit your salon image and then present those to your customers.
You are able to include feeds from the internet so that the content automatically updates. The good thing about that is, that all content will stay up-to-date, so your customers always have new and exciting things to read about.
#5 Turn your Hair Salon TV into a network
Your Salon TV doesn't just entertain, but it can also create additional value in another way: make room for advertising spots. You can include ads from partners or interested businesses into your own Hair Salon TV.
You can decide yourself which offers, brands or businesses fit your image and hair salon ads and then build your own advertising network. Especially beauty or feel-good brands can profit from the digital presentation on your screens when their content is relevant and fits. It's a win-win situation. Not only do you rent out ad space, but you can also build up a network and future cooperations.
Limitless ideas for a creative Hair Salon TV
With a little ingenuity and fun, you can create ideas that are different and that make Digital Signage a must-have for creative spaces like a salon. It will help you with interior design, customer communication, and image building. Using pre-existing and fitting templates can help to present your content esthetically and professionally, while you can still decide every little detail. Look to Instagram, Tumblr or Pinterest – those are perfect sources of inspiration for your own creations.
To look for tasteful imagery, that you could use for instance as a background image, you can click here to get Inspiration for stylish free-of-charge image portals.
Find out more about the possibilities for your own successful Hair Salon TV!