Just like how the retail industry  has been struggling to fight back against the big online giants, the hotel industry has been knocked back on their heels by the sharing economy. In 2015, one-third of all leisure travelers used private accommodations, such as Airbnb. This represents an increase of 10% of leisure travelers using non-hotel accommodations in 2011. Airbnb is no longer just limited to leisure travelers, the same survey also showed that 31% of business travelers had also used Airbnb in the past two years.
One way that hotels are looking to make themselves more relevant to their customers is by investing in technological improvements. While some of the tech changes have been decades in the works, others are focused on incorporating the latest cutting-edge technology into the hotel experience. So, without further ado, let's take a look at the five biggest trends in hotel technology for 2019.
#1. Bringing the Hotel to the User
Everyone knows one of the biggest ways that hotels try to appeal to potential clients, is by trying to put their best face forward in the form of photographs. The average hotel booking site is littered with photos which are shot to make the hotel appear in the best light possible. But hotels are also looking to include technology to provide the customer with even more views.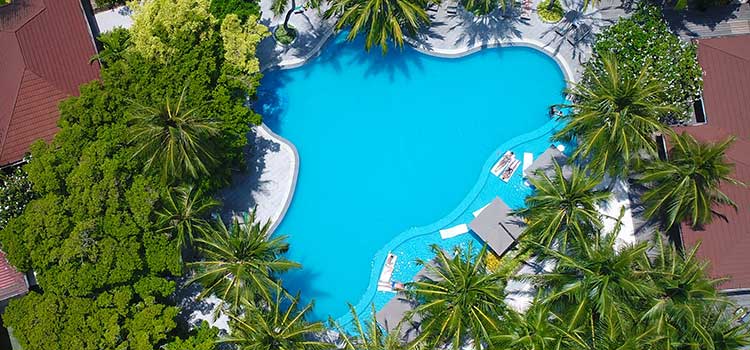 The latest is to use drones to capture images of the hotel grounds that were previously only seen by the birds. Hotels have quickly learned that even though you might not get to see their hotel from these heights, images from above help to provide a different perspective to potential clients.
Another way that hotels are trying to bring the hotel to their potential guests is by adding 3D tours and virtual reality as an option. The idea behind both of these options is to find ways to appeal visually towards individuals when they are in the critical decisional phase of the buying process.
#2. Seamless mobile connections
The default assumption is that most people who are booking a hotel have a smartphone. The chart below shows that smartphones are being used by a greater number of people in the United States.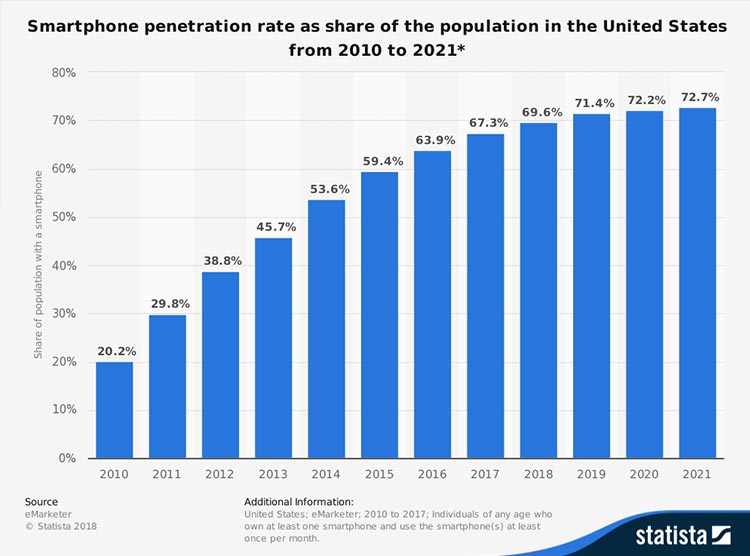 Hotels, like the rest of society, have taken notice and are beginning to design their rooms with smartphones in mind. Why have a separate key to unlock your door when you have a cell phone in your pocket? This is especially true since most people are more likely to leave a plastic key behind then they are their phone.
While the rollout of the technology has been going on for the past few years, many hotels are making sure that they work out all of the bugs before it is released to all of their hotels. Because there is nothing worse than boasting about a cutting-edge system that doesn't work. Another potential downside which hotels are trying to overcome is that the system requires that individuals download an app for each different hotel chain that they use.
Another way that hotels are working to use mobile technology in their rooms is by allowing individuals to essentially control their rooms with their smartphone and tablet devices. Citizen M an up and coming hotel chain has been rolling out their MoodPad. It is a tablet that is designed to function as a personal in-room butler that allows you to control the lights, blinds, and temperature all from a tablet. So, no more having to get out of bed at night and try to find all of the light switches.
#3. Can I Help You With Something?
Consumer's desire to access information at any time has only been growing over the past few years. This has also impacted the hotel industry as there is now an entire generation of hotel guests who would much rather not have to interact with a human. Additionally, when they do have to interact with a person, they are not used to having to wait for what they perceive as a simple answer. One solution that hotels have been using to address these preference shifts, is the use of chatbots. Additionally, they also provide a way for hotels to potentially save money in the form of reduced staffing costs.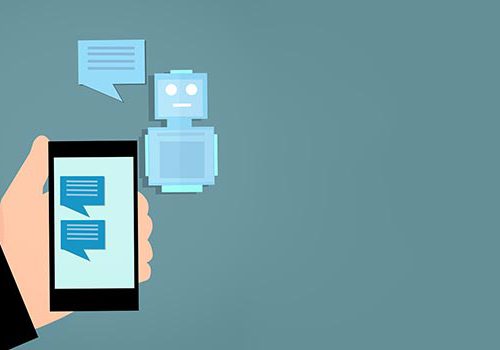 However, chatbots can be frustrating for consumers and have the potential to leave a bad impression if they are not implemented correctly. One company that is leading the way in how to use chatbots that feel integrated and helpful is HiJiffy. It is a chatbot that is designed to connect guest's with the hotel's staff through Facebook Messenger. The chatbot called Jiffy allows guests to book a room, access hotel services, and get information about daily events by simply texting the hotel's Facebook page. The customer doesn't have to install any additional software to get seamless service.
#4. Upgrading the Pipes
Most hotel guests tend to care very little about the plumbing until there is a problem. Well, the same applies to the digital plumbing that is needed to ensure that a hotel is up and running at its full capacity. The expectation is that guests will have access to fast and free WiFi everywhere in the hotel. When a hotel is able to provide this it doesn't garner too many positive reviews, but as soon as problems with the digital infrastructure arise, the complaints will start to pile up. So, while it is not going to garner much attention, you can expect that behind the scenes hotels are working on ensuring that they have the systems in place to avoid any negative press.
Another task that is taking place behind the scenes has been the continued focus on ensuring that hotels are protecting the data which they have access to. When Marriot announced on November 30, 2018, that approximately 500 million guests had their personal data compromised, it brought the issue of data security back to the forefront.
Marriot reported that "for approximately 327 million of these guests, the information includes some combination of name, mailing address, phone number, email address, passport number, Starwood Preferred Guest account information, date of birth, gender, arrival and departure information, reservation date, and communication preferences." Additionally, some of the stolen information included payment information, such as credit card numbers and expiration dates. Customers have unfortunately gotten used to these massive data breaches; however, smart hotels will be ensuring that they invest more in ensuring better data security in 2019.
#5. Buzzword: Conservation
Conservation is nothing new, but the pressure for hotels to limit their environmental footprint has never been stronger. Large chains like Marriot have developed entire programs focused on promoting their sustainability programs. One of the ways that hotels are looking to improve their impact is by using technology. When you are at home, you have an incentive to turn off the lights when you aren't using them because you will be paying the electricity bill at the end of the month. However, this same individual doesn't think twice about leaving all of the lights on in their hotel room when they are on vacation.
Hotels are trying to mitigate this behavior by investing in so-called "smart lighting systems". They help hotels by employing LED lighting, which saves both energy and money for the hotel. They also offer the user the ability to personalize the lights. But more important for hotels, it also allows the user to turn off the lights with their phone, while lying in bed.
But what if you could develop a system that not only allows you to control the lights but totally redesign the hotel guest experience. Let me introduce you to the viewneo hotel lighting system, a part of our Smart Line. Now you can change the entire feeling of the room by using custom theme presets that allow you to create a relaxing, spa feel. And it's not just the lights, our tablet interface has an open API, which means that it is fully customizable.
For example, you can display the weather information, guest name, check-out time, or even a special welcome drink offer for your returning customers. Customers are able to use the tablet to access the internet and look up information about the surrounding area. All this in addition to being able to control the room lighting. It's technology that works with your guests to create a unique and personal hotel experience. So, stay tuned for more updates on our upcoming release.