Perhaps no industry has been impacted more by COVID than restaurants and bars. What was once a way to escape the daily drudgery and have someone else cook a nice meal for you has turned into a minefield of regulations based on table placement and social distancing. In the United States alone, it is estimated that through the end of April 2020 restaurants will have lost $80 billion in sales and have laid off 8 million employees.
Gastronomy is in a battle for their lives and if they want to survive they will have to adapt and change the way that it does business. And while no one can predict how long this new "normal" will last, taking these steps will help increase current business while setting the restaurant up for increased growth in the future.
Changes At the Entrance
Many restaurants have been experimenting with delivery and pickup options throughout the corona crisis. They have not only helped restaurants get through the crisis but helped to form a sense of community, as groups got together to compile lists of who was doing what. But if restaurants want to continue to use pick-up options going forward there are a couple of things they can do to help streamline the process.
A recent survey by McKinsey showed that consumers around the world are increasing their use of restaurant curbside pickup recently. Additionally, in countries as varied as South Africa, Italy, and the United States, there has been at least a 50% increase in new users searching out restaurant curbside pickup options. So, the demand is there, now restaurants need to come up with systems to help manage this demand.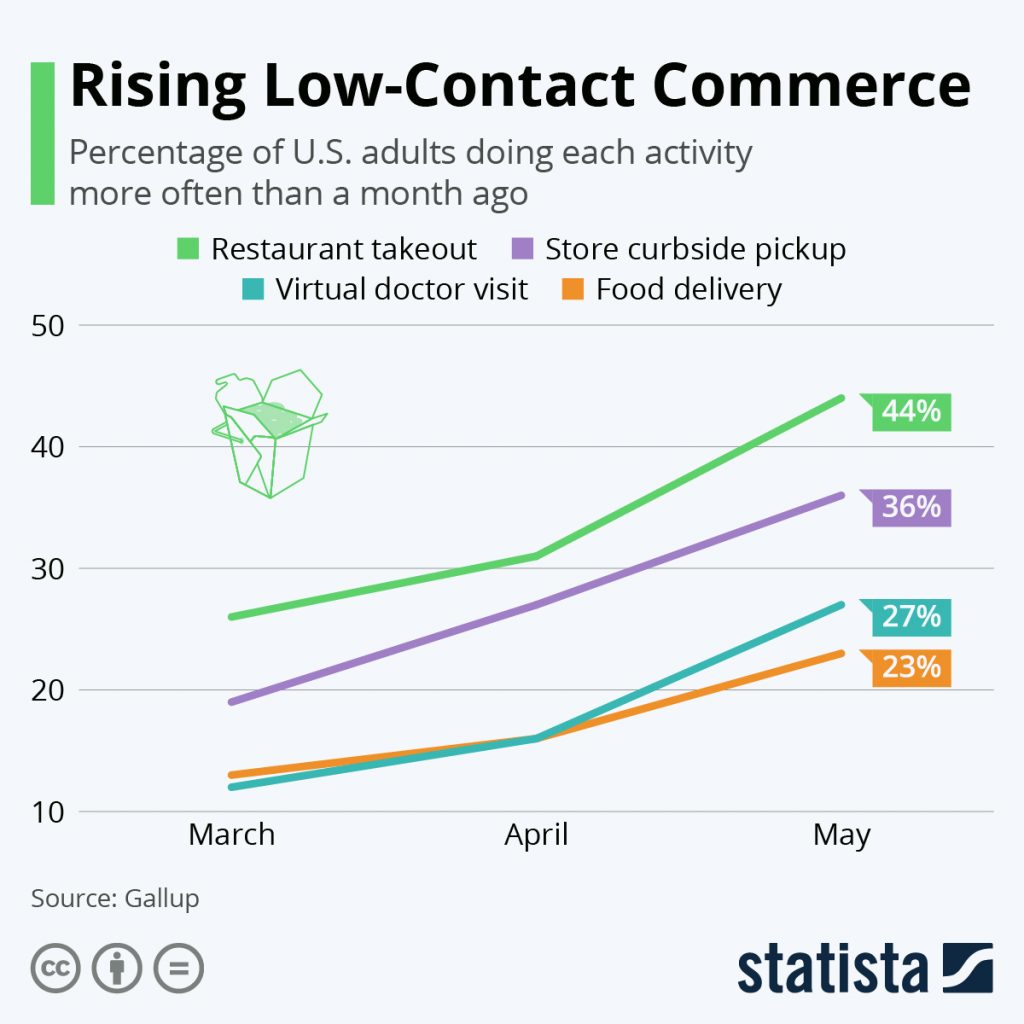 If your customer is coming all the way to you to pick-up food then you want to try to make it as simple as possible for them. That's the focus of Panera Curbside, a service offered by Panera Bread that uses geofencing to deliver orders to guests directly in their cars. If the customer opts into the service, employees automatically receive a notification when the guests arrive. And since the guest already entered information on their vehicle, Panera knows exactly where to take the order. This means there are fewer people located inside the restaurant and helps to limit contact for customers.
Another option is to use digital signage boards in your pick-up area to help manage the flow of visitors awaiting their orders. For example, Domino's recently introduced Pie Pass, which allows customers who have ordered online to skip the line when they arrive to pick up their orders. Each customer will have their name displayed on a digital menu board with the status of their order. When the system indicates that it is ready, they can pick up their hot and fresh pizza. The benefits are that these systems only require a screen and digital signage service, like viewneo, to get up and running and help to limit confusion in the pick-up area.
Step Up Your Game at the Table
Once you get your guests seated at the table there are some steps that you can take to not only adjust to the current situation but also help to increase turnover. Traditionally, a server would bring the customers paper or laminated menus. That means that the server touches the menus, then the guests touch the menus and then finally the server again. Then it assumes that you are cleaning each menu before giving it to another guest.
One way to get around this problem is to have the guests use their own smartphones to view the menu. While it sounds complicated, it doesn't have to be. A simple way to use a QR-code, that when scanned by the customer using their phone automatically opens up the current menu directly on their smartphone. The QR codes can be placed directly at the table or even better in the waiting area so that customers can look at the menu while they are waiting to be seated.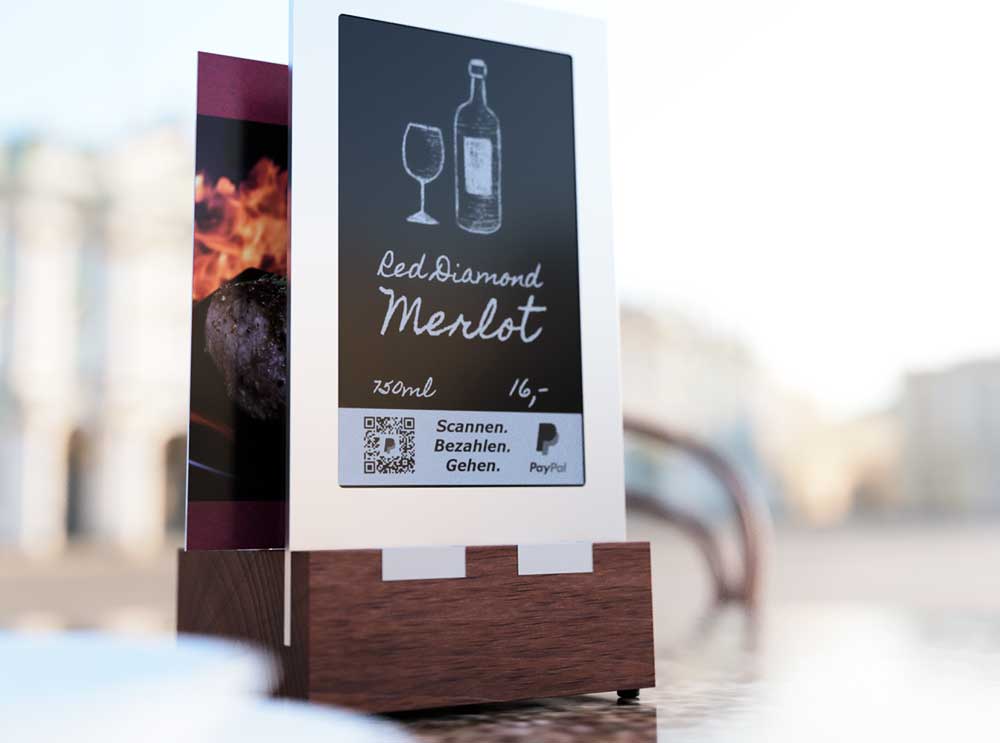 Another way that QR-code technology can be used is to expand the number of contactless payment options. This allows the customer to pay for their meal without having to have a server handle their credit card or cash. Additionally, when you provide this service directly at the table, it helps to increase turnover by allowing customers to pay when they are ready and not have to wait for a server.
There are a variety of options available to allow you to set up QR-code functionality, but perhaps none is as simple to use and unobtrusive to the guest as the viewneo Diwa. It is designed to fit in on the table and uses e-Paper technology, which ensures a long battery life. It also includes app functionality which allows you to easily change the display to showcase your daily or changing specials, without needing another menu. And best of all it is simple to integrate QR-code technology to allow customers to view both menus and use contactless payment options directly at the table.
Cleaning Up the Back of the House
While making changes in the back of the house never gets the kind of attention that it deserves, there are some critical changes that can be made to help streamline your operations.
Ensuring Employee Safety
One way to protect the safety of your employees and guests is to implement temperature checks to detect possible corona carriers. Yum Brands, which owns the popular KFC, Pizza Hut, Taco Bell, and The Habit Burger Grill chains have announced temperature checks of their employees in addition to other measures such as counter shields to limit the contact between staff and customers. Additionally, they have established an employee medical relief fund to help provide financially for employees who are diagnosed or caring for someone with COVID.
Tamper-Proof Packaging
Food delivery has become a way to provide products to consumers directly in their homes. But most delivery services are done by third-party providers like Door Dash or Uber Eats. This means that the restaurant doesn't have any control over a delivery driver who decides to munch on some fries while on the road. One way to ensure that your customers get all of the food they ordered is to use tamper-proof delivery bags. Companies like Mr. Takeout Bags offer a relatively affordable way to give your customers peace of mind.
Simplify Where Possible
Since the number of guests that you can have in your restaurant has been reduced, it is also important to look for ways to simplify your back of the house operations as well. Here are three quick ways to streamline operations:
Focus on your core menu. It's time to get back to basics instead of experimenting with new dishes. What are the dishes that stand out and make customers want to come back again, even if it means waiting or getting it delivered?
Reduce your SKUs. Getting rid of SKUs makes purchasing, receiving, and storage easier, in addition to reducing waste. So as you cut back make sure you keep this area in mind.
Shed some staffing layers. Everyone loves a fancy title but now more than ever it's important to have employees on your team who are multi-taskers. Increase your cross-training opportunities to ensure that they are ready for their new roles.
There is Still Room to Innovate
While you are pulling back in some areas, there are other areas where you can expand your business. One of the strongest trends to come out of the corona crisis has been a shift from restaurant meals to cooking at home. The Harvard Business Review noted that 54% of Americans are cooking more than they were before the pandemic, and 35% say that they enjoy cooking more now. So why not find a way to offer them the option of tasty dishes that they know and love from your restaurant that they can cook at home.
Meal kits are no longer just from the grocery store or a large meal delivery service, like Hello Fresh. Instead, they offer a way for your brand to stay connected with customers and allows them to experiment in their own kitchens. This might not be an option for everyone but is something to consider.
Another way to get your brand directly into consumer's homes is by merchandising and add-on products. Proprietary products, such as bottled dressing or hot sauces are another way to let the customer take home a little piece of your restaurant. Make sure that you make it simple for customers to get them, by offering them during the delivery and pick-up process in addition to in the restaurant.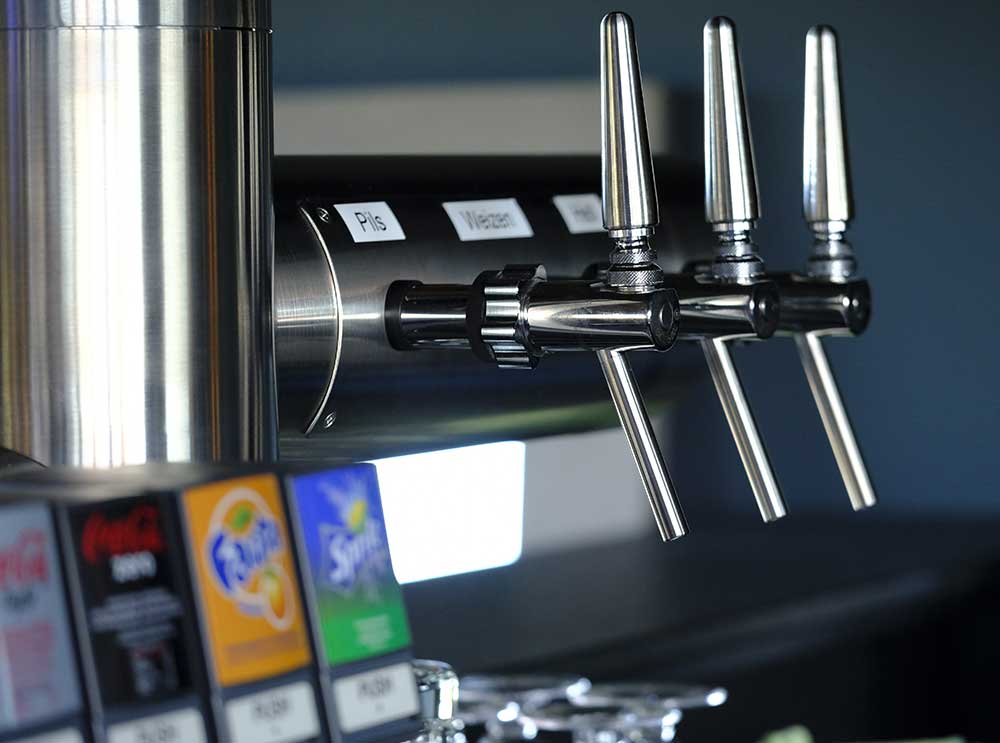 One trend for bars that began before corona and can help now, is the shift towards self-service. And while we all like a heavy pour, new technologies ensure that customers get the exact amount of their alcoholic drink of choice while also keeping a running tab. Some of the advantages include:
Reduced keg waste (up to $142 saved per keg)
Better customer experience
Reduced pressure on overworked employees
Companies like, PourMyBeer have comprehensive customizable systems that are designed for the current environment. Their system takes the traditional 6-8 touchpoints between a customer and staff and reduces it down to 1-2 touchpoints. This helps bars to reduce or redirect their staff towards meeting new cleaning and sanitation requirements.