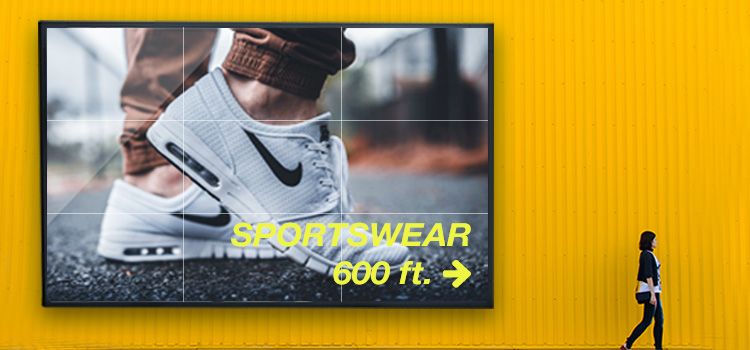 Finding the right advertising screen among all the different options available isn't easy. Let alone the pain of trying to decide on one, if you don't know anything about how it is going to be used. When choosing a display for your business, you want to select the right option, that meets all of your requirements from the start.
Additionally, you need to ensure that your advertising screen is compatible with the digital signage software that you intend to use. So before, you throw up your hands and give up before you have even started, we're here to walk you through some of your options.
So, which options and features are worth taking a closer look at to create best conditions for your digital display advertising?
Let's start with the basics that you need to consider in order to create dynamic and striking digital ads with the right digital advertising screen. Going through this process will not only help you arrive at the right digital screen, it can be used to anytime you need to make a decision.
Find the right advertising screen
for your Digital Signage project
with these 7 Tips
#1 Start with a leading question
In the beginning, you should ask yourself a central question.
What are you hoping to accomplish with the installation of your advertising screen?
Making a decision often also means weighing benefits and expectations. With this in mind, the most important question to ask yourself is:
what's the purpose of my digital signage installation?
What exactly do you want to achieve by installing a digital advertising screen? What kind of experience should your digital signage TV be able to project? What will your advertising display be used for and what kind of content will be shown?
Do you want to provide information or entertainment?
Is the advertising screen meant to attract attention?
Is your content rather dynamic (videos or image files)?
Or are you focusing on fixed images or texts?
Questions around "Why" or "For what" should be taken into consideration throughout the entire decision-making process of your advertising screen installation. Because understanding your main purposes allows you to better answer any follow-up questions.
The more specific your answers, the better you will be able to focus in on the price, size, and specifications of the digital signage display you need.
Going through these steps will serve as a process of elimination and allow you to narrow down your options until you have reached the perfect one for your specific needs.
#2 Consider the environmental factors of your advertising screen
Depending on the purpose of your digital screen, it can be installed either indoors or outdoors. There are very different monitor requirements between digital outdoor advertising, or Digital Out of Home (DOoH), and Instore advertising (Instore TV).
Screens used outdoors have additional considerations, such as, ensuring good readability in daylight that will need to be considered.
Panel brightness is a huge deciding factor. To show great pictures in ambient light, a LED display or LCD display with excellent brightness and the ability to adapt to various conditions (environment adoption) will be needed.
Here is where LED screens (which use light emitting diode bulbs) and LCD monitors (which use cathode fluorescent light bulbs) differ from each other in terms of their backlighting. While LED displays use less power than LCD screens, LCD advertising screens can be sourced at slightly lower costs.
Although LEDs are usually the better choice, there's no need to worry about switching to LED if you happen to already possess an LCD screen or are able to purchase one at a good price. Either way, an LCD advertising screen can be just as great an LED display if you are using it correctly.
Matte displays are better for outdoor advertising than glossy ones since they're less prone to bright and glaring light.
In order to protect your digital advertising screens from harsh weather conditions, you can either get an outdoor case to cover your device or buy a LED display or LCD screen rated for outdoor use and are classified as weatherproof.
#3 Choose the right size for your digital signage TV
This might sound like a simple thing to decide. But in fact, it's not easy at all to pick the optimal screen size. We're looking at a vast selection and at negligible differences in the cost-benefit ratio.
But basically, you need to consider the following:
How large or how small of an area you have to put your advertising screen in and how far into the distance do you want your screen to be visible?
The larger the environment or space in which your advertising screen shall be placed, the more engaging and emotional the effects will be with a larger advertising display. If you want to really to take it to the next level, you can look into the deployment of a video wall.
Creating an array of videos with a larger number of small LCD or LED screens, or placing a ribbon of video around a wider area, will create movement and make everything seem more dynamic and vivid. Think about the dynamic jumbotrons at a stadium as a good example.
Another important factor to consider is the viewing distance from which customers will look at the digital advertising screen. How great is the distance between your LED advertising or LCD advertising screen and the potential viewer?
The viewing distance has a direct influence on the perceived quality of the advertising screen and as a result your displayed content.
Depending on the resolution, individual pixels could be visible if the distance from the LED display screen to the viewer is too small. This is definitely something that you should try to avoid, if possible.
How can you make it work? By using larger advertising screens or video walls with more inches when you want to have your content viewable over a longer distance. And equally, by using smaller monitors or LED screens with fewer inches and a higher resolution when the distance to the viewer is shorter.
Bigger video walls (starting at 45" inches) for example are best used at trade shows, in store windows, conferences, and in classrooms. Whereas a smaller LED screen or smaller LCD advertising screens are ideal for store shelves, at checkout areas, or in smaller spaces, such as pharmacies or salons.
Depending on what your LCD display screen or LED screen will be used for (advertisements, information or entertainment) and what your content will be (videos or images), will influence screen size and distances further.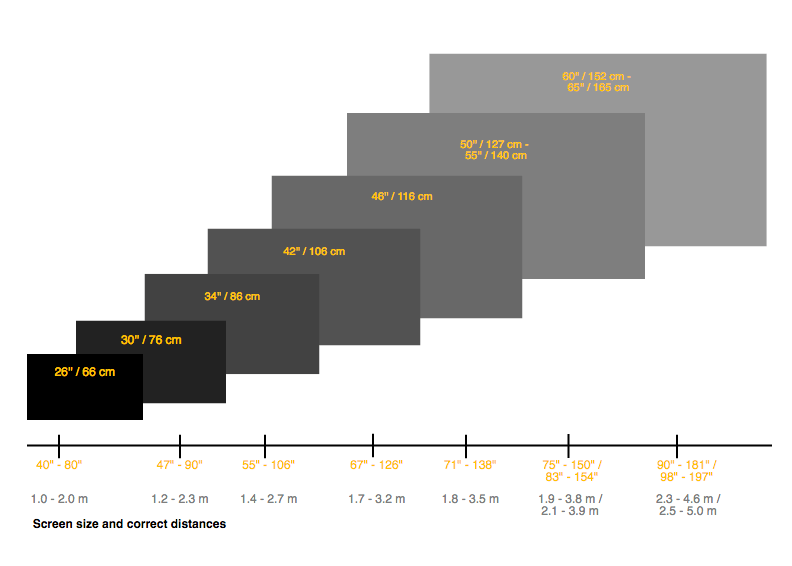 Which leads us to the next advice on our list:
#4 Resolution –  Full HD, U-HD or 4K, which one is right?
So, to find the right number and the right density of pixels for the optimal image, the size of the TV is equally as important as the resolution. You should be aware that not every monitor advertised as HD fulfills the requirements for the newest HD versions.
A LED screen can thus be promoted as a newer version for HD. But that doesn't necessarily mean that the LED display provides all of the features of an advertised HD (or supported HDMI) version. So if you choose to purchase an LED screen, make sure that you look closely at the description to ensure that it meets your individual needs.
And not every screen supporting HD is right for your required HD resolution. For example, a resolution of 720p, or 1024×768 pixel, is great for a regular TV broadcast, but it might not be the optimal choice for your digital signage project.
As soon as you connect a player to your advertising screen via HDMI, it's possible to transmit a resolution of 1080p (from regular HDMI version) – and therefore also HD playback. The monitor, however, can only show resolution it is constructed to show, in this case, 720p.
Read more about all the details on HDMI specifications here!
For better image quality and Full-HD support, a resolution of 1080p is standard.
However, newer versions already support the possibility of a resolution that is 4 times what it used to be, by providing 2160p and 3840×2160 pixel for Ultra-HD or 4096×2160 pixel for 4k resolution, which is a great resolution for video playing.
Still, it's not wrong to stick to the original resolution when showing your content to achieve optimal playback quality. Most digital signage players will default to the original resolution automatically.
In regards to this aspect, you should inquire with the manufacturer when looking for an advertising screen, as not all versions are generally compatible with your chosen media player and therefore not necessarily compatible with your digital signage software.
#5 Check compatibility with your software and player
So, it's important that all components needed for your advertising project are compatible with each other.
That includes the software that you are using, your digital media player – either as a built-in in the monitor or as a stick for a plug n' play version – and of course your digital signage advertising screen. You also have the opportunity to transmit your content wirelessly to your LED or LCD advertising display.
However, wireless transmission of content from the source to your advertising screen usually requires an additional transmitter and receiver.
For most digital signage projects, the best option is to use a plug n' play media player. As long as your advertising screen, or better yet, your advertising screens, are compatible with your player, you will get the best quality via a HDMI-Plugin.
#6 Compare more than just brands
Of course, all manufacturers advertise their systems as being the best product out there. Well-known brands are often seen as an indicator of a "good product" in itself. But even if you prefer a certain brand, you should keep one thing in mind:
It doesn't depend on the brand but on the hardware. Oftentimes different manufacturers offer identical hardware under a variety of different brands.
So, remember: Always compare individual models and their specifications, not just the brands.
#7 Advertising screen – commercial-grade display or consumer-grade device?
There are in fact specific offers for LED and LCD advertising displays for commercial applications. Displays that are meant for commercial application usually have advantages in many of the aspects we've mentioned.
Among these are particular aspects such as better brightness settings, longer time of operation, as well as, a longer product lifespan, anti-glare protection for screens, built-in sensors to accommodate light changes and a more professional look.
Depending on the purpose of the digital advertising screen, how many times it's going to be used and for how long, commercial advertising screens are often more compact and therefore often easier to handle. But again, don't forget to compare the different models and their different price points.
The price point for purchasing your digital signage TV can be anywhere from $500 to $5,000, beginning with an indoor LCD 32" display screen, to an LCD 46" video screen.
How to use your digital advertising screen the right way
So, you are finally ready to make your selection. Now it's important to get the most out of your TV installation, which leads us back to #1 on our list, closing the loop: What's the purpose of your digital signage installation?
Whatever you want to achieve by using your digital signage advertising screens, the best place to start most efficiently is a well thought out content strategy! Because no advertisement works better than one that provides its viewers with truly relevant messaging.
So fill your LED display or your LCD screen with images and text that will be engaging and memorable.
Advertisement, information or entertainment? How your content creation will work best, how you should go about creating a strategy and how you successfully get your relevant content onto your monitors, all these questions will be answered here, soon!
For even more information about your advertising screen installation, feel free to reach out to us anytime! We love to help!